Last Updated on September 21, 2023
Explore our in-depth review of LockLizard Digital Rights Management Software, a comprehensive solution for protecting your digital assets. Discover its robust features, DRM technologies, user-friendly interface, and how it ensures security compliance in various industries.
Understanding Digital Rights Management (DRM)
As our world becomes increasingly digital, the need for robust digital rights management (DRM) software solutions has never been greater. Today, we're focusing on one such solution, the LockLizard Digital Rights Management Software.
Before diving into the LockLizard review, let's briefly understand digital rights management. DRM technologies are vital tools that help companies control access to their digital content. Whether it's audio files, eBooks, or any other form of digital assets, DRM systems work to restrict access to only authorized users. They are crucial in preventing online piracy and unauthorized content distribution across multiple devices and torrent sites.
DRM solutions safeguard intellectual property and comply with data protection regulations, ensuring your digital content remains secure and within your control.
What Is LockLizard?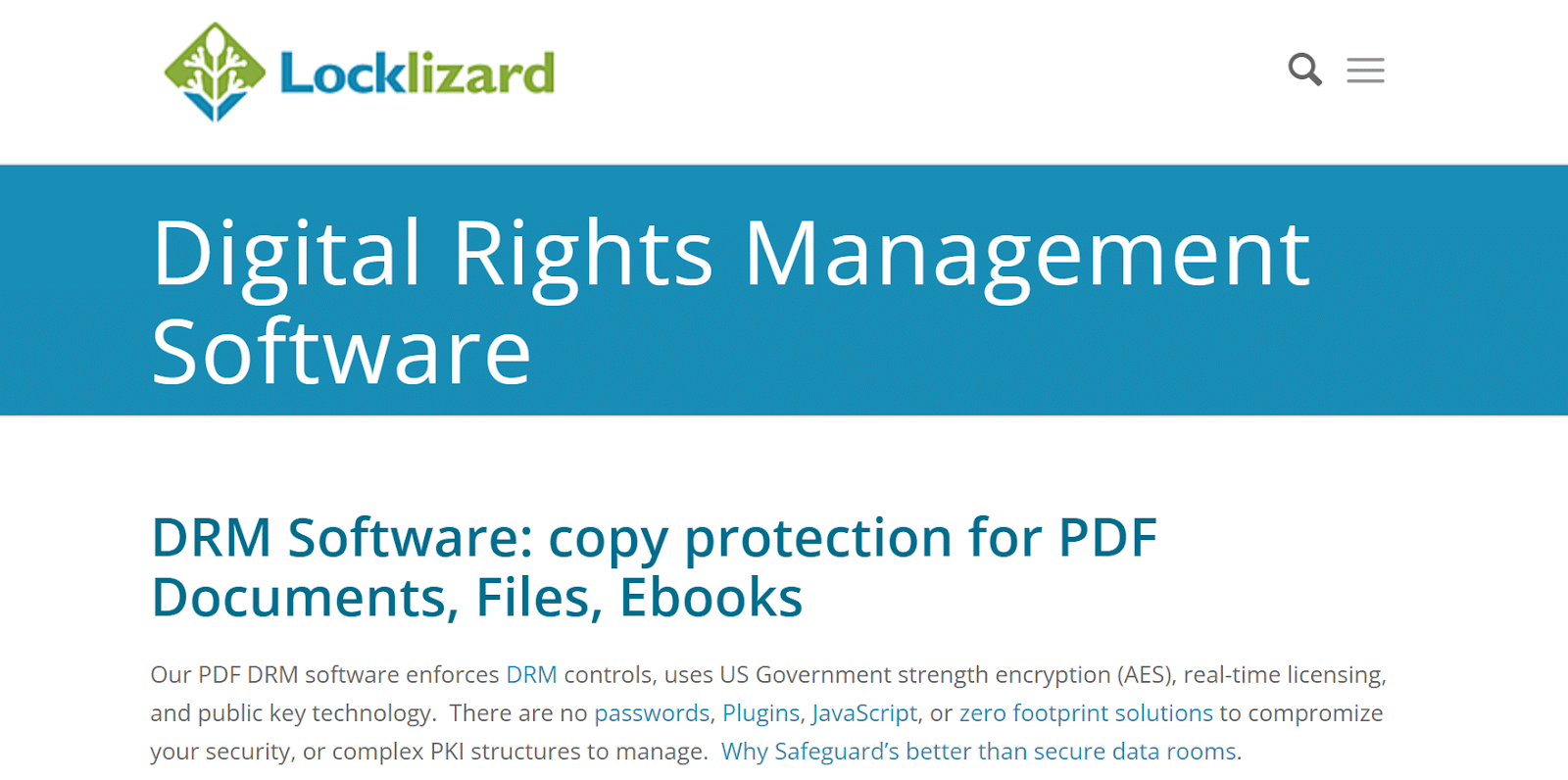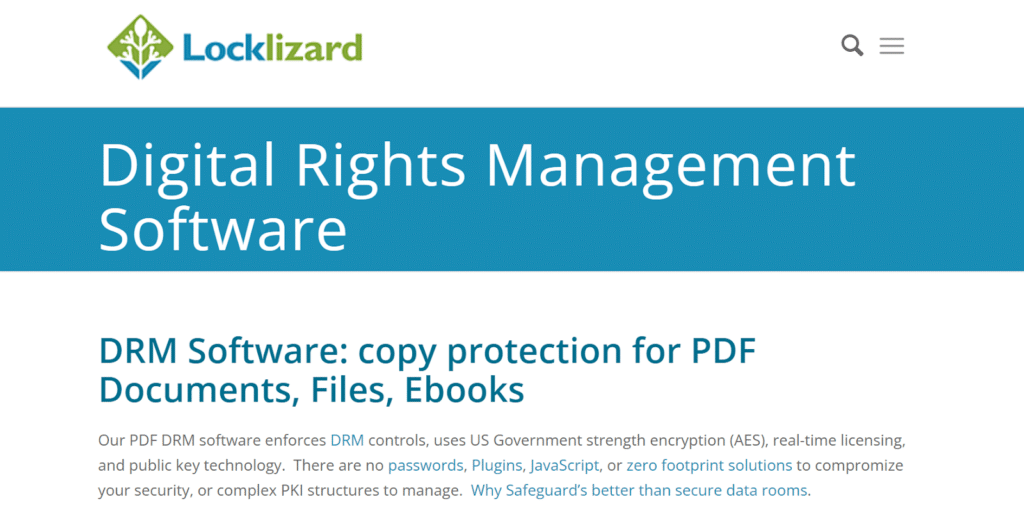 LockLizard Digital Rights Management (DRM) Software is a comprehensive content security solution designed to help businesses protect their digital assets. It is designed to prevent unauthorized access, copying, editing, and sharing of sensitive digital content such as PDF documents, files, and ebooks.
LockLizard DRM Software Products And Pricing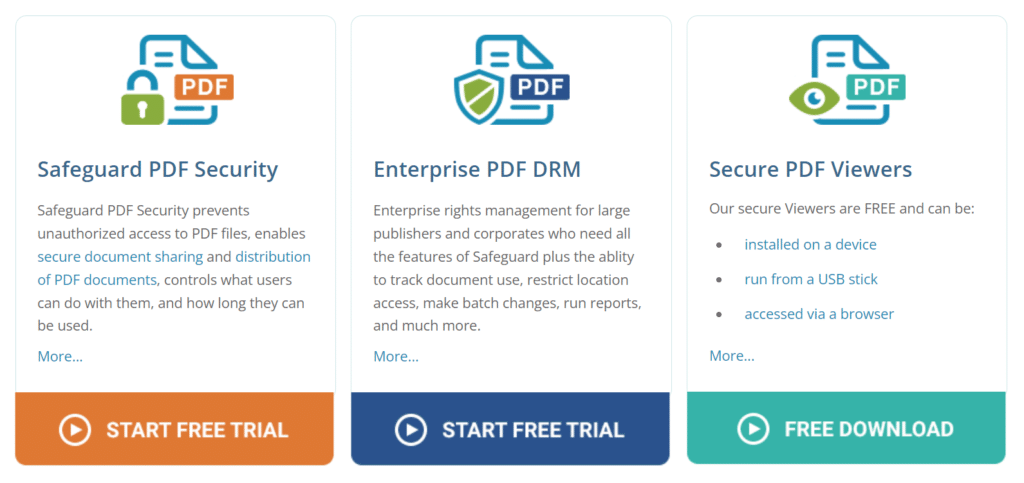 This offers a range of DRM software products designed to protect copies for various digital content forms, such as PDF documents, files, and ebooks. Let's take a closer look at these offerings:
A. Safeguard PDF Security
Safeguard PDF Security is a key product in this lineup. Safeguard PDF Security prevents unauthorized access to PDF files and enables secure document sharing and distribution. It gives you control over what users can do with your PDF documents and how long they can be used, ensuring your intellectual property remains protected, regardless of location.
Safeguard offers flexibility in how you can view secure PDF files. There are three main ways:
Install The Secure PDF
Firstly, you can download and install the Viewer on your device. After installation, click on the license to activate it. Once activated, you can view secure PDF files through the installed Viewer.
Use A Browser
Safeguard also allows you to view secure PDF files in your browser. To do this, log in to the web viewer using the URL and credentials provided. Once logged in, you can view your secure PDF files directly in your browser.
Operate Through USB
The third method involves using a USB device. You can click on the secured PDF files, which will open using the Viewer provided on the USB. This method is particularly useful for users who frequently switch devices or need offline access.
B. Enterprise PDF DRM
For large publishers and corporates, LockLizard offers Enterprise PDF DRM. It includes all the features of Safeguard, with added capabilities for enterprises. With Enterprise PDF DRM, you can track document use, restrict location access, make batch changes, run reports, and more. This solution provides high control and visibility, essential for managing and protecting large volumes of digital content.
C. Secure PDF Viewers
LockLizard's Secure PDF Viewers ensure secure content viewing. They are free and can be installed on a device, run from a USB stick, or accessed via a browser. This flexibility allows users to view protected content securely, regardless of their device.
For the most accurate and up-to-date pricing information, visit the LockLizard website or get in touch with their sales or customer service team. They can provide a detailed pricing structure that suits your needs and requirements. However, please take advantage of the free trials!
LockLizard DRM Software & Copy Protection Features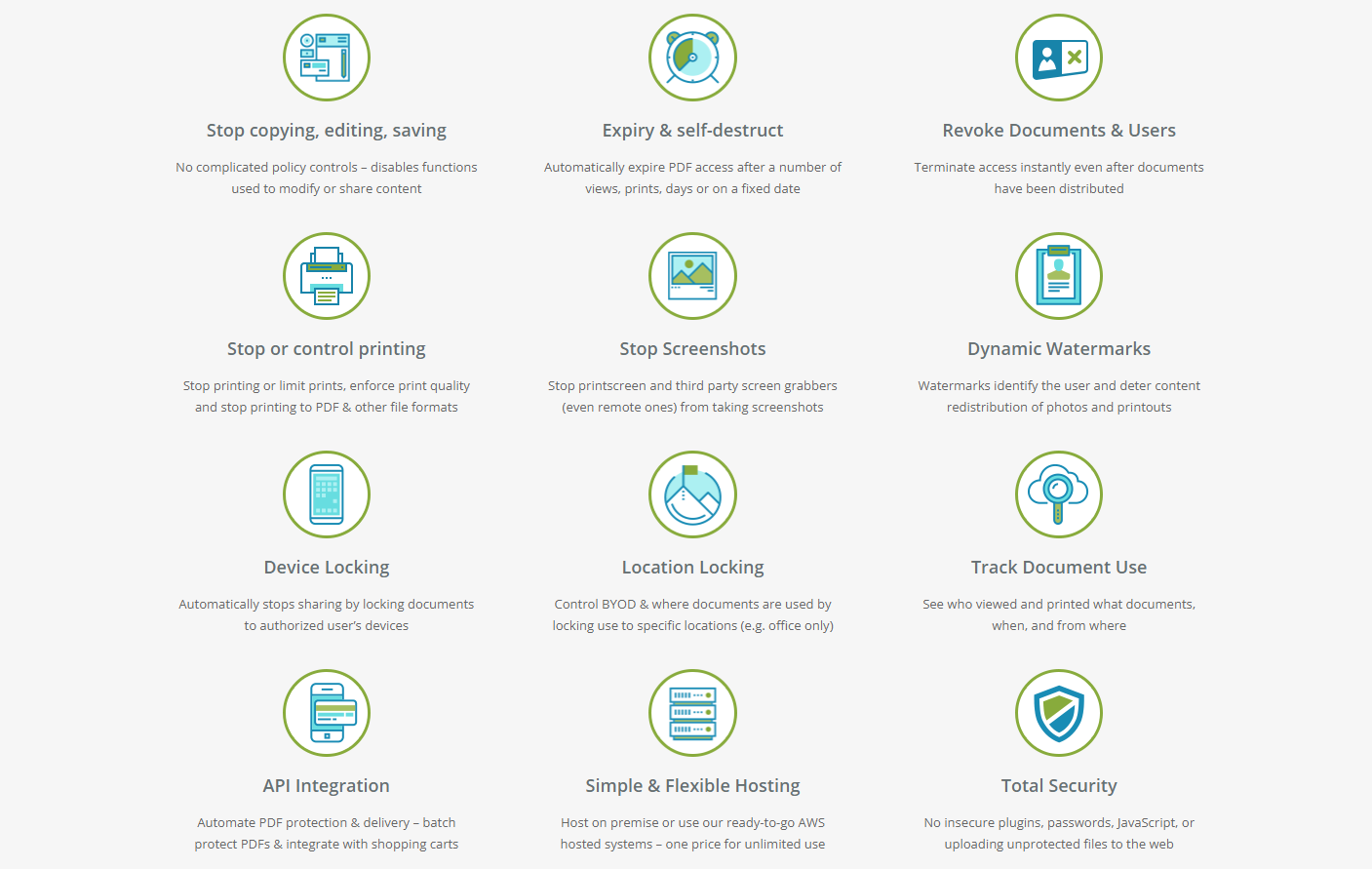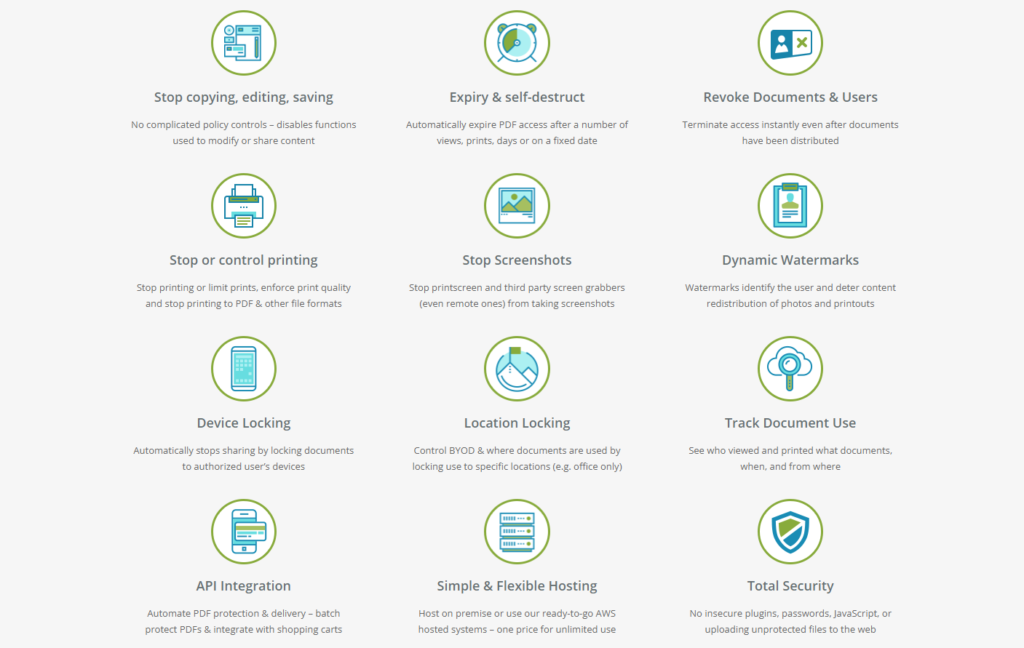 LockLizard's comprehensive suite of DRM technology ensures secure access and provides a wealth of features that enhance content protection. Here are some standout features:
Stop Copying, Editing, Saving
LockLizard disables functionalities that are commonly used to modify or share content. With no complicated policy controls, the software prevents copying, editing, and saving protected digital assets.
Expiry & Self-Destruct
This feature allows you to automatically expire PDF access after a specific number of views, prints, days, or on a fixed date. The self-destruct functionality ensures that your content cannot be accessed beyond the limits you set.
Revoke Documents & Users
LockLizard provides the ability to terminate access instantly, even after documents have been distributed. This feature ensures that unauthorized users cannot continue accessing your content once their access has been revoked.
Stop or Control Printing
With LockLizard, you can stop printing completely or limit the number of prints. It also allows you to enforce print quality and prevent printing to PDF and other file formats.
Stop Screenshots
LockLizard stops print screens and third-party screen grabbers, including remote ones, from capturing screenshots of your protected content.
Dynamic Watermarks
LockLizard employs dynamic watermarks that identify the user to deter content redistribution of photos and printouts. This feature further enhances the security of your digital content.
Control Access
One of the standout features of LockLizard is the ability it gives companies to control access to their content. It allows for the creation of authorized users and the restriction of access to unauthorized users. This feature ensures that only paying users can access specific digital content, preventing potential revenue loss.
Device Locking
LockLizard automatically prevents sharing by locking documents to authorized users' devices. This feature ensures that your content is only accessed on approved devices.
Location Locking
This feature allows you to control where documents are used by locking use to specific locations, such as an office. This is particularly useful for managing Bring Your Own Device (BYOD) policies.
Track Document Use
LockLizard lets you see who viewed and printed your documents, when, and from where. This tracking feature provides valuable insights into the usage of your digital assets.
API Integration
With API integration, you can automate PDF protection and delivery. It allows you to batch-protect PDFs and integrate them with shopping carts, streamlining your processes and saving time.
Simple & Flexible Hosting
Whether you prefer to host on-premise or use ready-to-go AWS-hosted systems, LockLizard offers simple and flexible hosting options. There's one price for unlimited use, ensuring transparency and predictability in costs.
Total Security
LockLizard prioritizes total security. The software doesn't rely on insecure plugins, passwords, JavaScript, or uploading unprotected files to the web, making it a safe and secure choice for your digital rights management needs.
Protects Digital Content
With LockLizard, you can securely distribute your digital assets without fear of unauthorized distribution. The software uses advanced DRM technologies that encrypt your digital content, thus preventing it from being available on unauthorized channels and torrent sites.
Virtual Data Room
LockLizard provides a virtual data room to securely store and share your digital assets with authorized users. This feature not only ensures the safety of your content but also facilitates easy access for authorized individuals.
Use Cases And Industry Application
LockLizard DRM software is versatile and can be beneficial in various sectors. Here are a few examples:
A. Media Industry
In the media industry, where digital content such as videos, audio files, and images are the primary assets, LockLizard can ensure secure distribution. It restricts access to unauthorized users and allows only authorized users to consume the content, preventing unauthorized use and distribution.
B. E-Learning Platforms
E-learning platforms can use LockLizard to protect their course material and other educational resources. The software restricts access to paying students, thereby preventing unauthorized distribution and ensuring revenue generation.
C. Software Companies
Software companies can use LockLizard to protect their software solutions from being pirated. It allows them to control access to their software and restrict unauthorized use, ensuring that only paying users can use it.
D. DRM Licensing
Companies that deal with DRM licensing can use LockLizard to ensure the secure distribution of their licensed digital content. The software restricts access to unauthorized users, thereby preventing unauthorized distribution and ensuring the protection of the licensed content.
FAQs
What is LockLizard?
LockLizard is a Digital Rights Management (DRM) software designed to protect your digital assets from unauthorized access, copying, editing, and sharing. It uses advanced encryption and DRM technologies to provide robust security for sensitive digital content.
How does LockLizard work?
LockLizard works by applying DRM controls and encryption to your digital content. It uses a Secure PDF Writer to protect files, a Web Admin System to manage users and document access, and a Secure PDF Viewer for viewing protected content.
Is LockLizard easy to use?
Yes, LockLizard is designed to be user-friendly. While it employs advanced technologies to secure content, its interfaces are intuitive and straightforward, making it easy for users to navigate and manage their digital rights.
Can LockLizard protect all types of digital content?
LockLizard primarily focuses on protecting PDF documents, files, and ebooks. However, its robust DRM technologies can be useful for various types of digital content, including audio files and other digital media.
Can I track document usage with LockLizard?
Yes, with LockLizard, you can track document usage. This includes information on who viewed and printed your documents, when, and from where.
Conclusion
In an increasingly digital world, protecting digital assets from unauthorized use and distribution is more crucial than ever. LockLizard Digital Rights Management Software is a comprehensive solution for businesses across all industries, offering robust security, compliance, and versatility.
Through its advanced DRM technologies, robust features like Secure PDF Writer, Web Admin System, Secure PDF Viewer, and its products like Safeguard PDF Security and Enterprise PDF DRM, LockLizard ensures the highest level of protection for your digital content. Its flexible viewing options and steadfast commitment to security set it apart in DRM software.
Whether you're a media company, an e-learning platform, a software firm, or a large enterprise, LockLizard promises to cater to your specific needs and protect your digital assets. It is indeed an excellent DRM solution that strikes the perfect balance between user accessibility and rigorous security.
But why take our word for it? We highly recommend that you try LockLizard for yourself. See firsthand how this state-of-the-art DRM software can revolutionize your content protection strategy and safeguard your valuable digital assets from unauthorized use.
Visit the LockLizard website to learn more about their DRM software, get a free trial, and explore how it can provide the robust security your digital content needs.
If you want to learn more about Digital Rights Management Software or explore other options. Our website is a treasure trove of information on various software solutions designed to help you make informed decisions about the best software for your business needs.
Remember, protecting your intellectual property and digital content is paramount in the digital age. Don't wait until it's too late – secure your digital assets today with LockLizard DRM Software.