Last Updated on September 11, 2023
Voice generators are quickly becoming a popular way to diversify the sound of your content and add a new audio element to all types of audio projects.
Whether you're creating google podcasts, video games, music, or any other auditorial concoction, a voice generator can take it to the next level – delivering cutting-edge creativity and powerful vocals that transcend their artificial beginnings in voice-overs.
In this post, we'll discuss how many voice generators there are and explore some of their most impressive features and uses to help you enhance your project with ease. Read on to find out more!
Do you want to sound more intelligent?
With our top 11 AI voice generators, you can create any voice you want in minutes. Choose from a variety of voices that are both male and female, young and old, and even different accents!
You'll be able to give your customers the impression that they're talking to a real person on the other end of the phone. They'll appreciate the extra effort you put into providing them with an amazing customer service experience. Plus, it's easier than ever to get started – all you need is a computer and an internet connection.
The Top 11 AI Voice Generators:
If you want to create a realistic, human-like voice for your application or project, then AI voice generators are the perfect option.
AI voice generators are computer programs that use advanced technologies to generate speech and audio in real-time. They can be used for anything from text-to-speech applications to movies, video games, and more.
The Top 11 AI Voice Generators:
Play.ht is a cloud-based AI voice generator that allows users to create professional-quality synthetic voices from the text in minutes and will use professional voice actors. It has an easy-to-use interface that can be used by anyone, regardless of their technical expertise. The platform combines deep learning algorithms with natural language processing (NLP) capabilities to produce synthesized voices with a lifelike quality. It also has features like voice modulation and effects, which allow users to customize the sound of their voices according to their requirements.
Play.ht
Generate realistic Text to Speech (TTS) audio using our online AI Voice Generator and the best synthetic voices.
Murf is an AI-powered voice generator that can create professional-sounding voices for various applications. It provides users with a simple and intuitive interface to quickly generate natural-sounding voices in multiple languages, including English, Spanish, French, German, Italian, and more. Using its advanced speech synthesis technology, Murf can create realistic-sounding voice recordings to help businesses bring their projects and ideas to life. Murf supports multiple audio formats, such as WAV, MP3, and OGG, and can be used for various applications, including video projects, commercials, online advertising campaigns, presentations, and much more.
Murf AI
Make studio-quality voiceovers in minutes. Use Murf's lifelike AI voices for podcasts, videos, and all your professional presentation.

Spik.ai
Overview:
It is an AI voice generator that offers a variety of features to make creating audio content simple and efficient. It provides high-quality voice generation time, so you can quickly produce audio recordings with natural-sounding results. Additionally, it offers a range of customizable options such as language selection, pitch control, and more to ensure you get the perfect sound. With Spik.ai, creating professional voices is now easier than ever before! You can save time and money with its automated process and get results that are as good as those created by the human voice actor.
Overview:
It is the best ai voice generators powered by state-of-the-art machine learning technology and natural language processing algorithms. It can generate a variety of voices in multiple languages, including English, Spanish, French, German, Japanese, Korean, Chinese, and more. Its advanced speech synthesis technology enables it to produce high-quality audio indistinguishable from human voices, and custom voices, including voice cloning.
Speechelo
Overview:
Speechelo is one of the top 11 AI Voice Generators today. It lets you easily generate natural-sounding voices, and high-quality ai voices from text suitable for use in multimedia projects, including presentations, apps, sales videos, and speech styles. Unlike other voice generators, Speechelo considers how people naturally speak and creates more realistic-sounding different voices. It also offers a variety of accents and language settings so you can customize your voice to match the tone and human emotions of your project.
Replicastudios
Overview:
It is a revolutionary AI voice generator that allows you to create unique, custom-made AI voices in minutes. The platform uses advanced natural language processing (NLP), voice assistants, and deep learning algorithms to generate realistic-sounding voices from text input. With Replicastudios, you can create entirely new personalities for your applications or use existing voices like those of celebrities, audio files, public figures, and characters.
GetWoord
Overview:
It is a powerful AI voice generator that helps users create realistic-sounding voices for their projects. Using advanced Natural Language Processing algorithms, GetWoord automatically generates high-quality AI-generated speech with the help of an intuitive dashboard and user interface. Its capabilities include text-to-speech conversion, speaking style customizations, speed control, voice changer, volume control, commercial and personal use, and more. GetWoord also offers language-specific voices, including English, Spanish, French, and German. With its easy-to-use tools and user-friendly interface, GetWoord is the perfect AI voice generator for those who need a fast text-to-speech s solution.
Voicera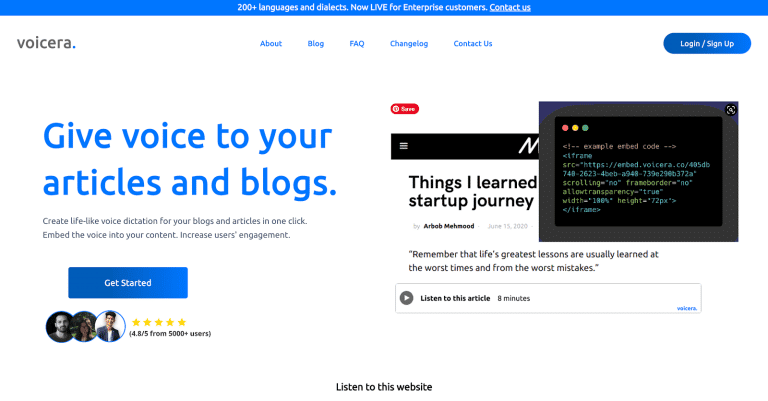 Overview:
It is a cloud-based artificial intelligence (AI) platform that enables users to create natural, conversational AI voices. The platform features an AI-powered voice generator that allows users to create realistic voices in any language and accent. Voicera also offers custom audio effects for added realism. With its intuitive design, Voicera makes it easy for users to create lifelike voices quickly and efficiently. Voicera's AI also can identify and recognize words, allowing it to generate more accurate results, e-learning, and screen recording, including youtube videos.
NaturalReader
Overview:
It is a leading online text-to-speech (TTS) and speech recognition software provider. It provides users with a simple, effective way to convert written text into natural-sounding voices in multiple languages.
The easy-to-use interface allows for the customization of voice parameters to create the perfect vocal output for various applications such as presentations, infographics, online advertising, and more. NaturalReader offers a variety of voices, including male and female, as well as children's voices. It also supports multiple languages, such as English, Spanish, French, and German.
Overview:
It is a revolutionary new AI Voice Generator that creates high-quality, natural-sounding speech skins recordings for businesses and professionals worldwide. has a free version using its proprietary speech synthesis technology, Synthesys.io can quickly generate audio clips in 23 different languages with over 100 distinct accents and dialects voice-over. From simple greetings to full-length recordings and conversations, Synthesys.io makes it easy to create natural-sounding voice skins recordings that add a professional touch to any business. As the number one AI Voice Generator on the market, Synthesys.io is quickly becoming the go-to choice for businesses needing reliable and accurate audio recordings, including their own voice.
Speechify
Overview:
This AI voice generator is a top 11 AI voice generator. It provides advanced text-to-speech capabilities for creating natural-sounding human voices. Speechify's text-to-speech capability uses deep learning technology, which analyzes and detects patterns in large amounts of natural language data, allowing it to replicate the sounds and intonations of real human-like voices accurately in the audio file.
The Benefits Of AI Voice Generators
If you use Computer generated voice for your business or projects, there are many advantages. Here are five of them:
Automated Voice Services: AI voice generators can provide automated services such as customer service or call routing, reducing the need for human personnel. This increases efficiency and cost savings for businesses.
Increased Voice Quality: AI voice generators can produce high-quality natural voices, eliminating the need for costly o voice actors or recordings.
Quicker Response Times: AI-generated voices can respond quickly to customers, providing a more seamless and hassle-free user experience
Customizable Voices: AI voice generators can be customized to create unique voices and accents, opening up the possibility of creating personalized customer experiences.
Reduced Repetition: AI voice generators can reduce the need for repeat services by providing automated responses to common customer requests, saving time and money. This reduces the need for manual labor and allows businesses to focus on more complex tasks.
These are just some of the many benefits of AI voice generators. These tools can have a positive impact on any business or project, improving efficiency and cost savings while providing a high level of quality customer service. As this technology advances, the possibilities are sure to continue to grow.
5 Tips When Looking For An AI Voice Generator
AI Voice Generators are an excellent tool for creating vocal simulations with human-like qualities. They're becoming increasingly popular in many industries and applications, from virtual assistants to video games. But, like any technology, there are some things to consider when selecting the right AI voice generator for your needs.
Here Are Five Tips To Help You Make The Right Choice
Know Your Needs: First, determine your needs and how they will be best served by a particular AI voice generator. Consider whether you need an expressive spoken dialogue system or a more natural-sounding "voice" for conversational audio applications.
Research the Variety: Different AI voice generators offer different types of voices and capabilities. Look into the variety of sounds, tones, and styles available so you can select one that fits your requirements best.
Check out Features: Make sure to read up on the features that come with each voice generator to ensure you get what you need. Some offer advanced capabilities like speech recognition and natural language processing, while others may have basic-sounding voices.
Compare Prices: Price is always an important factor when purchasing, so research and compare prices between different voice generators. Pay attention to any additional fees or services that come with the product.
Read Reviews: Finally, read reviews from customers who have used the AI voice generator you're interested in before making your decision. It can help you get a better idea of how well it works and if it's worth the money.
By following these tips, you'll be able to find an AI voice generator that best meets your needs and is within your budget. With the right one, you can create unique vocal simulations that sound as realistic as possible.
Frequently Asked Questions About AI Voice Generator
How does AI generate voice?
AI voice generation is a technology that enables machines to generate human-like speech in real-time. The technology uses deep learning algorithms and natural language processing (NLP) techniques to mimic the sounds of human speech, allowing it to sound more natural when compared with traditional convert text-to-speech (TTS) methods.
How do you change the voice in AI?
AI voice generation allows users to customize the sound of their generated speech. The technology uses a variety of parameters, such as pitch, speed, and pronunciation, to create an accurate representation of a user's desired voice. These parameters can be adjusted manually or with models pre-trained on specific voices.
Is there a risk of AI voice generators being used for malicious purposes?
Yes, there is a potential risk of AI-generated voices being used to create fraudulent content and carry out scams. However, the technology can also be used for good by providing people with more access to personalized speech solutions. It has been shown to provide improved accuracy in automated customer service systems.
Final Thoughts
When it comes to AI voice generators, there are several options available. It is important to consider the specific use case for which you need a voice generator, as this will dictate what technology is most suitable for your needs. Voice generation with deep learning technologies can offer natural-sounding voices but requires large datasets and powerful computing resources.
Ultimately, the choice of AI voice generator will depend on what you need it for. Whichever technology you decide to use, the list of top 11 AI voice generators discussed in this article can help you make an informed decision. We hope this article has provided you with some valuable insights about the available voice generation technologies. Thanks for reading!