Last Updated on September 19, 2023
If you're looking for a way to improve your writing, consider using an AI writer. There're lots of different AI content generators available, and each has its features.
In this blog post, we will take a look at the top 17 AI article writer and their cost and price.
AI writers are used to help with various aspects of the writing process, including AI content creation, editing, and proofreading.
There's no denying that writing articles is a complex task that requires lots of skill and practice. However, there're now lots of AI writing tools available that help make the process easier.
An AI writer is used for a variety of tasks, from generating ideas to proofreading generated text. And thanks to the best AI model, these tools will get even more sophisticated.
So, whether you're a student struggling to start an essay or a professional article writer looking for a little extra help, it's worth considering using the best AI writing software.
While many AI content generators are free to use, some have paid plans that offer more features or services for social media posts
There're lots of AI writers available on the market today. While many of these tools are free to use, some have paid plans that offer more features or services. For example, some AI writers offer a wider range of templates to choose from, while others may provide a more customizable interface.
Additionally, some AI writing assistant offer a higher word count limit, or allow users to upload their photos or videos. However, it's important to note that not all AI copywriting tools are created equal.
Some may produce results that are less than satisfactory, so it's important to do your research before choosing a tool.
It's important to consider what you need from an AI writing assistant before choosing one, as they vary in terms of capabilities
When it comes to choosing an AI content generator, it's important to consider what you need from the tool in terms of capabilities. There's a variety of the best AI writer on the market, ranging from simple text generators to more sophisticated AI copywriters.
If you're looking for a tool that can simply have generated text on a given topic, an AI content generator may be a good option. However, if you need a more sophisticated tool that can help you with things like copywriting or generating content ideas with the use of existing content in just a few seconds, a more advanced AI writer or AI content generator may be a better choice.
Ultimately, the best AI writing assistant for you will depend on your specific needs and requirements.
Here is a list of 17 popular AI writing tools, listed in alphabetical order, with information on cost and price plans
Quillbot
QuillBot is an excellent AI writer for students, academics, and anyone who needs to research and write blog posts, blog article, citations, and even youtube titles.
You don't need to sign up or pay anything to use it, which is great. There's also no marketing copy to get in the way- you can just start using the AI writer immediately for your personalized responses.
Price:
Annual ($8.33 per month)
Semi-Annual ($13.33 per month)
Monthly ($19.95 per month)
With QuillBot, you get a lot of options for a very reasonable price.
You can try out the free version without having to provide your email address. If you need help writing academic papers, social media posts, product descriptions, google docs, or website copy for company resources or even checking your written content, this is the AI writing assistant for you.
When it comes to grammar checkers and writing coaches, Quillbot is a software that has unlimited credits which are just as good as Grammarly, if not better.
Ink for All is a software that uses artificial intelligence (AI) to help you write with purpose, as their website says. It works both as a text editor and a chrome extension.
Ink for All offers writing assistance tools that enable anyone to create content that performs well, making the process of content marketing democratic.
No free plan
Starter ($8.80 per month)
Pro SEO ($44 per month)
Team SEO Unlimited ($177 per month)
Although there is no free plan or trial, Ink for All offers a full solution for a reasonable price, making it a strong candidate in the market.
With CopyAI's numerous automated creativity tools, it alleviates writer's block. It also provides a large selection of AI-generated templates to get you started on your project.
The long-form document editor enables you to work on your ideas all in one place.
Free Plan
Pro ($49 per month)
Team (Custom Pricing)
It includes the same templates that Jasper, Scalenut, and other AI tools provide. Then, how do you compare Jasper.ai vs. Copy.ai?
In my opinion, the distinction between CopyAI and other apps is that it has a completely free version, is simple to use, and doesn't require your credit card.
Scalenut is a writing processing tool that automates content creation. Its AI writing assistant algorithm combine SEO and NLP techniques to help you create engaging content and boost your page rankings.
Scalenut's SEO Assistant enables you to write content optimized for search engines. It's very much like Jasper with the SEO Surfer integration, but without buying two separate tools. You write in your keyword, and it gives you a document editor centered around your keyword.
I like that it has a panel on the left showing your competition analysis results so you can immediately see how well (or poorly) they're doing against what keywords they've chosen to target.
Scalenut's document editor includes more sophisticated AI instructions than Jasper.
You can choose from AI Connectors and Operators instead of a simple compose button to provide the AI copywriting assistant more guidance on your content rather than using commands.
Commands are likely capable of doing this, but it's easier to use buttons within the interface.
Free plan
Individual ($29 per month)
Growth ($79 per month)
Pro ($149 per month)
Scalenut is an excellent tool that allows you full control over your content creation process. It works well for both professional and amateur tasks and integrates easily with your favorite online platforms.
The user interface may not be flashy like some other tools, but it's much more reliable.
If you don't want to pay a fee for an SEO tool and only get as many words as you want, Scalenut is a wonderful alternative.
With this program, you're not restricted to a premium plan.
Rytr is an AI content writing software that employs artificial intelligence to generate material for you. Rytr's algorithms are historical based, allowing them to produce unique and engaging articles in the proper tone and style while being grammatically correct.
Without the need for human involvement, Tynt's AI writer will produce your article in less than an hour.
Rytr can generate high-quality content for a wide range of themes and niches, including sports articles, business reports, reviews, blog entries, technology articles, google ads, and so on.
Free Plan
Saver Plan ($9 per month; $90 per year with 2 months free!)
Unlimited Plan ($29 per month; $290 per year with 2 months free!)
Rytr doesn't just help you write faster articles, but it also allows you to brainstorm or even real-time write your content with the help of existing content.
The biggest drawback of Rytr is that it doesn't have "recipes" as Jasper does. With Jasper, you have more control over the AI content.
If you're looking for an AI article writer, Rytr is great, but Jasper is way better.
If you have to choose just one SEO tool, I'd recommend you choose Surfer.
It enables you to develop SEO-optimized material, crawl the web for content style suggestions, and rapidly start ranking in search engines.
One of the benefits of Surfer is that their document editor allows you to easily copy and paste generated text directly into your website's content management system (CMS) without having to rewrite it.
You only need to format the document editor once since it already contains all of the HTML tags.
Surfer's recent release of Surfy, a AI writing assistant, has broadened its appeal.
Free
Basic ($59 per month; $49 per month annually)
Pro ($119 per month; $99 per month annually)
Business ($239 per month; $199 annually)
If you want an article writer that will give you the most bang for your buck and are either a solopreneur or have a small business, then Surfer is something to consider.
With its advanced features and easy-to-use assistance tools, it's guaranteed to make content production much simpler for you.
Copywriting is the process of producing text for a blog or website. It's also handy for sharing and promoting content that has already been created.
The platform contains a series of different tools to aid users in generating various types of content; the most beloved being the article builder. The article builder lets users construct high-quality articles from beginning to end without any pre-existing material.
Not only does it provide its clients with a wide range of content including blog posts, landing pages, sales pages, and webinars.
The algorithm-based tool CopySmith creates text that imitates the style of the user's writing, so you can be assured your content will resonate with both customers and target markets. Further, it's useful for generating high-quality material in any language!
Copysmith has numerous tools to help you make sure your campaigns are effective for both your consumers and your business.
Starter ($19 per month)
Professional ($59 per month)
Teams ($118 per month for 2 users)
Enterprise (For businesses looking for unlimited creation and control. Contact sales support.)
Copywriting, like any other form of writing, is a time-consuming process that needs a lot of creativity and talent. Writers may use AI copywriting software like Copysmith to keep track of their ideas on the platform's cloud storage.
The only problem is that credits can expire if they aren't used within a certain time frame. For example, if you have purchased $100 worth of credits and haven't used them within 12 months, your credits will expire and you lose the money.
Article Forge is an AI copywriting software that automatically generates content for a specific topic or niche. It has been used by companies like the BBC, Forbes, and The New York Times to create articles on various topics. With Article Forge, you can speed up your work!
The software employs AI and machine learning to produce articles based on a customer's provided most relevant keywords.
Standard ($27 per month with 250,000 words per month)
Unlimited ($57per month)
Article Forge is a tool that may be used for a variety of purposes, both online and off. It can be used to construct web content as well as other materials, such as essays or reports.
The free app is an excellent AI tool for long-form writing. It has lots of innovative features that make it an outstanding content-generation tool.
The service offers a "7-day trial," which I took to imply a free trial. When I began filling out the registration form, it said that the 7-day trial would cost me $1 and that I must supply my credit card information.
Being charged a dollar isn't a huge deal, but I felt deceived. As somebody who was potentially going to buy their product because of the product description, this made me dislike trying it out. With other tools, like Ahrefs, they list the price right away so you're transparent about what you're paying. It's confusing when a company writes "Start 7-day trial" and then expects payment afterward.
Basic ($44.99 per month)
Team ($114.99 per month)
Enterprise: Contact
I truly believe that Frase has the potential to be a powerful tool, but it falls short in comparison to its competitors because of its complicated interface and lack of transparency surrounding the trial. In today's age, people have shorter attention spans than ever before and if a tool isn't easy to use, they will move on quickly. There're many other options available that are much better suited for users.
Peppertype is an AI writing software that uses machine learning to understand what the user wants and the writing style needed. This technology is used to provide relevant responses to the user.
It gives individuals practical insights into their emotions and sentiments, as well as basic suggestions on what they should do next with the generated content.
With more businesses adopting this technology and using it to generate text, and write articles and insights for their customers, the prospects for AI writing assistants look bright.
Peppertype is a fantastic tool for writers who need help writing web pages but don't want to learn how to use it themselves.
Starter Plan ($25 per month)
Growth Plan ($165 per month)
Peppertype is an AI text generator that helps you create high-quality, original generated content for your website, google docs, landing pages, or blog for your online business.
Use Peppertype.ai to improve your writing skills and have fun at the same time!
It's a consumer-focused AI writing assistant formerly known as Jarvis. Jasper's technologies such as Headlime and Shortly AI, which are content-writing software tools help generate content. Both applications are still available as stand-alone goods at the time of this writing; nevertheless, both intend to fully integrate with Jasper.
Create your blog posts, articles, book, scripts, google ads, and other content. Choose a topic and format; fill in the blanks, and Jasper will generate the AI article for you. It's not always excellent writing, but it helps me overcome my block.
Now that "content generation" is part of content marketing teams' lexicon, Jasper.AI is now invaluable.
Essentially, Jasper has two options: starter mode and boss mode.
The main distinction between the two is that boss mode provides access to the long-form document editor. Meanwhile, starter mode comes with writing frameworks for more specific AI articles for more organic traffic.
Starter Mode ($40 per month for 20,000 words per month)
Boss Mode ($82 per month for 50,000 words per month)
SEO Surfer add-on ($59 per month)
With these prices, it's very feasible to invest in some groups like marketing teams.
To compare, I looked at the quality content for Ryter and found that it wasn't any better than what I was getting from Jasper. $120/month might be a lot to some people for unlimited content generation, but with Ryter, I only have to pay $29/month for the same thing.
Grammarly
Grammarly is a game-changer! You might not think you need an AI writer, but Grammarly proves that you do.
It's great because it not only looks for grammar mistakes and how sentence structure looks but also the overall tone and style of your piece. This way, you can be sure that your content will appeal to your intended audience.
I downloaded the Grammarly app, which is a built-in overlay function that follows you around and reads everything you write even in Microsoft word and blog posts.
It's similar to spell check, but it checks every word you type. In addition, because it examines grammar, tone, and style as well, it's more sophisticated than spell check. And it also checks your article if it was plagiarism free.
If you're not a fan of AI proofreading your content, no problem! You can always copy and paste your content into the Grammarly online application.
Price:
Free
The premium for individuals ($12.00 per month)
Business for teams ($12.50 per month)
Grammarly differs from the other AI writer on this list in that it serves as a personal proofreader. It follows behind you and corrects your grammatical errors.
It's a wonderful content quality content checker for writers of all levels. However, I believe it's an essential tool for everyone attempting to write in an academic atmosphere. Do you have any idea what? That would certainly apply to anyone reading this post.
If you're looking for a way to write more compelling copy, WordAi is the perfect tool for you. It offers a browser extension and long-form document editor to help you self-edit and write more clearly. Since it works with lots of different tools, anyone who writes online should consider using Wordtune.
Free
Premium ($9.99 per month)
Premium (custom costing)
WriteSonic is an AI authoring tool designed to help you generate unique content according to your preferences and needs. In addition, the software provides pre-written content that can be used as a starting point or outline for your writing projects.
WriteSonic can also help content marketers who are experiencing writer's block by giving them access to a variety of tools and resources. With WriteSonic, writers will be able to more easily come up with fresh ideas that resonate with their target audience.
They use content marketing to develop engaging, unique, and compelling material that may be shared across a variety of social media platforms for marketing teams.
Free Trial: $0
Basic ($15 per month)
Professional ($45 per month)
Startup ($95 per month)
Agency ($195 per month)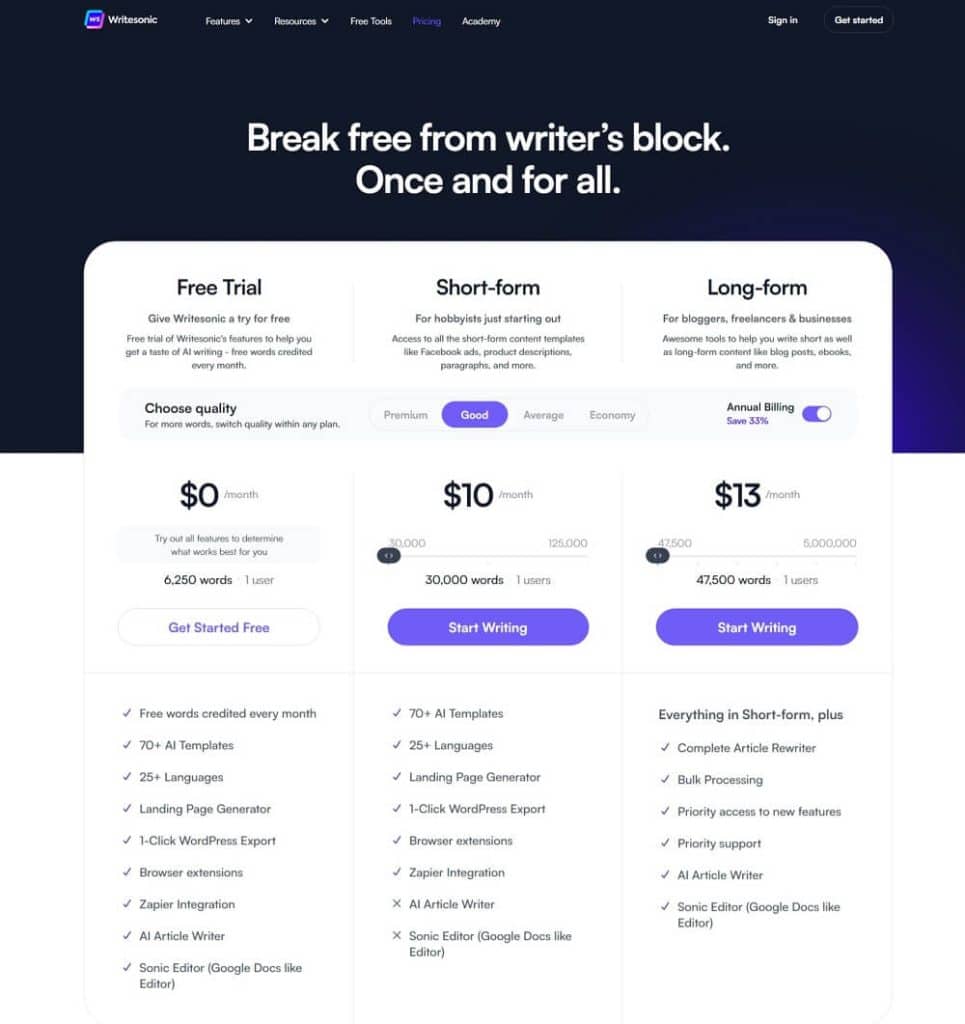 WriteSonic is one of the many copywriting apps that make writing quicker and easier by allowing you to dictate your content instead of typing it out. One especially helpful feature offered by WriteSonic is the email build function, which sends you a completed version of your generated text via email— freeing up time in your day-to-day to focus on other tasks.
AI Writer is software that offers an AI assistant to help content creators generate ideas quickly and efficiently. The services offered include content writing and blog article to a blog posts.
If you're looking for relevant and accurate content that will engage your target audience, this is the platform for you. It uses cutting-edge AI writers to generate articles from scratch, so you can be sure the content is original and of the highest quality.
AI writers, also known as content writers, are used by companies to quickly generate quality articles on a variety of topics and niche markets.
Price:
Basic ($29 per month)
Standard Plan ($59 per month)
Power Plan ($375 per month)
AI Writer is a simple writing tool that has some fantastic features. It's an excellent method for anybody to get their stuff out there and start composing.
Closers Copy
What makes it stand out is that instead of using GPT-3, a machine learning model that many of the other solutions embrace, it uses an AI writing an assistant algorithm. "These models aren't trained to produce marketing copy," explains their website. "Fortunately, our algorithms are! Using our AI technology gets you REAL marketing content that promotes your products with product descriptions. And because we own this technology, there're no content generated filters, restrictions, or limits to worry about."
The Closers Copy team provides a Facebook community and course to learn their software. I'd be cautious about them, however, because their website doesn't communicate the value proposition.
Price:
Power ($49.99 per month)
Superpower ($79.99 per month)
Superpower Squad ($99.99 per month)
If you want to create SEO-optimized content generation, Closers Copy is a good writing tool to consider. Word hero is considerably less established than Closerscopy. If you'd like more information on these two programs, please let me know!
Neural Text is software that creates text automatically using machine learning. It's been utilized in industries like healthcare, education, and marketing to write online.
The technology has also been used by journalists to create an entire article with the aid of an AI writer.
Natural language processing (NLP) has become increasingly accurate in recent years due to various advances in technology to help with sentence structure.
The more data the system has, the better it is at making predictions and decisions.
TextGenerator is a writing platform that allows writers to create content, as well as read and share existing texts.
Price:
Free
Starter ($49 per month)
Pro ($119 per month)
Neural Text makes an autonomous vehicle for the written word with the same AI model as self-driving cars.
It uses machine learning, which means it will be able to learn and get better with time, becoming more successful in the future.
As always, be sure to do your research before making a purchase!
When it comes to making a purchase, it's always important to do your research first.
With so many products on the market, it can be hard to know which one is right for you with just the product descriptions. That's where ai writers can help.
This AI text generator use AI to create compelling copy that can help you make an informed decision.
Whether you're looking for product descriptions, or simply want to learn more about a particular item, a text generator can provide you with the information you need. So before you make your next purchase, be sure to check out a text generator for all the latest info.
Frequently Asked Questions