Last Updated on September 27, 2023
Discover the power of Axinom DRM, the leading digital rights management software. Learn about its features, benefits, and why it stands out in the industry.
Understanding Digital Rights Management
In an era where digital content rules, the significance of digital rights management software is paramount. DRM refers to various DRM technologies designed to give companies control access to their intellectual property. Digital assets such as audio files, text documents, and videos are ubiquitous, and their protection is crucial to maintain a company's competitive edge.
Digital rights management software helps protect these assets from unauthorized use and distribution. It restricts access to unauthorized users, ensuring only authorized users can access the digital content. This protection is critical in adhering to data protection regulations and combating online piracy.
What Is Axinom DRM?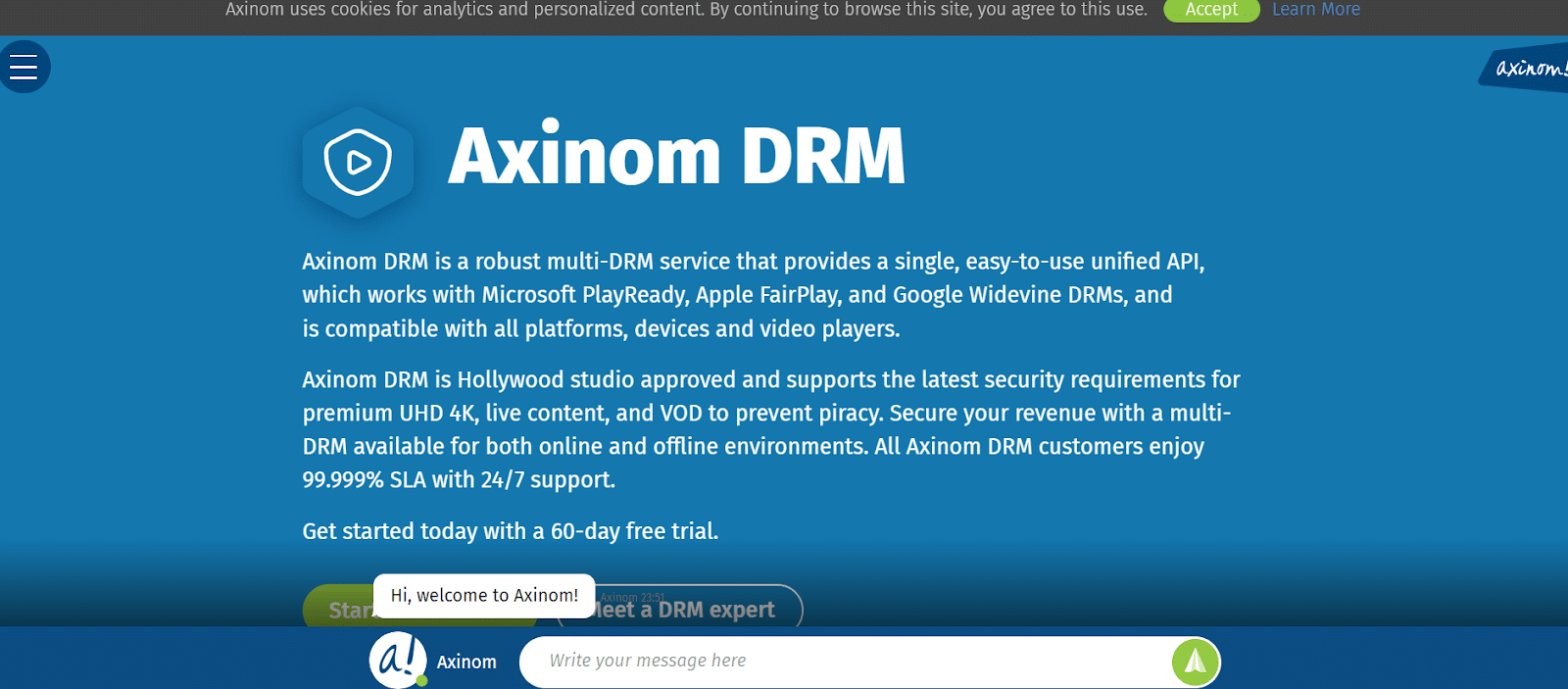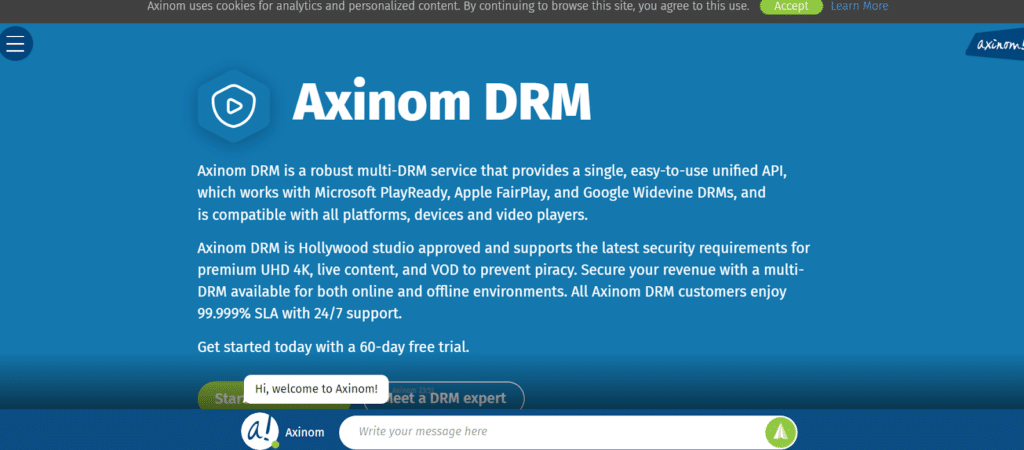 This DRM is a robust digital rights management software solution allowing content providers to distribute their digital assets across multiple devices securely. It leverages advanced DRM technology to restrict access to unauthorized users, minimizing the risk of unauthorized distribution.
This DRM uses state-of-the-art encryption methods and DRM licensing to ensure that only paying users can access digital content. As such, it is an effective countermeasure to the threats posed by torrent sites and other avenues of unauthorized access.
Pricing
Axinom DRM's Hollywood studio approval and support for the latest security requirements for premium UHD 4K, live content, and VOD make it a formidable choice for anyone looking to secure their digital content. Its multi-DRM capabilities for both online and offline environments offer extensive coverage to protect against piracy and secure your revenue streams.
The impressive 99.999% SLA with 24/7 support further underscores this commitment to providing reliable, high-quality customer service. Undoubtedly, this level of support will give you peace of mind knowing that help is available round the clock, whenever you need it.
The 60-day free trial is the perfect opportunity to experience these benefits firsthand. So, why wait? Dive in and get started with this DRM today. See how it can elevate your digital rights management strategy and give your digital content the top-tier protection it deserves.
This DRM service starts at 199 Euros/217.66 USD per month per 1-2000 active users.
To get the most accurate and up-to-date pricing information for this DRM, I recommend contacting Axinom directly or visiting their official website. They can provide a customized quote based on your specific needs and requirements.
Features Of Axinom DRM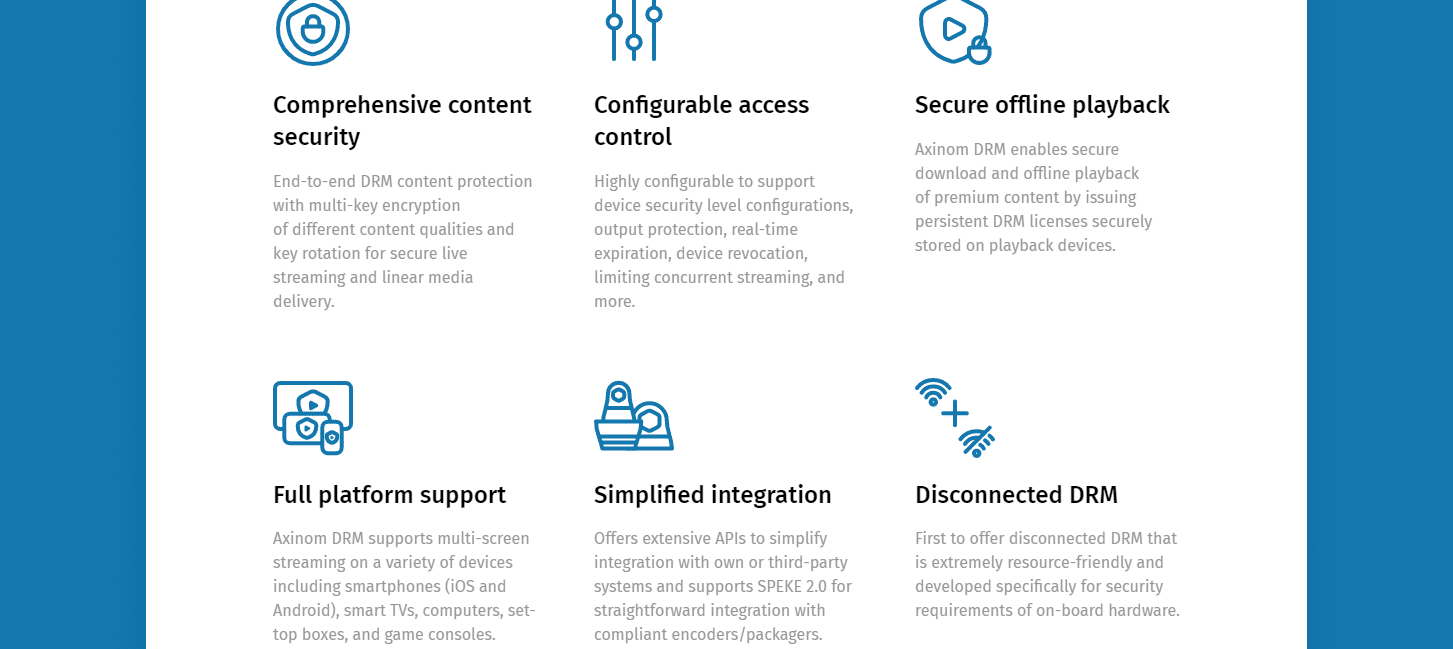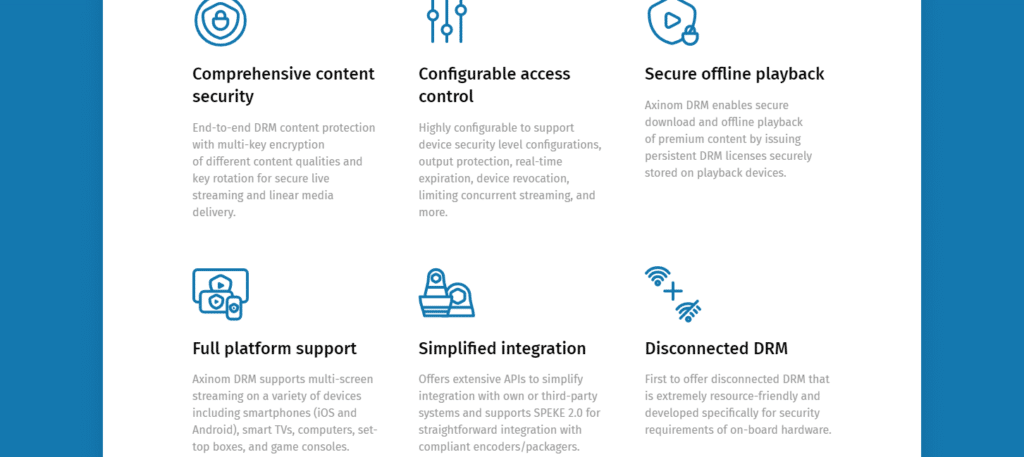 1. Robust Content Security
This provides comprehensive content security through its end-to-end DRM content protection. This protection comes with multi-key encryption for different content qualities, providing reliable security for live streaming and linear media delivery. This key rotation feature ensures an uncompromised, secure experience throughout your media delivery journey.
2. Adaptable Access Control
This access control is highly configurable, supporting many features, including device security level configurations, real-time expiration, output protection, device revocation, and limiting concurrent streaming. This dynamic range of configurations provides a robust control system for your digital content.
3. Secure Offline Viewing Capabilities
One standout feature of this DRM is its secure offline playback. The software enables the secure download and offline viewing of premium content by issuing persistent DRM licenses securely stored on playback devices. This feature lets your audience enjoy your content anytime, anywhere, without compromising security.
4. Broad Platform Support
This DRM is designed with full platform support, facilitating multi-screen streaming across many devices. Whether your audience is using smartphones (iOS and Android), smart TVs, computers, set-top boxes, or game consoles, this DRM ensures secure content delivery.
5. Effortless Integration
This provides extensive APIs to ease integration with your own or third-party systems. It also supports SPEKE 2.0, facilitating straightforward integration with compliant encoders and packagers, making your DRM operations seamless.
6. Resource-friendly Disconnected DRM
This is a pioneer in offering disconnected DRM. This unique feature, designed specifically for the security requirements of onboard hardware, is highly resource-friendly, ensuring a smooth and secure DRM experience even in disconnected scenarios.
7. Support for Bring Your Own Device (BYOD)
Axinom's DRM supports secure playback on seatback screens or through BYOD. This feature lets passengers securely consume entertainment content on their devices, enhancing the customer experience without compromising content security.
8. Plug-in-Free Entertainment Content
Axinom supports the CMAF video specification, which facilitates encrypted media playback in the most popular browsers without the need for apps or plug-ins. This feature provides your audience with an easy, hassle-free way to consume your content while still maintaining a high level of content protection.
Evaluating Axinom DRM: Is It The Best DRM Software?
When it comes to digital rights management DRM, Axinom DRM is a compelling contender for the title of the best DRM software. Its ability to provide robust protection for digital assets, coupled with its scalability, places it in a unique position in the market.
One key advantage of Axinom DRM is its support for multiple devices. In today's increasingly digital world, consumers consume content on various devices, from smartphones to smart TVs. Axinom DRM's ability to manage rights across these devices is a significant plus.
The software's focus on security is another critical aspect. In an era where online piracy is rampant and adhering to data protection regulations is necessary, Axinom DRM's robust security measures ensure companies can freely distribute their content.
DRM In The Media Industry: How Axinom Stands Out
In the media industry, where content is king, DRM systems play a pivotal role. Axinom DRM distinguishes itself by providing a comprehensive solution that addresses the industry's unique needs. Its support for different DRM technologies allows media companies to deliver their content securely, regardless of the platform or device their audience uses.
Axinom DRM also provides a virtual data room, an essential feature for media companies that need a secure space to store and share sensitive information. This feature, combined with Axinom's advanced security measures, offers an effective defense against unauthorized distribution, thereby protecting a company's intellectual property.
Axinom DRM: A Comprehensive Solution to Digital Rights Management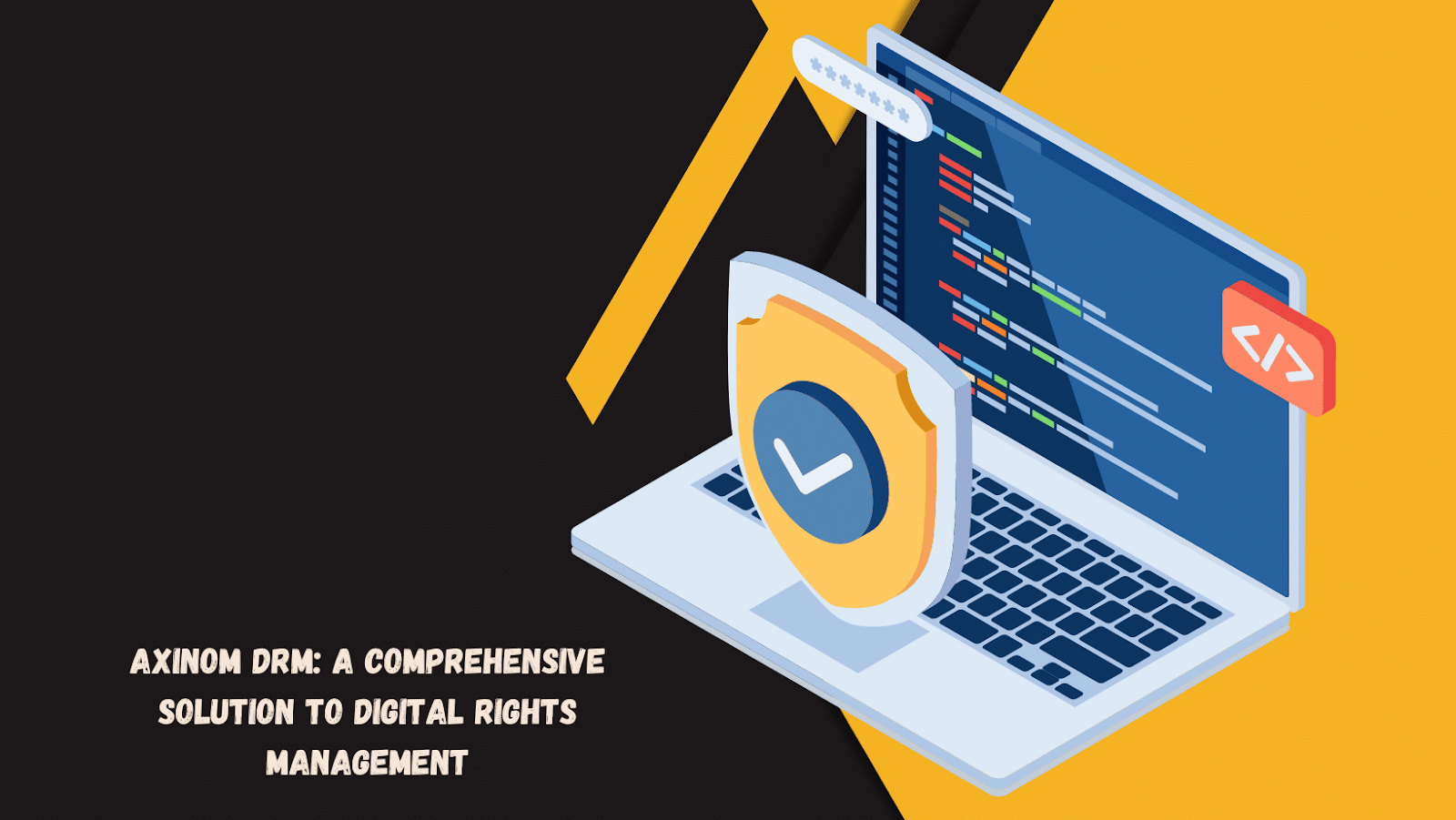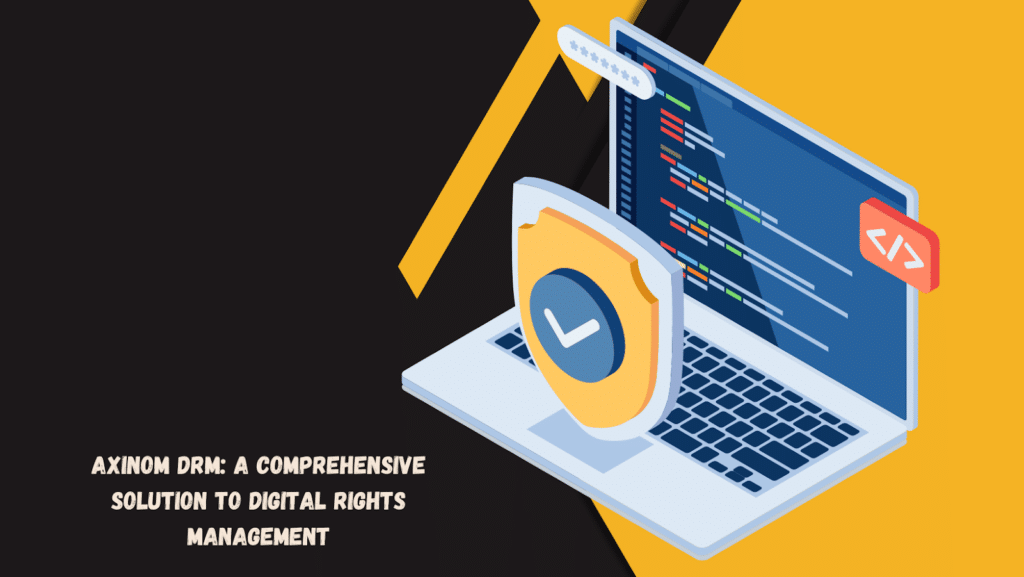 When evaluating DRM solutions, Axinom DRM stands out for several reasons. Here are the key benefits that make it a comprehensive solution:
Versatility: Axinom DRM's support for multiple DRM technologies ensures it can cater to a wide range of requirements. Whether you're a content creator looking to distribute your digital content on various platforms or a large media company seeking to protect a vast library of assets, Axinom DRM has you covered.
Security: With its robust encryption methods and rigorous DRM licensing protocols, Axinom DRM offers a high level of security. This robustness protects your digital content from unauthorized use and helps you comply with data protection regulations.
Scalability: Axinom DRM can handle any content volume, providing scalability that grows with your business. Whether you're a startup or an enterprise, Axinom DRM is designed to accommodate your needs.
Ease of Use: Despite its advanced features, Axinom DRM is user-friendly. Its intuitive interface allows non-tech users to navigate the software easily, simplifying managing digital rights.
Customer Support: Axinom provides great customer support, quickly addressing any issues you encounter. This support can be crucial when dealing with something as vital as your intellectual property.
FAQs
What is Axinom DRM?
Axinom DRM is a comprehensive digital rights management software that helps companies protect their digital assets by controlling access and preventing unauthorized use. It supports multiple DRM technologies, making it adaptable for various platforms and devices.
How does Axinom differentiate itself from other software solutions in the digital rights management space?
Axinom stands out from other software solutions due to its comprehensive features tailored specifically for digital rights management. It supports multiple DRM technologies, making it adaptable for various platforms and devices. Its state-of-the-art encryption methods and DRM licensing protocols offer robust security. Axinom DRM also enables secure offline playback, full platform support, simplified integration, and a unique disconnected DRM feature. These features, coupled with its scalability, make Axinom DRM a compelling choice for businesses of all sizes looking to secure their digital content.
How does Axinom DRM secure digital content?
Axinom DRM uses state-of-the-art encryption and licensing protocols to secure digital content. It also supports multi-key encryption of content qualities and key rotation for live streaming and linear media delivery.
Can Axinom DRM support offline playback?
Yes, Axinom DRM enables secure download and offline playback of premium content by issuing persistent DRM licenses securely stored on playback devices.
Conclusion
In the realm of digital rights management, Axinom DRM truly stands out. With its robust security, extensive features, and seamless user experience, Axinom DRM is a compelling contender for the best digital rights management software title. Its comprehensive coverage, ranging from multi-key encryption to support for offline playback, makes it a choice worth considering for any business seeking a reliable DRM solution.
Moreover, its innovative features, like disconnected DRM and support for BYOD, demonstrate its commitment to staying at the forefront of DRM technology. Axinom DRM ensures that your digital assets are not only well-protected but also easily accessible to your authorized users, providing a balance of security and user experience that is crucial in today's digital landscape.
However, the ultimate decision will always hinge on your needs and requirements. Therefore, we encourage you to try Axinom DRM. Explore its features, test its capabilities, and see if it is the best DRM software for you.
For more information about Axinom DRM, other digital rights management software, and business solutions, we invite you to visit our website. Our site is a treasure trove of insights and information designed to help you make the most informed decisions for your business. We're committed to equipping you with the knowledge you need to navigate the dynamic digital landscape of today's business world.
Remember, the right DRM software is critical in safeguarding your valuable digital content. So, make your choice wisely, and let our site be your guide in this essential journey.