Last Updated on September 26, 2023
Most business owners are aware that content using AI script generators is the key to online success. Creating interesting and engaging stories can be daunting for some writers.
It is where the AI ​​story generators come in. Using an AI story-writing program will not degrade a creative story's originality nor replace human creativity.
Lend your time on this article to know why you need an AI story generator and what to take note of when choosing one.
How to Choose the Best AI Script Generator?
You might be wondering if you need AI script generators. What if you want to bypass writer's block and end your struggles forming exciting ideas?
The tool will do the hard part for fiction writers- to upgrade the creative writing process, generate a creative story template, suggest story ideas, and develop an interesting and engaging story competitive in the market or win box office titles.
So how do you decide which are the right AI story writing tools for you?
The most crucial factor is the AI ​​script generator's ability to generate stories with high-quality scripts. Other factors to consider are:
Features of AI script generators
A powerful AI story generator can be a plot generator and write stories ready for publication. Maybe you are a fiction writer looking for an AI story generator that can generate long-form reports with the free version. Knowing what the AI ​​script generator is for can help narrow your search.
Ease of use
An ai story generator aims to help you create interesting story plots and compelling stories in a short period. If you're a beginner, better choose story generator tools that are simple to use.
Customer support
Maybe you're an AI writer who wants to make your web interface appealing to users. You might need a chatbot that automatically responds to your users' queries. Or maybe you need an AI story generator tool to make the "About Us" page catchier and more interactive to gather customers.
The price of the AI story generators
Some AI script generators have paid versions to access advanced features, while others require you to just up and use the free plan to generate ideas for movie scripts.
What is the Best AI Story Generator?
A script generator can automate the scripting process and write engaging stories that look more professional. Moreover, it must be user-friendly, especially for beginners.
Here are some of the most famous AI script generators out there and the breakdown of their excellent features to help you find the one that's right for you.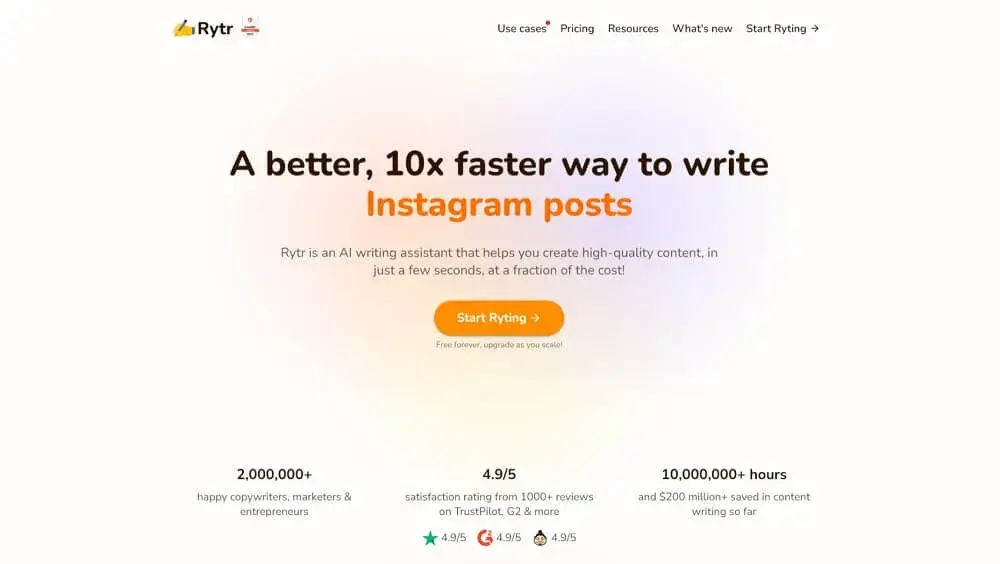 Rytr is another AI script generator that helps you level up in creative writing and develop a unique story plot for a big project. It is also a suitable AI story generator that allows fiction writers to set the parameters for the ai-generated stories.
Rytr
Rytr is an AI writing assistant that helps you create high-quality content, in just a few seconds, at a fraction of the cost!
Key Features
Offers specifications of the story genre, style, count of words, and other parameters of the stories it generates.
Empower story writers to create the best ai story with the plot generator.
The free plan users can also access some of the advanced settings.
You can get over 5,000 characters per month with Rytr's free version in over 30 languages ​​and 20 tones.
Get the Saver plan for $9/month to get more features and 50,000 characters every month.
Lastly, the Unlimited plan will cost you $29/month to generate content without a limit, plus excellent premium support.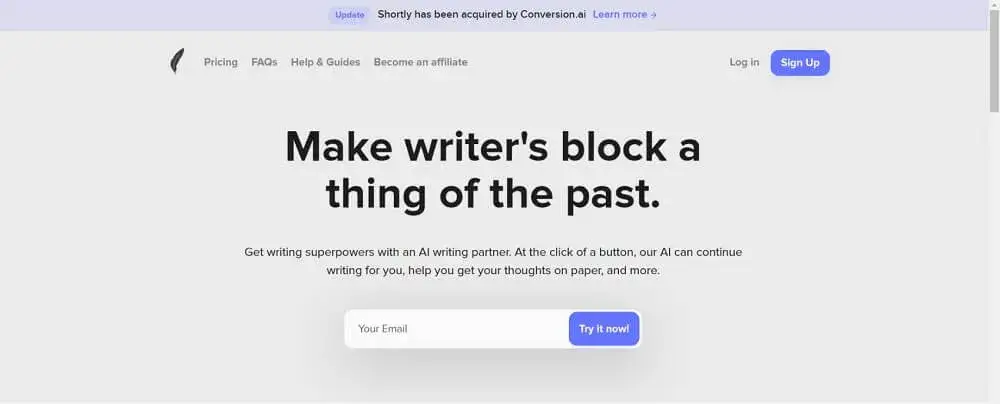 Shortly AI story generator tool helps you create stories using the power of artificial intelligence.
The plot generator app uses GPT-3, a natural language processing, to write stories based on user input. Just specify the content type you want, which will generate ideas for an ai rendered story.
Shortlyai
Get writing superpowers with an AI writing partner. At the click of a button, our AI can continue writing for you, help you get your thoughts on paper, and more.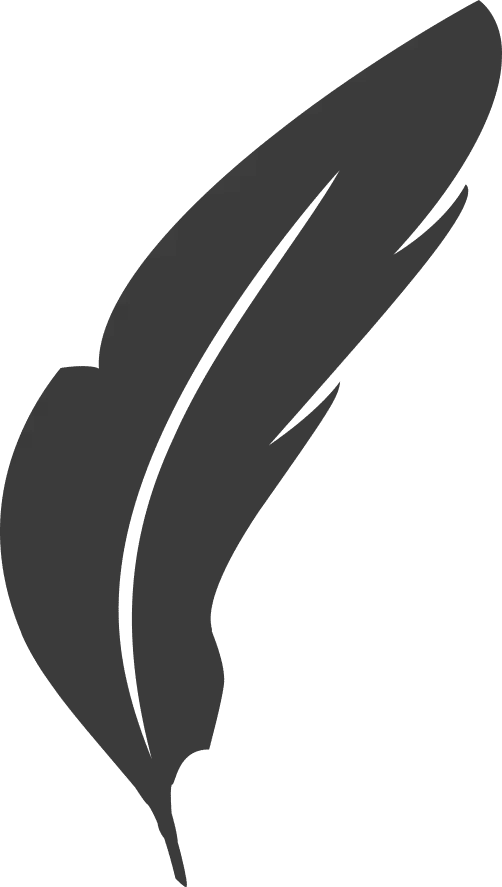 Key Features
Artificial intelligence is needed to develop new stories, characters, and settings based on set parameters.
The story generator lets you set the length of words so you can make either short stories or long-form stories.
The ai story generator offers paid versions per month or year with unlimited use.
The Monthly plan starts at $79/per month, while the Yearly discounted plan starts at $65/per month.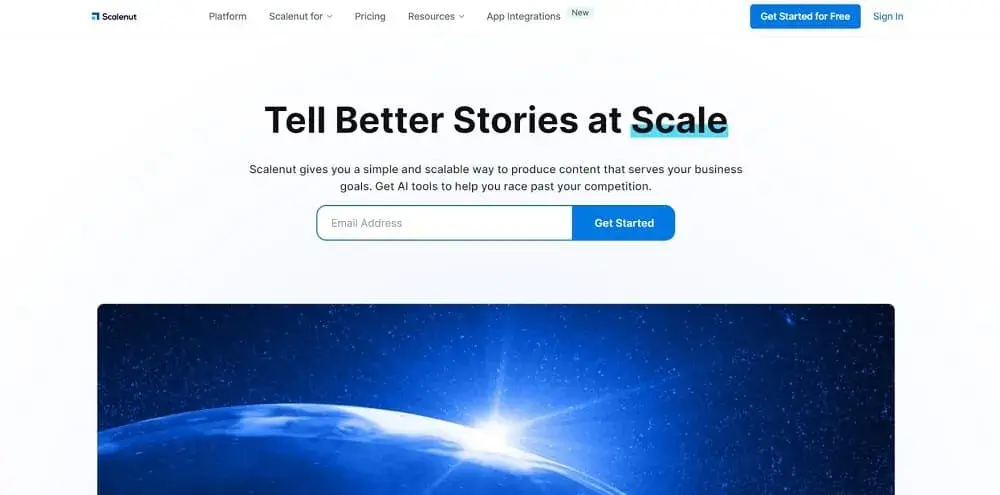 Another ai story generator powered by natural language processing to determine vital points of your story and give directions to follow.
The Scalenut ai tools allow the ideas to flow, easing the writer's block to speed the story writing process.
Scalenut
Organic Marketing Platform, with AI that powers your entire content lifecycle.
Key Features
It allows the organization of ideas and workflow, including project progress tracking.
Provides full content reporting from a single target keyword to give you an SEO recipe that always succeeds.
A single plan costs $12 per month, letting you generate 5,000 words of content.
The Growth plan is $32 per month, giving you unlimited words.
The Pro plan charges $60/month and includes full features under the Growth Plan plus responsive customer support.
The Article Forge uses advanced ai settings combined with deep learning to create unique and interesting output.
It can generate bulk articles. It means that you can create numerous articles with different angles and features at the same time.
Article Forge
Article Forge Uses AI To Write Entire Articles With The Same Quality As A Human For A Fraction Of The Cost.

Key Features
Ensure unique content with the deep learning technology of Article Forge.
Can generate optimized articles for social media pages or websites.
Basic plan ($13/month), Standard Plan ($13/month), and Unlimited Plan ($57/month).
5. Writecream AI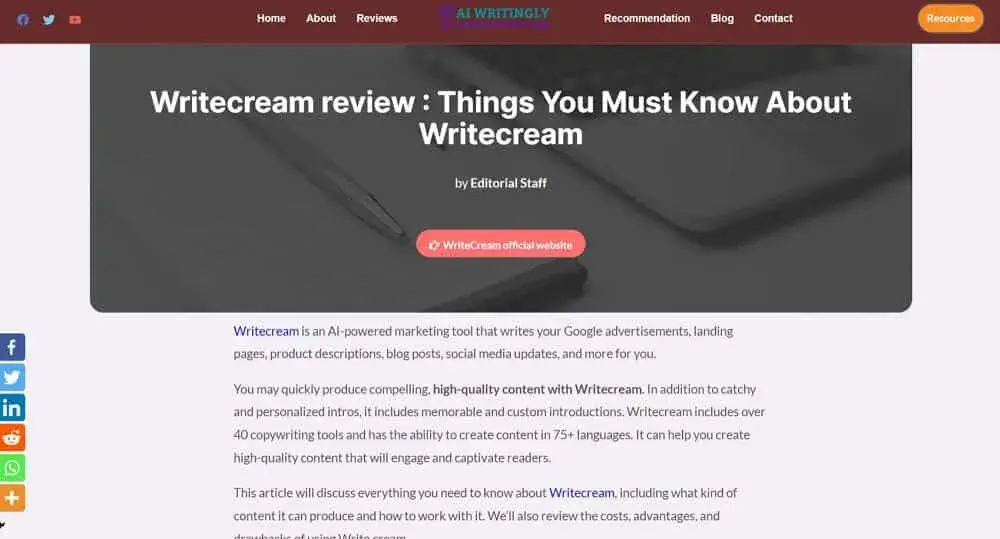 Writecream AI is for content marketing. So, if your business uses content to generate conversions, try Writecream.
Writecream
Create marketing content & sales emails in seconds, at a fraction of the cost. Try for free. No credit card is required.
Key Features
Provides various templates to start quickly.
It also suggests grammar, spelling, style corrections, and new ideas for the next article entry.
Available for Windows and Mac users.
Pricing Plan
Writecream has a free version and unlimited plans that will cost you $29 per month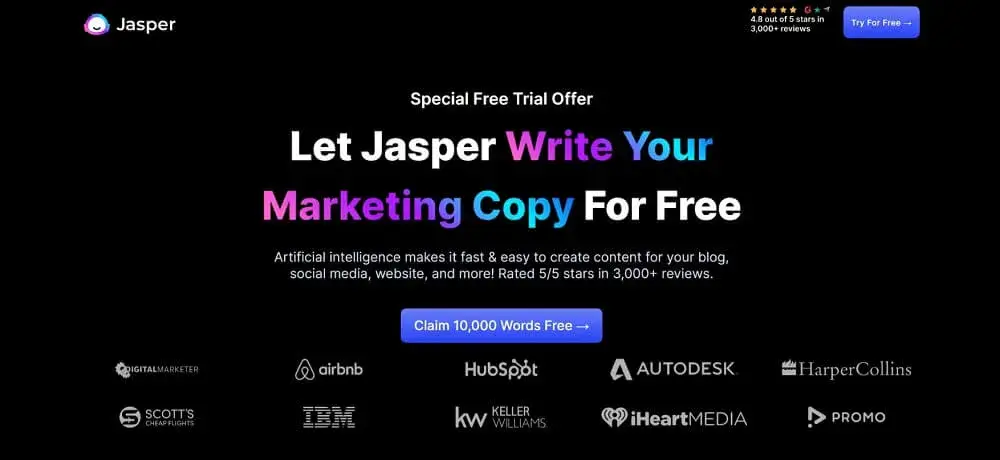 Jasper is the best AI story generator that helps you create new story ideas and complete a creative story. The artificial intelligence of Jasper uses natural language processing to understand keywords and sentences to generate ideas and create high-quality content that resembles natural writing.
Jasper
Jasper is a generative AI platform for business that enables your team to produce content targeted to your brand ten times more rapidly, no matter how you work digitally.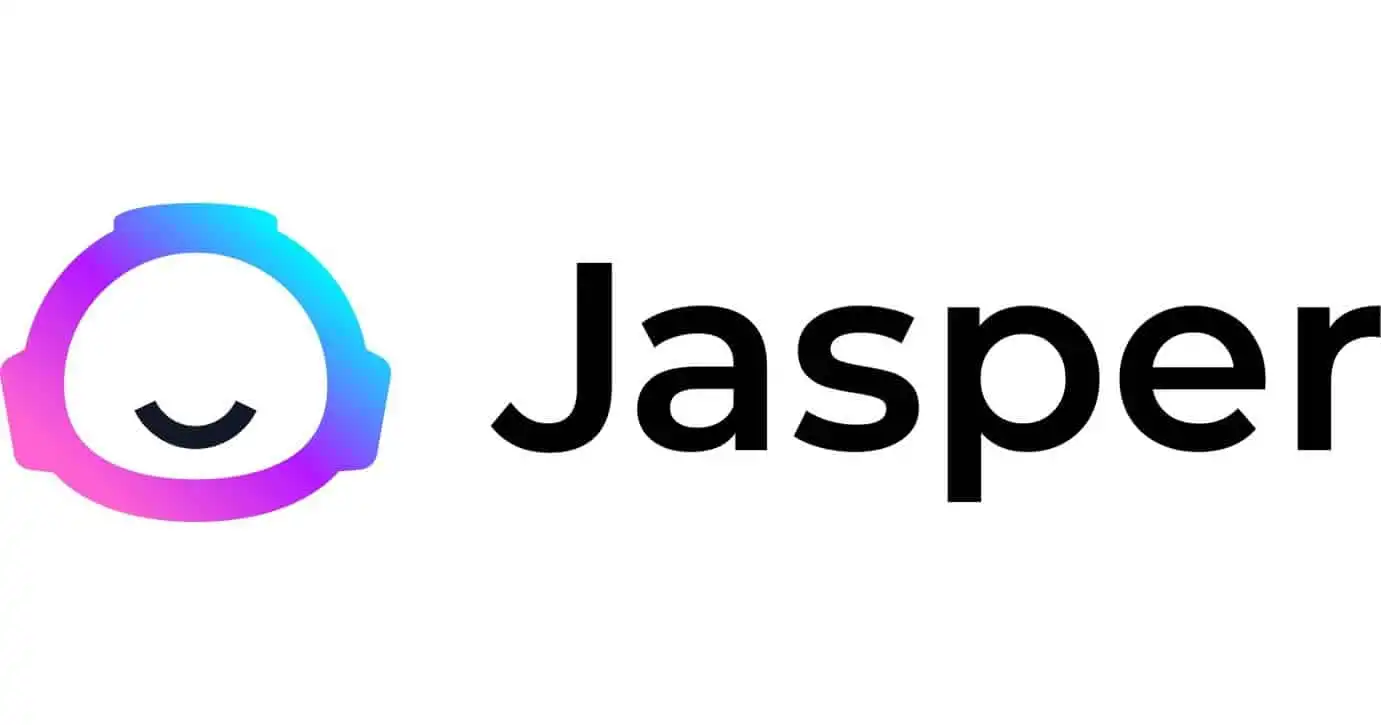 Key Features
Jasper offers 50 templates to generate articles, including creative stories.
It offers numerous features to help you speed up the screenplay writing process and suggest new ideas for a short story or complete story, including a plot generator.
This AI tool uses an editor similar to Google Docs with an extension of search engine optimization for double convenience.
The AI story generator tool has a Starter plan for $49/month, including 35,000-word generation for AI-generated stories.
The Boss Mode plan starts at $99/month and includes 100,000 words/month.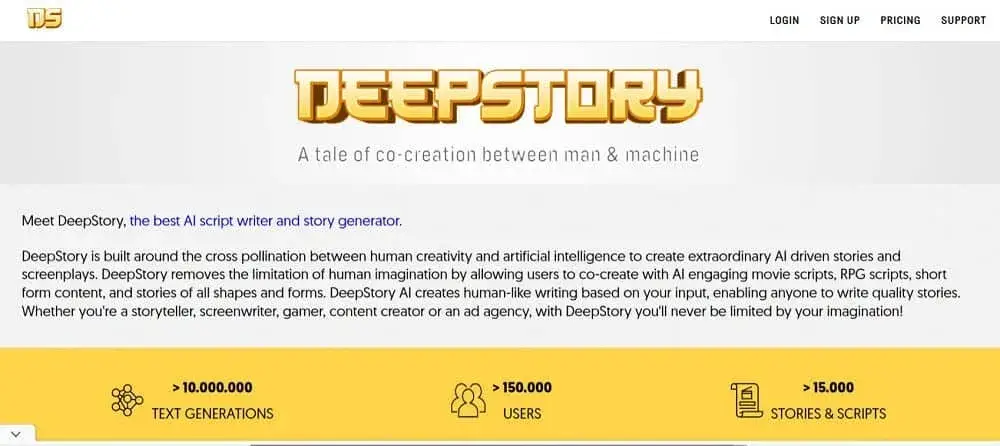 The best AI generators can develop exciting ideas and interactive stories encompassing the human element.
This tool has multiple themes that you can explore to unfold your story. For example, select a movie name from the list, and the AI writing assistant will generate a new report related to the inspiration.
Key Features
DeepStory is best for writing movie scripts and live chatting scripts.
This tool has multiple themes that you can choose to unfold your story.
Pricing Plan
The DeepStory AI writing assistant is free to use! Secure an account after generating your first content.

It is an excellent tool for novelists using artificial intelligence to generate story ideas. Novel AI can customize characters and story plots. It may even help in writing stories like your favorite author's style.
Key Features
You can always customize your editor by changing the font and color scheme.
Novel AI has server encryption for user protection.
Pricing Plan
You can select the right features for your content writing needs with these Novel AI plans:
The Paper tier or the free plan will give you access to 100-story generations.
Pay $10/month for the Tablet tier to get the same features in the Paper tier but with more memory tokens of up to 1,024.
The Scroll and Opus tiers cost $15 and $25 per month, respectively.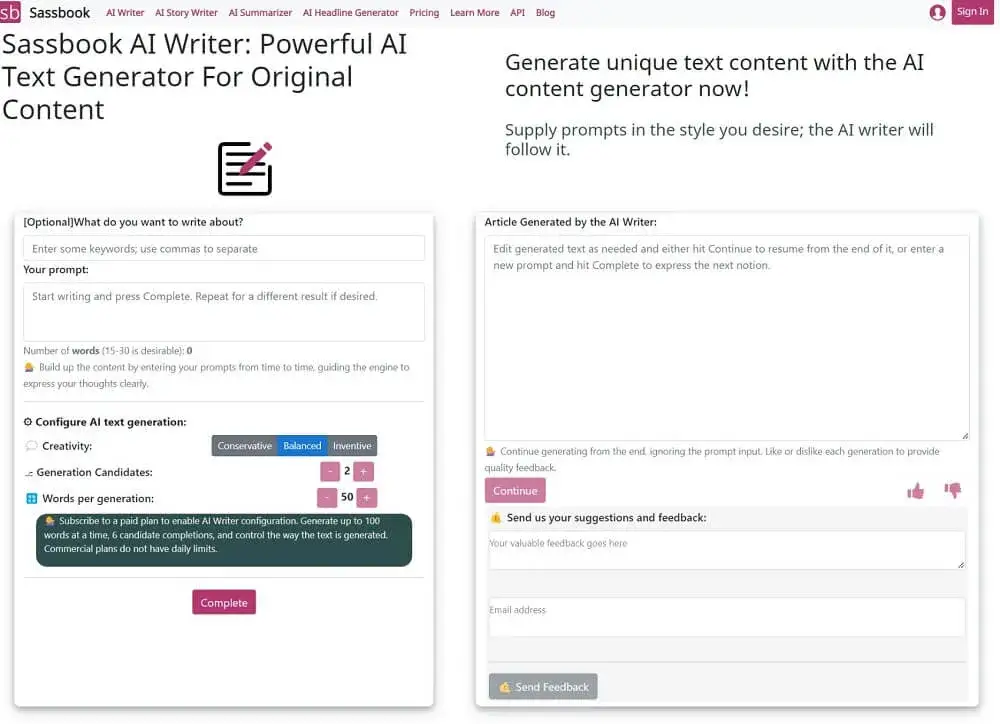 The Sassbook AI writer will not fall sooner among the current best story generator tools in the market. It is a writing assistant specializing in summarizing content without leaving the most valuable details behind.
Key Features
It belongs to the lineup of preferred ai writing tools that can provide quality outputs on a wide range of topics. It's also a good choice for creating catchy headlines for articles.
Using a neural network, the Sassbook ai writer can generate a draft related to the keywords or key sentences provided by the users.
Pricing Plan
The story writing tool has a free and premium plan that you can avail of at affordable prices.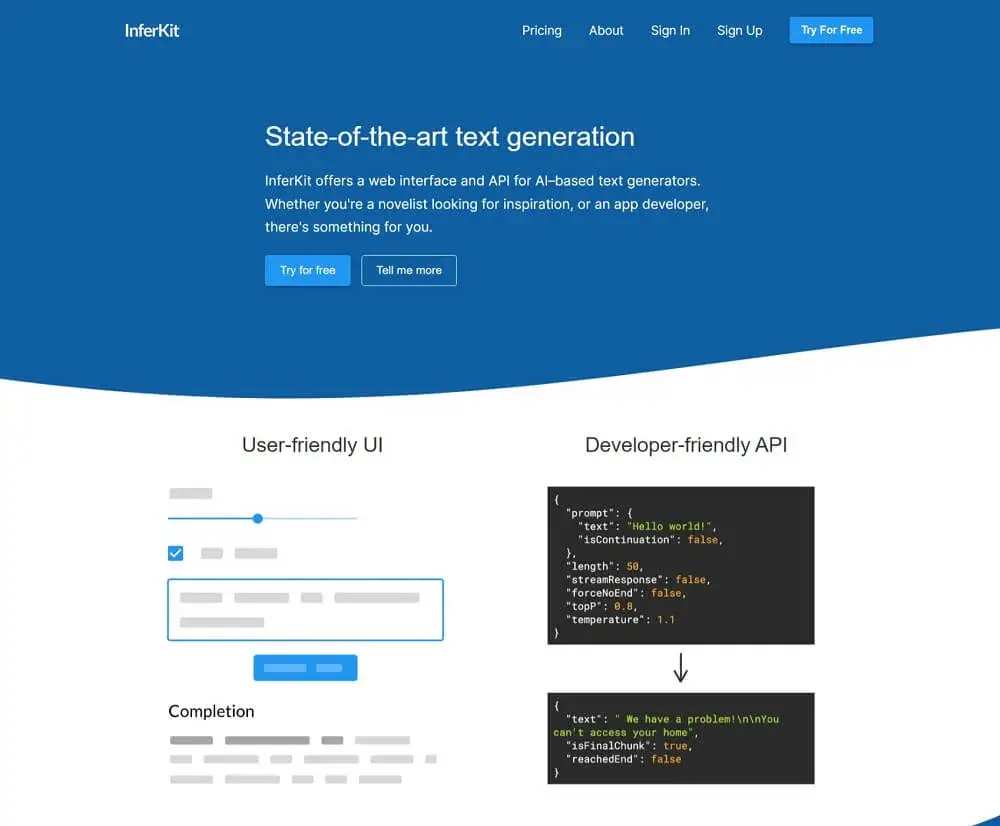 InferKit is another great tool to choose from if you're looking to ai auto-generate text.
It uses a technology called GPT-2 to scrape information on different information based on the context provided by the user.
Key Features
Inferkit has a transformer language model that can read the meaning of the keywords and phrases and generate stories that complement the inspiration.
With Inferkit, you can write stories with a maximum of 8,000 words for free each week.
Pricing Plan
The ai tool has two plan options: The Basic plan, which includes 600,000 characters for $20/month, and the Premium Plan, which includes 2.5 million characters for $60/month.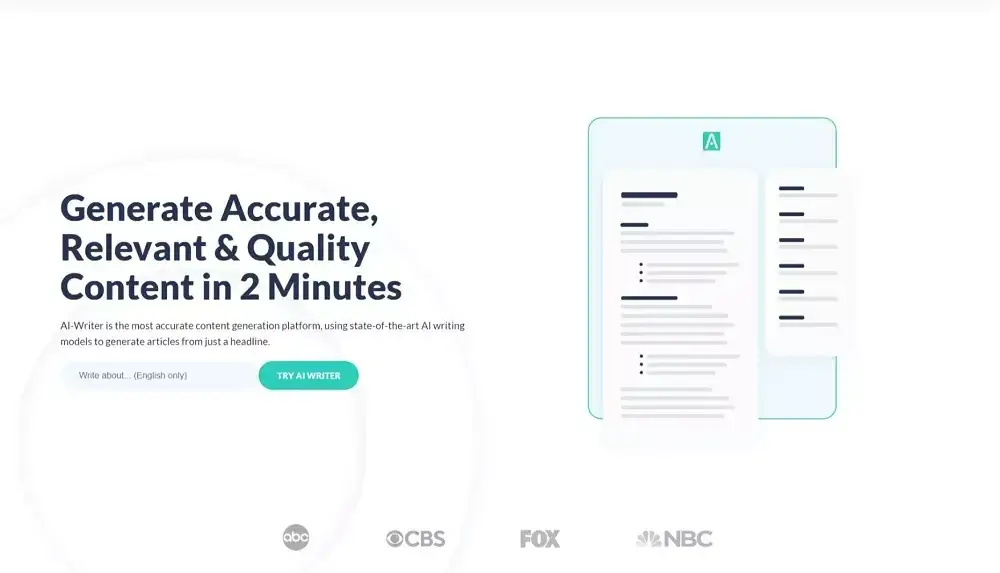 This tool is slightly different from AI story generators on this list because it is dedicated to creating drafts.
It collects and organizes citations to ensure the information is correct and updated.
Key Features
Can create content that will appear higher in search engines.
Can generate a complete story in less than an hour.
Users can easily understand it.
Pricing Plan
AI Writer is available in three plans: The Basic ($29/month), Standard ($59/month), and Power Plan ($375/month).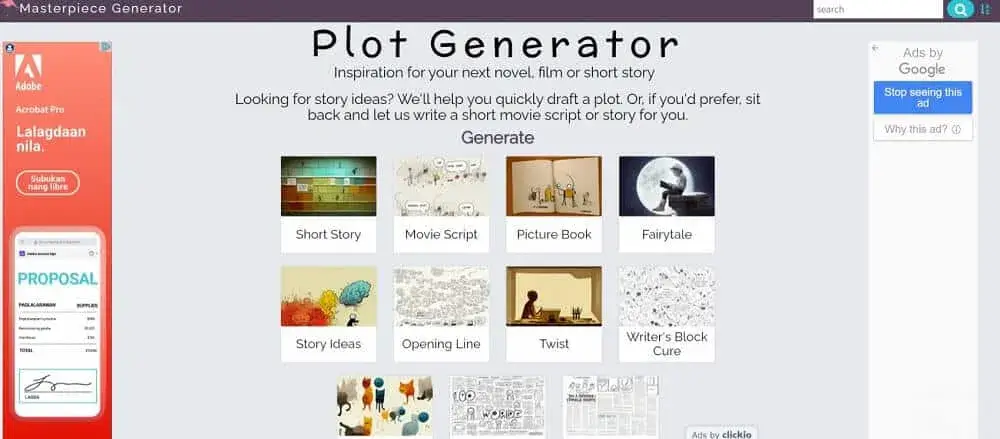 Sitting in the 12th spot is a free ai story generator! Customize the plot of your story with fantastical and imaginative elements with Plot Generator.
If you find it hard to fill out the various sections, you can choose from a random selection.
Key Features
It helps generate unique characters and even scripts for movies like romantic comedies, superheroes, or animation themes.
The Plot Generator is perfect for creating short films and stories.
Pricing Plan
You don't have to spend anything when you use Plot Generator AI.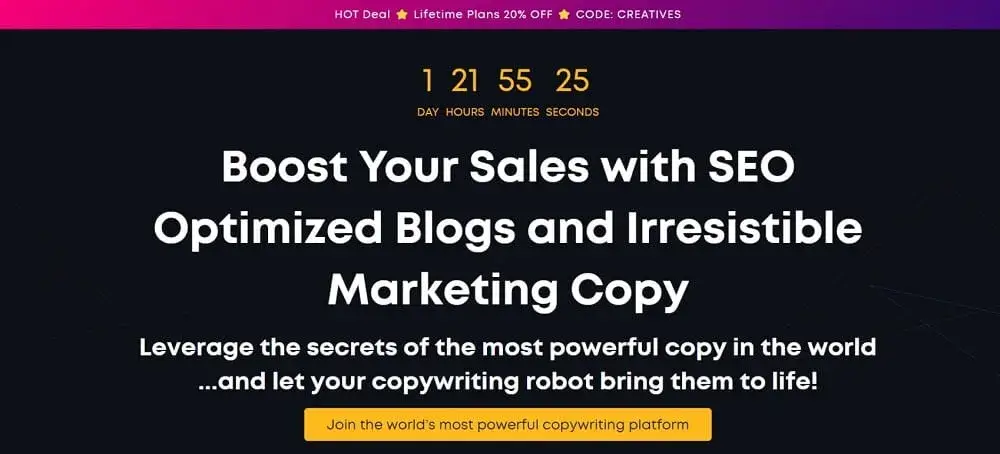 ClosersCopy is a plot generator website desired by an AI writer who wants assistance in story writing by efficiently providing ideas and outlines for AI stories. This app uses a neural network to generate reports based on user input.
It is one of the best AI story generators that allows you to generate stories with 128 language options. It is also cloud-based so that you can work remotely with other users on the same project.
Key Features
It offers various features to get idea suggestions, including a plot generator and an ai story generator.
Frameworks developed by ClosersCopy users can also be accessible to others, particularly SEO Planner and SEO Audit features.
Generate different types of content, such as marketing copies, social media posts, emails, articles, and novels.
Pricing Plan
There are three available plans for ClosersCopy:
The Power Mode costs $49.99/month and offers 300 AI-generated stories.
The Superpower Mode costs $79.99/month and provides 700 AI runs and
The $99.99/month Superpower Squad is sharable to your co-ai writer.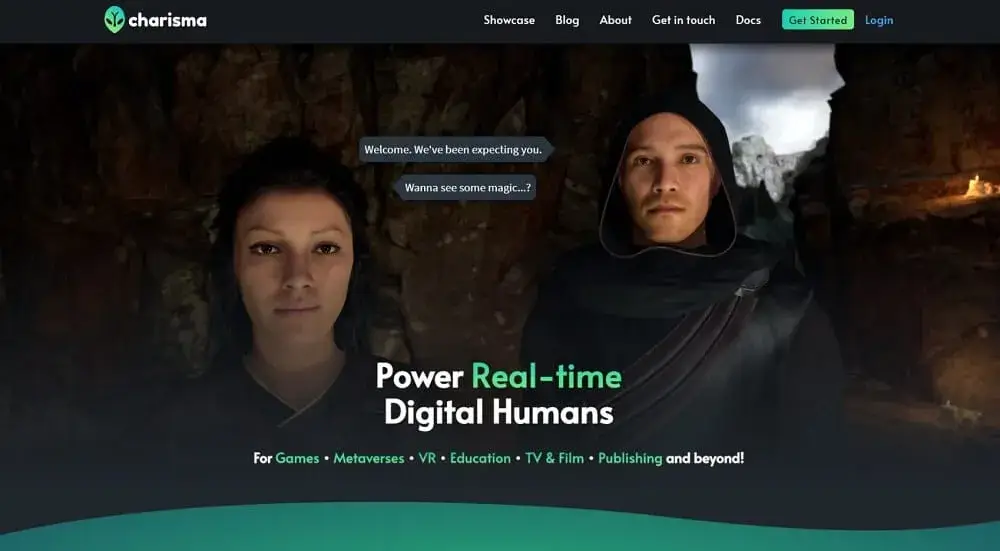 Charisma AI will help you break monotonous and cliche stories. With advanced features, it develops interactive movies and TV series and can elevate VR and game experiences with relatable characters.
Key Features
Its educational and wellness tools focus on helping the viewer participate in the story.
Creates emotional and believable characters, including natural storylines that readers can feel connected to.
Pricing Plan
You can access Charisma AI for free, but you'll need a subscriber plan to extract your generated content from the app.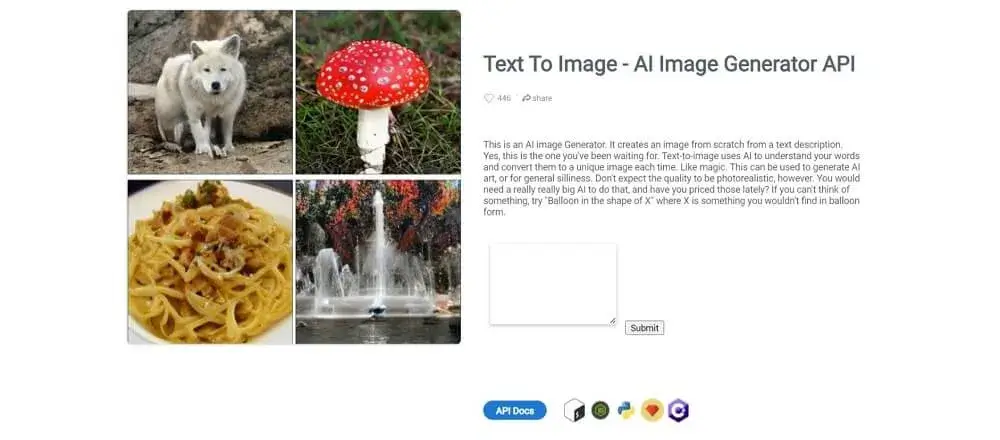 Use the Deep AI to build marketable product descriptions, catchy social media captions, and a great identity for your story characters.
Key Features
The Text Generation API is backed by a rich set of language models that can expand text to paragraph.
Creates realistic lyrics that resemble human writing.
Pricing Plan
Get text and image APIs with the Standard Deep AI plan for only $2/month or the Enterprise Plan for custom features and pricing.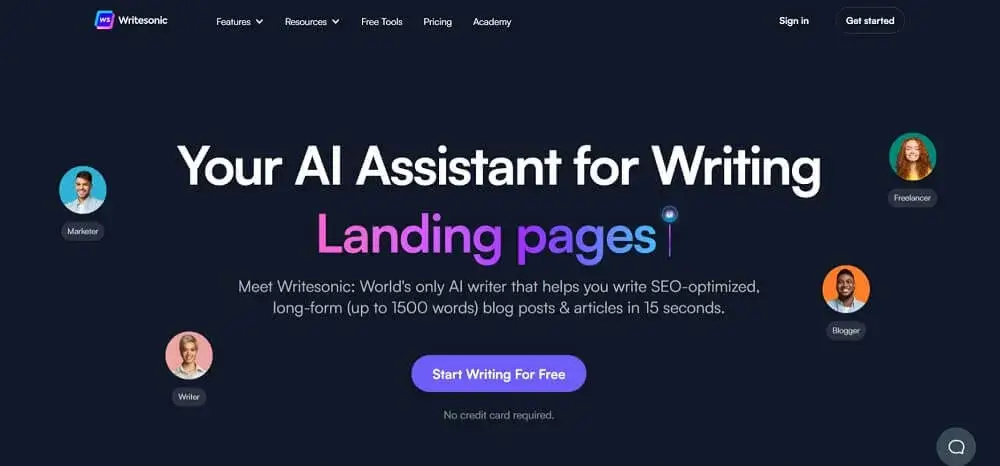 The Writesonic AI tool will automatically generate storylines and character profiles through artificial intelligence that match specific parameters such as genre and other advanced settings set by the user.
In addition, Writesonic AI helps find keywords and topics to focus on to write more clearly and purposefully.
Key Features
It analyzes the text input to provide feedback on tone, readability, and other factors to improve story writing.
Give suggestions to improve grammar and vocabulary.
Automatically create the Table of Contents.
Pricing Plan
Spend nothing on the 7-day free version of Writesonic, or you can choose between the Short-form ($15/month) and Long-form ($19) if you're making money as a freelance writer.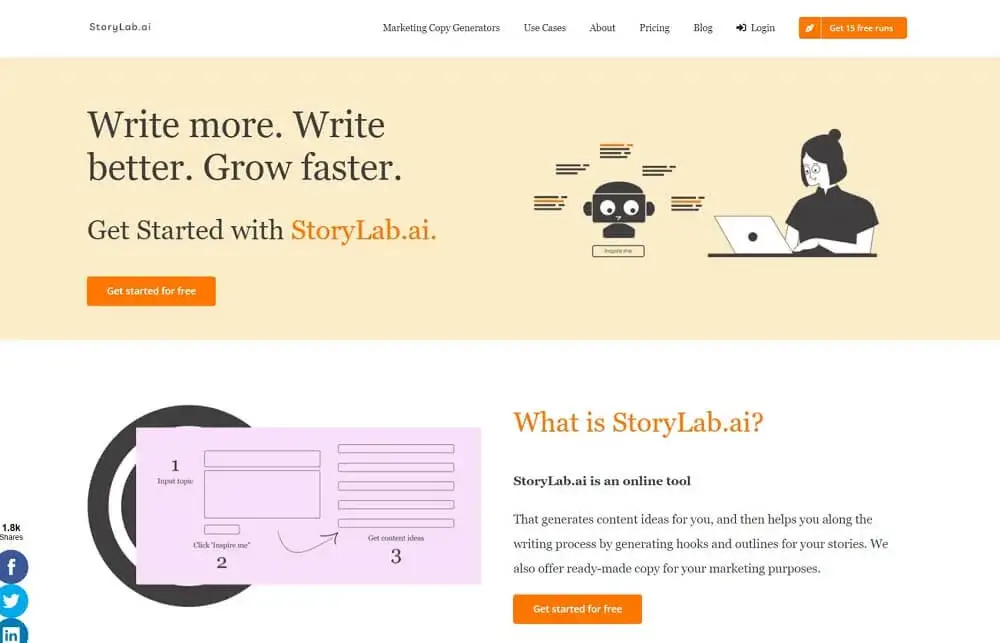 StoryLab is one of the best choices of ai story generators that help an ai writer generate creative story ideas, structure, and character notes.
It is a recommended story generator tool that uses natural language processing modules to make a ai generated story based on user input.
Key Features
It has a search engine optimization extension that optimizes content to rank high in web searches.
Suitable for short content production
Uses a neural network to generate the best ai story based on user parameters.
Pricing Plan
The free trial offer allows you to create 15 different content per month. You can also try the Starter version for $7/month to generate 100 stories or the Pro version, which costs $20/month to develop 300 pieces of high-quality content. For unlimited use, go for the Unlimited version for $27/month.
See, if you welcome artificial intelligence innovations in content writing, it will never be as hard as before.
If you want versatility and little to no error in your content, choose among the best ai story generators that fit your specifications.
Almost all of our recommendations are free. You can also find it easy and may spend the minimum effort to use it.
It's time to start a more successful writing journey with ai story generators!
How can AI Script Generators Influnce Content Creation
With the dawn of the digital age, the demand for high-quality video content creation has surged. Tools powered by artificial intelligence, like AI script generators, are playing an increasingly significant role in reshaping how creators produce content. Instead of spending hours or even days trying to write scripts, creators can now use a tool that uses AI to generate a video script in a fraction of the time.
Once the AI produces a draft, you can easily copy the script and make any necessary modifications to tailor it to your specific needs. This efficiency not only ensures that you are ready to create your video swiftly but also gives you the flexibility to determine the length of your video without being bogged down by the script writing process.
Such advancements mean creators can spend less time on the preliminary stages of content creation and more time on refining and finalizing their work, whether it's for a short ad or any other sort of script.
Harnessing the Power of AI for Unique Video Ads
In today's competitive digital landscape, video ads are paramount for capturing audience attention, especially on platforms like TikTok. If you're looking for the best AI to enhance your video creation process, consider diving into the world of AI script writers.
Unlike many other AI tools on the market, the best AI script writer tools harness the power of AI in crafting engaging video scripts, turning bland ideas into captivating narratives. This AI text is not just generated content; it's a symphony of well-structured storytelling designed to resonate with viewers.
Whether you're crafting a TikTok clip or a longer marketing campaign, using a script with AI can make the process efficient and the outcome compelling. These handy tools can help you create, or even transform, any video content you need to create, ensuring your messages are not only heard but remembered.
The Future of AI Script Generators: Generate Scripts Using AI Tools
The Future of AI Script Generators is unfolding before our eyes, revolutionizing the realm of content creation. As YouTube video production continues to soar in popularity, creators are constantly seeking efficient ways to generate a script that aligns with their vision.
Enter the AI video script generator, a cutting-edge tool designed to simplify and enhance the process of crafting the perfect video script. With an AI script writer at one's fingertips, it is now possible to produce a coherent and engaging script in seconds.
This not only optimizes the workflow for those in the video-making industry but also promises to redefine the standards of content quality and originality in the digital age.
What is an AI script generator?
An AI script generator utilizes AI technology to help users create compelling video scripts in minutes. By analyzing user input and understanding content nuances, it aids in the creation of engaging narratives tailored for video content.
How does an AI-generated script differ from a human-written one?
An AI-generated script is crafted using AI-powered algorithms that process large amounts of data to generate content. While a human writer may bring personal experience and intuition to the table, AI can quickly generate scripts based on patterns, ensuring efficiency and coherence.
Can I use the script generator tool for platforms like TikTok?
Absolutely! The script generator tool is versatile and can be tailored to create engaging scripts suitable for short-form platforms like TikTok or longer video content
Is there a free AI writer available for video script generation?
Yes, there are free AI script generator tools available online. These free online AI systems allow users to create video scripts without any initial investment, though some advanced features might come at a premium.
How can AI assist in video editing?
While the primary function of an AI script generator is script generation, there are other AI-powered tools that assist in video editing. These can help in aspects like scene selection, audio syncing, and even suggesting edits based on the script.
Do I still need a video editor if I use an AI-generated script?
An AI-generated script primarily aids in content creation. While it can guide the narrative, the actual process of video editing – like cutting, adding effects, and syncing music – would still require a video editor, be it a human or AI-powered software.
How long does it take to create a script using the free AI script generator?
With the power of AI technology, you can create compelling scripts in minutes. The exact time can vary based on the length and complexity of the desired content.
Is the AI-generated script completely free of errors?
While AI technology is advanced, a writer may still need to review and make minor adjustments to ensure that the script aligns perfectly with the video's objective. No tool is completely infallible, but AI provides a strong foundation to build upon.
How can I make my video stand out using the AI script generator?
The AI script generator provides a foundation, helping you create engaging and compelling video scripts quickly. However, to make your video truly stand out, consider adding personal touches, innovative ideas, and high-quality production values.
Is it possible to create both short and long-form video content with this tool?
Absolutely! Whether you want to create a short, engaging clip or dive deep into a topic with long-form content, the AI script generator tool can assist in crafting scripts that fit your needs.