Last Updated on September 10, 2023
In the rapidly evolving landscape of digital marketing, staying ahead of the competition requires more than just creativity and intuition. Data-driven insights have become the cornerstone of effective marketing strategies, and artificial intelligence (AI) is emerging as a game-changer in this arena.
In this comprehensive guide, we'll demystify AI marketing analytics, helping you dive into the world of data-driven decision-making to supercharge your content marketing efforts.
Harnessing the Power of AI for Marketing Analytics
Understanding the Basics
Before we delve into the depths of AI marketing analytics, let's establish a solid foundation by familiarizing ourselves with some fundamental terms:
The utilization of artificial intelligence techniques and tools to enhance various aspects of marketing strategies. Enterprises are now able to extract more profound understandings from extensive datasets, enhance consumer relationships, and achieve greater efficacy in their campaigns.
The practice of analyzing and interpreting marketing data to gain insights into campaign performance, customer behavior, and overall effectiveness. Through a thorough analysis of diverse metrics and indicators, enterprises can derive crucial insights regarding the efficacy of their marketing initiatives, client habits, and overall strategic effectiveness.
The use of historical data and statistical algorithms to predict future outcomes and trends. By utilizing a vast repository of historical data, enterprises have the ability to utilize advanced algorithms in order to reveal latent patterns and correlations within the dataset.
A strategic approach to marketing that focuses on creating and distributing valuable, relevant, and consistent content to attract and engage a target audience. Businesses can cultivate trust, establish authority, and foster relationships by delivering content that caters to the needs, interests, or challenges of their target audience.
The simulation of human intelligence processes by machines, enables them to perform tasks that typically require human intelligence, such as problem-solving, decision-making, and learning. This capacity has led to the development of technologies like machine learning and neural networks, which enable machines to improve their performance over time by recognizing patterns and adjusting responses.
Unleashing AI's Potential in Marketing

AI marketing analytics has the potential to revolutionize the way businesses approach their marketing campaigns. The vast amounts of data generated by digital interactions provide a treasure trove of insights waiting to be explored. By using AI tools, marketers can unlock valuable information that would be impossible to extract manually.
With the ever-increasing amounts of data being generated, AI tools can quickly and efficiently analyze this data to provide meaningful insights. This allows marketers to make informed decisions based on real-time information.
AI can automate repetitive tasks, such as data collection, analysis, and reporting, freeing up marketers to focus on more strategic aspects of their campaigns. This shift not only enhances the efficiency of marketing processes but also empowers professionals to delve into innovative strategies, refine audience targeting, and craft compelling narratives that can truly drive impactful results.
By analyzing customer behavior and engagement patterns, AI can suggest optimizations to marketing campaigns in real time, ensuring that efforts are aligned with audience preferences. This dynamic approach guarantees that strategies remain in sync with evolving audience preferences, enabling marketers to make agile adjustments and deliver content that resonates most effectively.
Generating Personalized Content
AI can generate personalized marketing messages by analyzing individual customer preferences, leading to higher engagement and conversion rates. Customers feel valued when their unique needs are addressed, resulting in a stronger connection and a more compelling call to action.
Through predictive analytics, AI can forecast the outcomes of different marketing strategies, helping marketers make more accurate predictions about the success of their campaigns. By aligning their efforts with AI-generated predictions, marketers can optimize their strategies, allocate resources efficiently, and bolster their chances of achieving desired outcomes in a dynamic and competitive marketing landscape.
AI algorithms can analyze the performance of different marketing channels and campaigns, enabling marketers to allocate resources to the strategies that yield the highest return on investment (ROI). This data-driven approach not only optimizes budget allocation but also fine-tunes the overall marketing strategy, fostering a cycle of continuous improvement and enhancing the overall efficiency and effectiveness of marketing endeavors.
Implementing AI in Marketing Strategies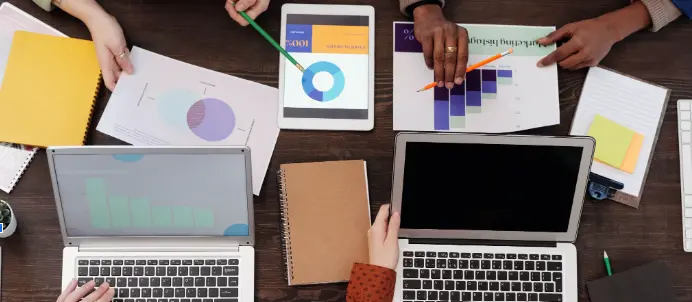 Understanding Customer Behavior
One of the most significant advantages of AI marketing analytics is its ability to understand customer behavior at a granular level. By analyzing customer interactions, preferences, and purchase history, AI can uncover patterns that help tailor marketing strategies for optimal impact.
AI enables personalized marketing at an unprecedented scale. Instead of creating generic messages for a broad audience, marketers can leverage AI to deliver individualized content and product recommendations, increasing the likelihood of conversions.
Automating Campaign Management
Managing complex marketing campaigns requires meticulous attention to detail. AI can streamline this process by automating tasks such as A/B testing, ad placement, and campaign scheduling. This not only saves time but also ensures consistency and accuracy in execution.
Unveiling Actionable Insights
AI marketing analytics doesn't just provide data; it offers actionable insights. By uncovering correlations and trends within large datasets, AI empowers marketers to make strategic decisions backed by concrete evidence.
Maximizing the Power of AI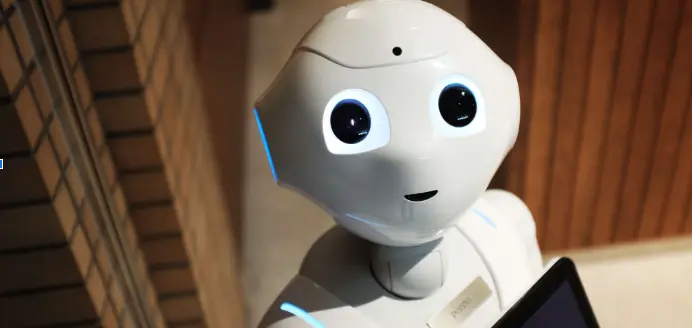 To harness the full potential of AI marketing analytics, it's important to follow a structured approach:
Define Goals
Clearly outline your marketing objectives and the specific areas where AI could make a difference. These objectives act as guiding principles that steer a company's marketing efforts toward desired goals. The integration of Artificial Intelligence (AI) in marketing has emerged as a transformative force, capable of elevating traditional strategies to new heights.

Choose the Right Tools
Select AI tools and platforms that align with your goals and integrate seamlessly with your existing systems. Each AI tool or platform possesses unique features and functionalities that cater to specific needs, such as customer insights, automation, predictive analytics, or natural language processing.
Moreover, a harmonious integration with existing systems is of paramount importance. Incompatibility between new AI solutions and the organization's current infrastructure can lead to inefficiencies, data silos, and increased complexity.
Collect and Clean Data
High-quality data is essential for accurate AI-driven insights. Ensure that your data is clean, structured, and comprehensive. Clean data, devoid of errors, inconsistencies, and outliers, serves as the foundation upon which AI algorithms construct meaningful patterns and correlations.

Implement AI Algorithms
Work with data scientists or AI experts to develop and implement algorithms that suit your marketing needs. These professionals bring a profound understanding of complex algorithms and their practical applications, enabling them to tailor AI-driven solutions that align seamlessly with the intricacies of the marketing landscape.
By engaging in close consultation with data experts, businesses can not only identify the most suitable algorithms for their marketing goals but also ensure that these algorithms are fine-tuned and optimized for optimal performance.

Monitor and Refine
Continuously monitor the performance of your AI-driven strategies and make adjustments based on the insights gained. This monitoring involves assessing various metrics, such as engagement rates, conversion rates, and customer feedback, to ascertain how well the AI-driven initiatives align with the intended outcomes.
By meticulously analyzing the insights derived from this monitoring process, businesses can pinpoint strengths and weaknesses, enabling them to make informed adjustments to their strategies.

The Future is Data-Driven
In the ever-evolving landscape of marketing, the power of AI cannot be underestimated. By implementing AI marketing analytics, businesses can tap into the wealth of data available to them, transforming it into actionable insights that drive success.
Whether it's automating campaigns, personalizing content, or predicting outcomes, AI is reshaping the way marketers operate. As technology continues to advance, those who embrace AI will be at the forefront of innovation, leading the way toward a future where data-driven decision-making reigns supreme.
Please peruse our further articles and fully engage with a diverse range of topics. If you are seeking to enhance your comprehension or seek alternative viewpoints, our supplementary articles are accessible to guide you toward the appropriate path. So visit our blog now dive into the world of AI marketing analytics and unlock the potential for unparalleled marketing success.
FAQS
What is AI marketing analytics?
AI marketing analytics is the use of artificial intelligence and machine learning to analyze and interpret large amounts of data in order to create marketing strategies and improve marketing performance.
How can AI help marketers?
AI can help marketers in many ways. It can automate repetitive tasks, analyze large amounts of data to identify patterns and trends and use predictive analytics to determine the best marketing strategies. AI can also help marketers create personalized marketing content, optimize SEO, and effectively engage with customers through chatbots and AI-powered tools.
What are some use cases for AI in marketing?
Some use cases for AI in marketing include using data analytics to identify customer preferences and behavior, using AI to create content that is customized to the customer's needs, using natural language processing to analyze and understand customer feedback, and using AI-powered tools to analyze competitor analytics and improve marketing strategies.
How does AI analyze and interpret customer data?
AI uses data models and algorithms to analyze and interpret customer data. It can analyze customer behavior, preferences, and interactions with marketing campaigns to accurately identify patterns and trends. AI can also use natural language processing to analyze customer feedback and sentiment to better understand customer needs and preferences.
How can AI improve marketing content?
AI can improve marketing content by analyzing data to identify keywords and metrics that are relevant to the target audience. AI-powered tools can also optimize marketing content based on customer preferences and behavior, ensuring that the content is personalized and engaging.
How does AI help in SEO?
AI can help marketers optimize SEO by analyzing data and identifying keywords that are most relevant to the target audience. AI can also analyze competitor data to identify SEO opportunities and improve search engine rankings.
Can AI marketing analytics be used to customize marketing strategies?
Yes, AI marketing analytics can be used to customize marketing strategies. By analyzing customer data and behavior, AI can personalize marketing campaigns and tailor content to specific customer segments. This can improve customer engagement and drive better results.
How does AI effectively engage with customers?
AI effectively engages with customers through chatbots and AI-powered tools. Chatbots can provide instant customer support, answer frequently asked questions, and guide customers through the buying process. AI-powered tools can analyze customer data and behavior to deliver personalized recommendations and offers.
How does AI analyze large amounts of data to identify patterns?
AI uses machine learning algorithms to process and analyze large amounts of data. These algorithms can identify patterns, trends, and correlations in the data, enabling marketers to make data-driven decisions and improve marketing strategies.
How can AI marketing analytics help improve customer satisfaction?
AI marketing analytics can help improve customer satisfaction by analyzing customer data and feedback. By understanding customer needs and preferences, marketers can deliver personalized experiences and targeted marketing campaigns, which can enhance customer satisfaction and loyalty.