Last Updated on September 26, 2023
In the fast-paced world of digital marketing, staying ahead of the competition requires more than just creativity and intuition. It demands harnessing the power of advanced technologies like Artificial Intelligence (AI) to gain a competitive edge. AI marketing analytics, the science of deciphering data to uncover actionable insights, has seen a revolution with the integration of AI.
Marketers now have access to an array of cutting-edge analytics tools that can transform their strategies and results.
In this article, we'll explore the twenty-one best AI marketing analytics tools that can help you optimize your campaigns, refine your target audience, and generate valuable insights for more successful marketing endeavors.
Why Every Marketer Should Embrace Analytics Tools
In the digital age, every marketer is well aware of the crucial role data plays in devising effective strategies. Marketing analytics tools take this to the next level by providing a comprehensive view of your campaigns' performance, allowing you to make informed decisions. These tools enable marketers to streamline their efforts, automate repetitive tasks, and gather valuable insights from diverse data sources.
The Top 21 AI Marketing Analytics Tools for Marketers

Source: SEMrush
A comprehensive tool that covers SEO, keyword research, and competitor analysis. It helps marketers understand their ranking and visibility on search engines, optimizing their content marketing strategies. Individuals have the capability to engage in keyword research, monitor the positions of their website in search engine rankings, and evaluate the general health of their website's search engine optimization (SEO).
This functionality aids in the identification of opportunities for optimization and the implementation of strategies to improve on-page and off-page elements related to search engine optimization (SEO). Users can uncover their competitors' top-performing keywords, backlinks, and advertising strategies. This information allows for informed decision-making and the development of strategies to gain a competitive edge.
Semrush
Do SEO, content marketing, competitor research, PPC and social media marketing from just one platform.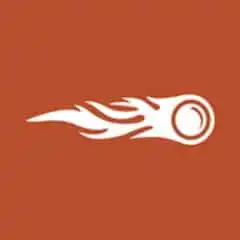 Source: HubSpot
Known for its inbound marketing capabilities, HubSpot offers robust analytics to track website performance, email marketing campaigns, and social media engagement. The use of this integrated approach enables organizations to streamline their marketing, sales, and customer service endeavors by centralizing them within a single platform. This consolidation promotes enhanced collaboration and provides a comprehensive perspective on their interactions.
One of the notable capabilities exhibited by HubSpot is its capacity to scale effectively. HubSpot provides a range of solutions that cater to the different demands of both small businesses with limited resources and larger enterprises wanting advanced functionality.
HubSpot positions itself as a growth-oriented partner that adapts to the changing demands of organizations, both small and large, by offering customizable solutions. This enables HubSpot to provide customers with tools that facilitate success in the dynamic business environment.
HubSpot CRM
Transform your business into a revenue generating machine by creating delightful customer experiences.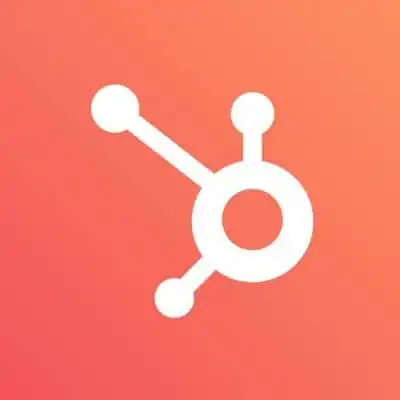 Source: BuzzSumo
This tool aids content marketers by analyzing the performance of content and identifying trending topics in their industry. One may enhance their creative motivation and remain well-informed by utilizing Buzzsumo, a platform that enables the observation of the level of attention and engagement that different businesses and content receive in the tangible realm.
Gain a deeper understanding of audience engagement, stay updated with relevant information, and access the current state of popular trends and debates through the utilization of Buzzsumo's comprehensive analysis of online content performance.
4. Hootsuite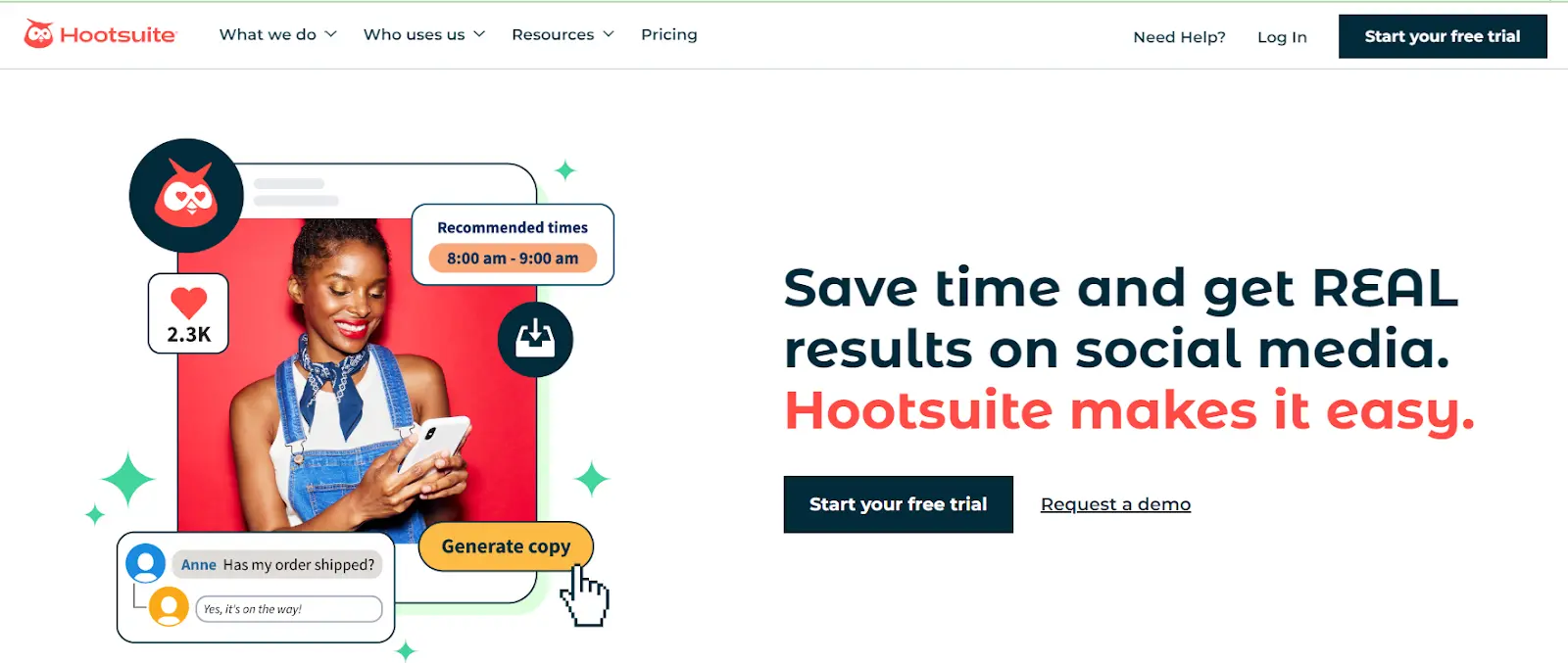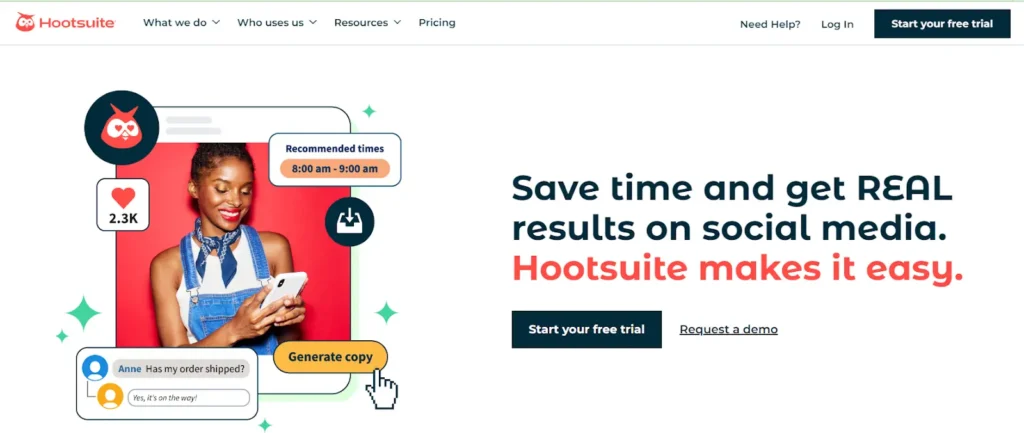 Source: Hootsuite
Ideal for managing multiple social media platforms, Hootsuite's analytics allow marketers to track the effectiveness of their social media campaigns. Maximize digital footprint and optimize company prospects by leveraging the influential capabilities of social media with the aid of Hootsuite. It provides advanced social media management software that is carefully designed to enhance your digital influence, therefore streamlining the overall process for users.
This complete platform enables users to create engaging content, expand their follower network, and enhance their brand's visibility in the digital realm. By utilizing Hootsuite, individuals can effectively manage the intricate aspects of social media, thereby guaranteeing that their firm effectively distinguishes itself inside the digital landscape.
5. Moz


Source: Moz
Focused on SEO, Moz offers tools to improve search engine rankings and visibility, aiding marketers in optimizing their websites. Uncover the power of this all-inclusive solution that covers every aspect of search engine optimization.
With Moz, you gain access to a range of proven tools that ensure your website's visibility and success in the online landscape. Whether it's keyword research, site audits, link analysis, or rank tracking, Moz provides the resources you require to excel in the realm of SEO.
6. IBM Watson Studio
Source: IBM Watson Studio
IBM Watson Studio enables data scientists, developers, and analysts with the capability to construct, execute, and oversee AI models while enhancing decision-making processes across the entirety of IBM Cloud Pak for Data. This platform serves as a unifying force for teams, automating AI life cycles and accelerating the pace at which value is realized, all within an inclusive multi-cloud framework.
7. Adverity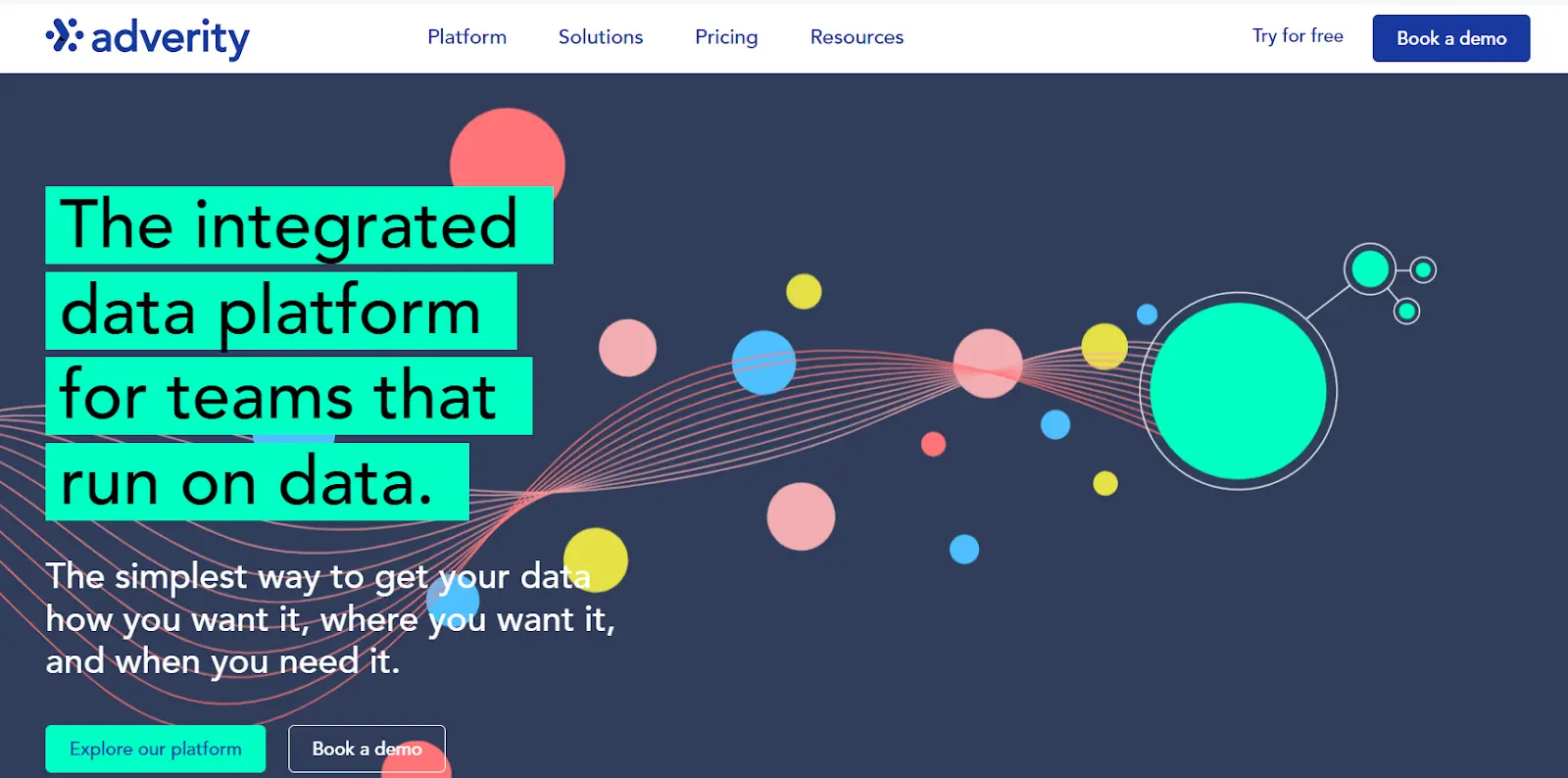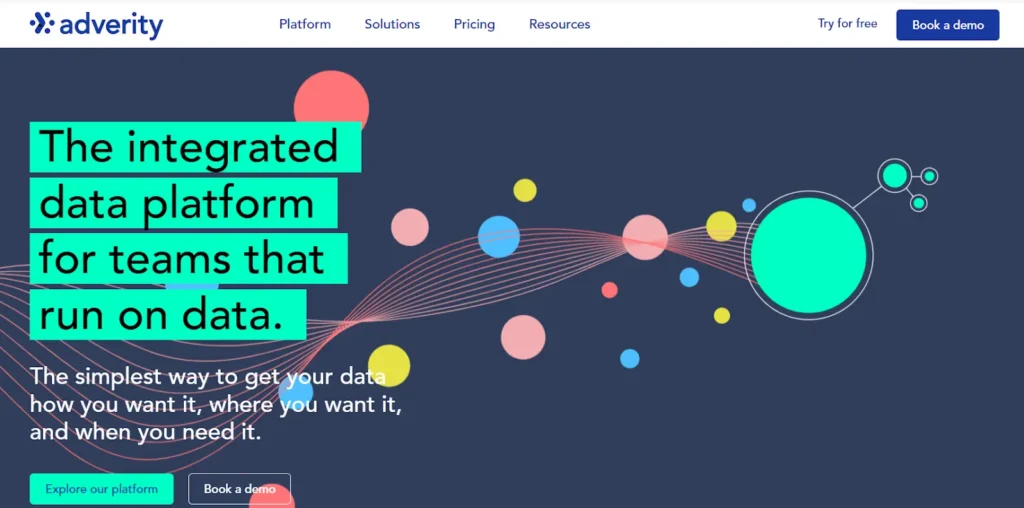 Source: Adverity
This tool integrates data from various sources, helping marketers gain a holistic view of their marketing efforts' impact. It functions as a comprehensive data platform specifically tailored for teams that heavily rely on data-driven operations. The system provides a direct method for acquiring data that is customized to individual preferences, guaranteeing its availability in the preferred format, location, and at the exact requested time. This application enhances the efficiency of data administration and distribution, rendering it an essential resource for contemporary enterprises.
8. Tableau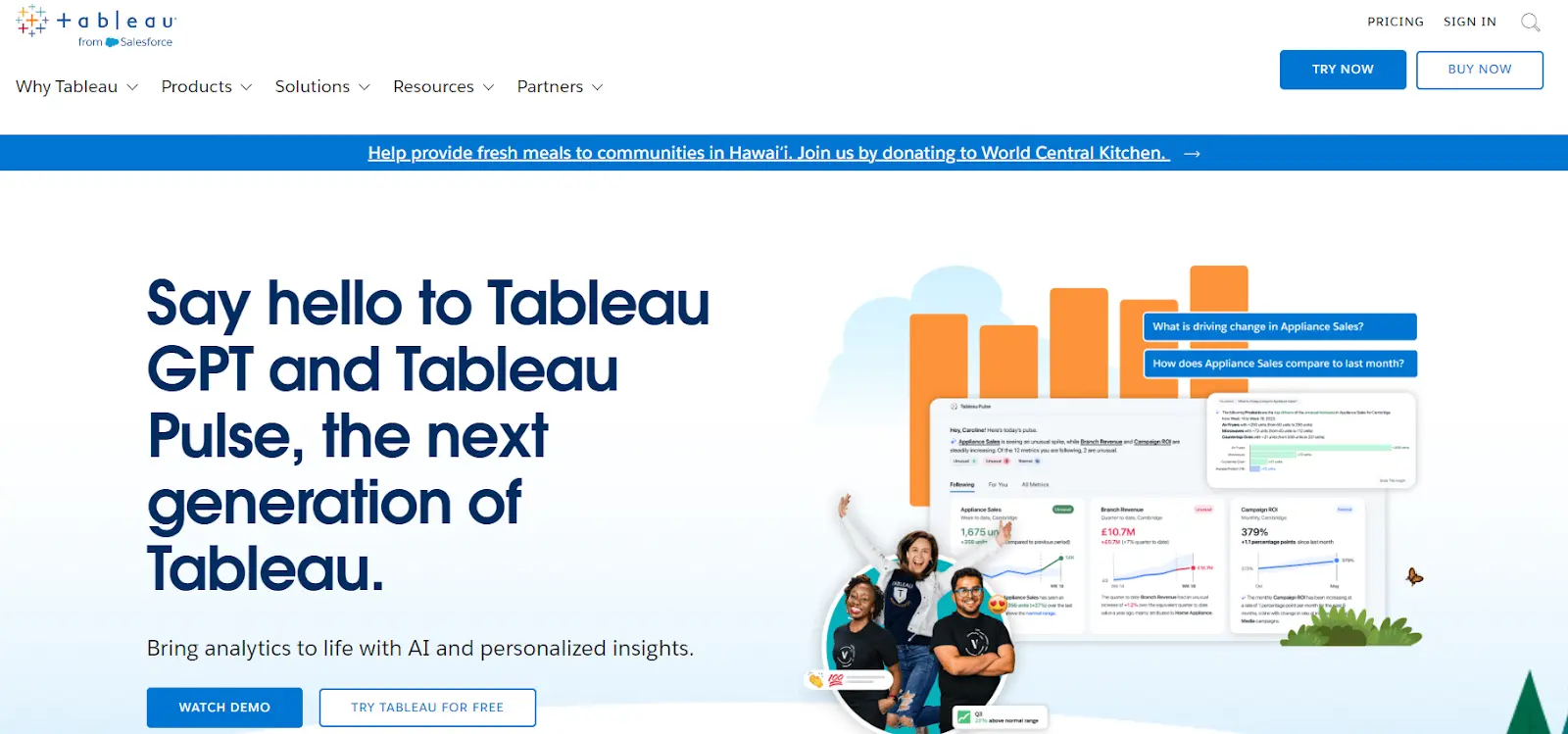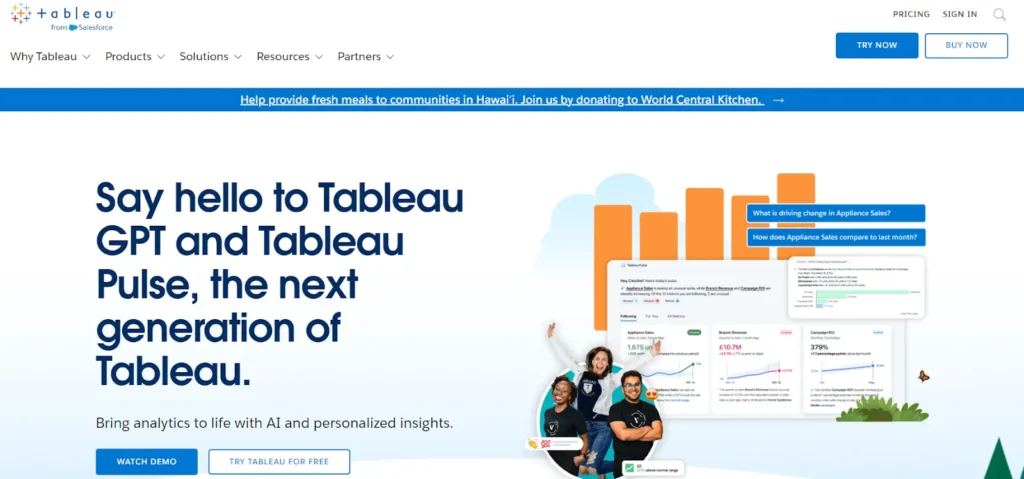 Source: Tableau
With its interactive data visualization capabilities, Tableau assists marketers in understanding complex data sets and making data-driven decisions. It is committed to augmenting individuals' understanding and insights derived from data. The innovative visual analytics platform is transforming the methodology of data utilization for problem-solving purposes.
It has successfully garnered the trust and adoption of several businesses, irrespective of their size, by empowering them to cultivate a culture and strategy centered around data-driven decision-making.
9. Kissmetrics
Source: Kissmetrics
Kissmetrics provides users with the means to access a wide range of revenue opportunities. By leveraging its intuitive analytics capabilities, the system effectively collects and analyzes complex patterns of human activity, hence facilitating enhanced revenue development.
The efficient methodology employed by Kissmetrics in comprehending consumer behaviors and preferences establishes it as a crucial instrument in enhancing revenue optimization.
10. Salesforce Marketing Cloud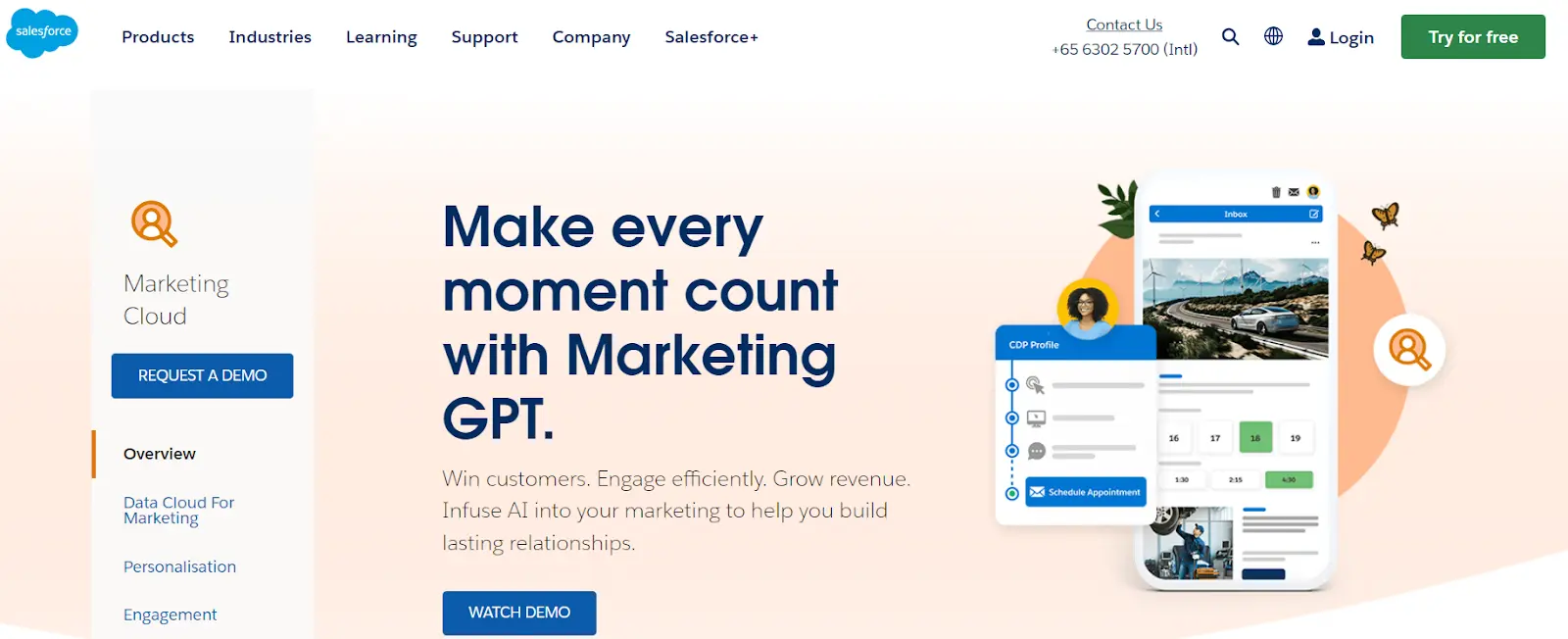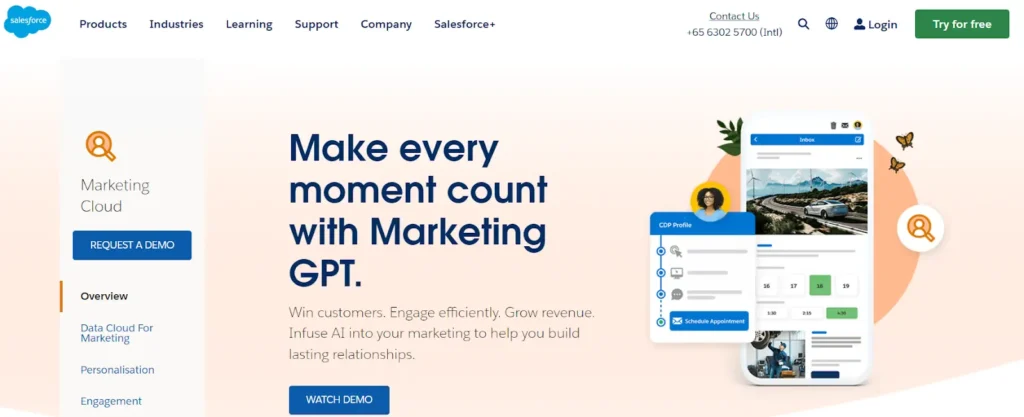 Source: Salesforce Marketing Cloud
A unified marketing platform that offers AI-driven insights to enhance personalized customer experiences. Salesforce Marketing Cloud optimizes the value of each engagement by leveraging the capabilities of Marketing GPT. This state-of-the-art solution enables organizations to not only attract clients but also to cultivate genuine engagement and stimulate revenue growth.
By effectively incorporating artificial intelligence (AI) into marketing tactics, organizations can establish long-lasting connections with their target audience, resulting in durable and valued customer relationships.
11. Adobe Analytics


Source: Adobe Analytics
Part of the Adobe Marketing Cloud, this tool provides advanced analytics for tracking user journeys and optimizing marketing campaigns. It allows users with the capacity to integrate, merge, and thoroughly analyze data collected from several touchpoints across the customer journey in the digital domain. Consequently, one gains a deep and insightful foundation that enables the development of improved client experiences.
12. Optimizely


Source: Optimizely
A platform for A/B testing and experimentation, helping marketers optimize their websites and landing pages for better results. Enter the domain of exceptional digital experiences. Optimizely provides users with the capability to create engaging content, carry out extensive experiments, and enhance their commercial pursuits.
Effortlessly accomplish all of these objectives by employing the world's leading and fully adaptable Digital Experience Platform (DXP). This platform enables users to generate impactful content, conduct large-scale experiments, and enhance their skills in the field of commerce.
13. Google Analytics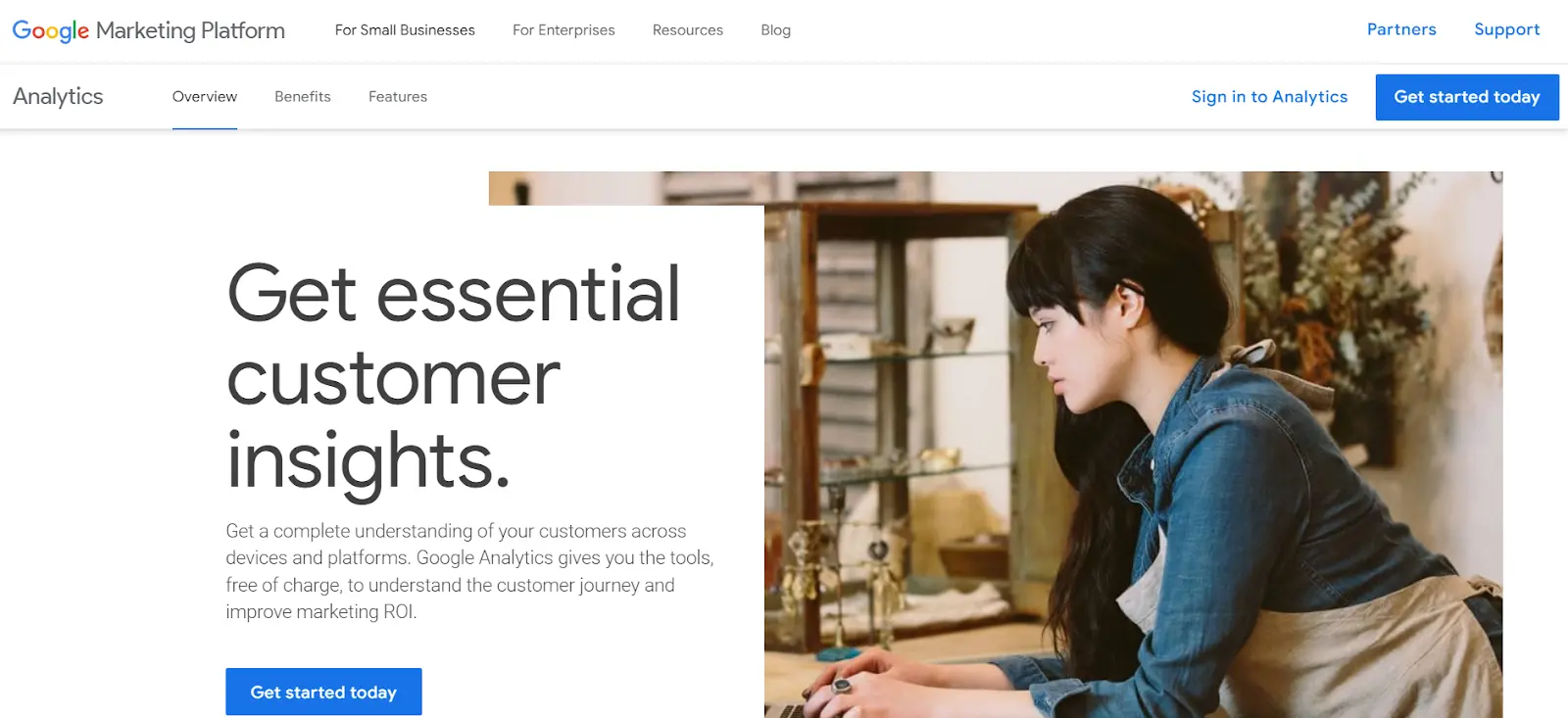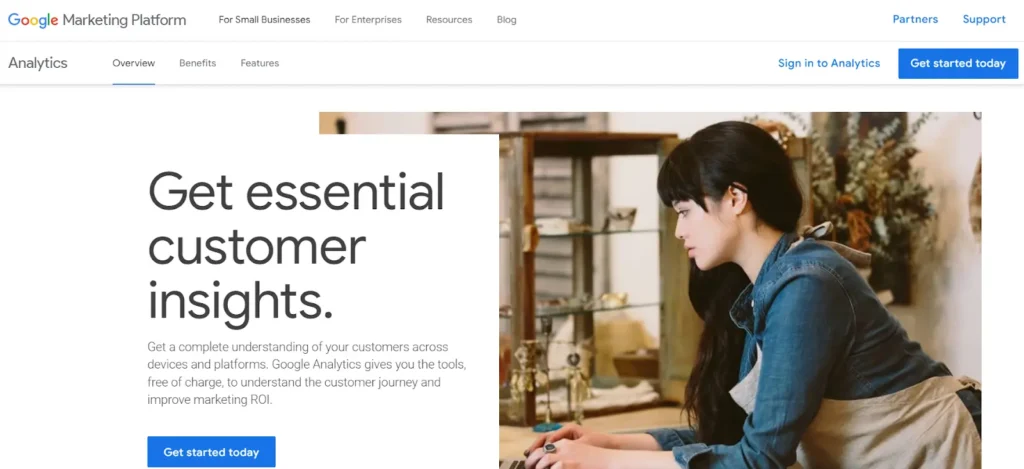 Source: Google Analytics
A staple for web analytics, it provides a wealth of information about website traffic, user behavior, and conversion rates. By leveraging its functionalities, one can explore the intricate intricacies of the client journey, acquiring valuable insights into their interactions and preferences.
This useful insight enables individuals to make well-informed decisions, refine marketing strategies, and eventually enhance their marketing return on investment (ROI). By utilizing Google Analytics as a tool, one is able to interpret the constantly changing trajectory that clients follow, enhance points of interaction, and foster more significant interactions inside the digital realm.
14. Crimson Hexagon
Source: Brandwatch
With sentiment analysis capabilities, this tool helps marketers gauge public perception and sentiment toward their brand. The collaboration between Crimson Hexagon and Brandwatch has resulted in the establishment of a consolidated entity.
The integrated offering, referred to as Brandwatch Consumer Research, provides users with rapid and comprehensive insights into multiple aspects of their brand, goods, rivals, and market trends. This entails the ability to access a comprehensive collection of customer dialogues, rendering it the most extensive in its category.
15. SAS Marketing Analytics
Source: SAS Marketing Analytics
Discover the capabilities of SAS Analytics, a comprehensive, open-source, cloud-native platform for artificial intelligence and analytics. Offering predictive analytics and customer segmentation, SAS assists marketers in refining their target audience and campaigns.
Gain valuable real-time insights from your data, predict and facilitate smooth transitions, and expedite your development. This platform surpasses traditional job functions, providing advantages to all individuals within your firm through the improvement of overall performance and production levels.
16. Unbounce


Source: Unbounce
Create compelling buyer journeys by utilizing customized landing pages. Unbounce is a landing page builder with analytics that help marketers understand user behavior and conversion rates. It is important to acknowledge that employing a uniform strategy may not be the most effective way to optimize your website.
By strategically directing visitors to landing pages that have been carefully crafted for each marketing campaign, you may effectively expand your consumer base. Unbounce offers a comprehensive set of tools that enable businesses to expand their operations via the creation of impactful landing pages.
17. Woopra


Source: Woopra
This tool offers real-time customer analytics, enabling marketers to track user behavior as it happens. The objective is to systematically observe and evaluate all user interactions comprehensively. Enhance your consumer base by utilizing advanced analytics, which will enable you to efficiently recruit and keep customers.
18. Crazy Egg
Source: Crazy Egg
Through heatmaps and user session recordings, Crazy Egg allows marketers to visualize user interactions on their websites. It provides a comprehensive set of tools that facilitate the acquisition of more profound insights about user activity on websites. These tools enable the identification of areas where users are clicking, the extent of their scrolling, and the items with which they are most actively interacting.
It enables individuals to make well-informed selections regarding design and content, ultimately enhancing user experience and yielding improved outcomes. If one desires to enhance the level of user engagement and improve conversion rates on their website, the utilization of Crazy Egg's capabilities can yield prompt and significant results.
19. Mixpanel
Source: Mixpanel
Primarily focused on mobile app analytics, Mixpanel helps marketers understand user behavior within their mobile applications. It provides a comprehensive set of analytical tools that are both user-friendly and powerful. These tools are specifically designed to enable individuals at all levels of a company to make well-informed and influential decisions.
This capability empowers individuals to gain a thorough understanding of user preferences, enhance user experiences, and fine-tune strategic approaches. Mixpanel offers more than just numerical data; it provides valuable insights that can be utilized to promote innovation, improve user experiences, and stimulate business expansion.
20. BrightEdge


Source: BrightEdge
A comprehensive SEO platform that uses AI to provide insights for optimizing content and improving search rankings. BrightEdge Innovation is an exceptional and pioneering search engine optimization (SEO) solution that provides marketers with a comprehensive platform that includes live research, valuable suggestions, and current rankings.
In contrast to traditional SEO solutions, BrightEdge provides SEO professionals with the capacity to effectively adapt to dynamic search trends and algorithms, so enabling them to maintain a competitive edge in the always-evolving digital environment.
21. Wrike
Source: Wrike
While known as a project management tool, Wrike also offers analytics to track team productivity and project performance. It is a complete tool specifically intended to optimize collaboration and accelerate execution across all aspects of your organization.
Wrike functions as a multifaceted solution that surpasses conventional project management practices. It facilitates the smooth collaboration of teams from diverse departments on tasks, projects, and activities.
It facilitates a cohesive work environment by offering features such as task tracking, timelines, document sharing, and real-time communication. These capabilities enable all team members to remain aligned and informed, leading to improved efficiency and production.
Integrating AI Tool for Smarter Campaigns
The beauty of AI marketing analytics tools lies in their ability to integrate seamlessly into your existing marketing strategies. By using AI-powered tools, marketers can optimize their campaigns with personalized content recommendations, automate routine tasks, and generate valuable insights to enhance their strategies.
Conclusion
As the marketing landscape continues to evolve, embracing AI marketing analytics tools has become essential for staying competitive. These tools empower marketers to make informed decisions, refine their strategies, and optimize their campaigns for better results. By leveraging the capabilities of AI, marketers can unlock a new realm of possibilities, ultimately leading to more successful marketing efforts and greater business growth.
Feel free to explore our additional articles to delve deeper into various subjects. Our extensive collection covers a wide range of topics, providing you with a wealth of information to satisfy your curiosity.
Whether you're seeking to enhance your knowledge or simply looking for more insights, our other articles are here to guide you. So, explore our blog now and visit a vast array of AI marketing analytics tools available and take your marketing game to the next level.
FAQS
Q: What is AI marketing analytics?
A: AI marketing analytics is the use of artificial intelligence (AI) in analyzing marketing data to gain insights, make data-driven decisions, and optimize marketing campaigns.
Q: How can AI be used in marketing?
A: AI can be used in marketing for various purposes, such as automating repetitive tasks, optimizing content creation, analyzing market data, personalizing user experiences, and making data-driven decisions.
Q: What are some popular AI marketing analytics tools?
A: Some popular AI marketing analytics tools include SEMrush, MarketMuse, and Gap. These tools use AI to analyze data, provide valuable insights, and help marketers identify areas for improvement in their marketing strategies.
Q: How do AI marketing analytics tools work?
A: AI marketing analytics tools work by using AI algorithms to analyze marketing data, such as website traffic, social media engagement, and campaign performance. They provide reports, recommendations, and insights based on the data analysis.
Q: Can AI marketing analytics tools help with lead generation?
A: Yes, AI marketing analytics tools can help with lead generation. They can analyze user behavior data, identify potential leads, and provide recommendations for lead nurturing and conversion.
Q: Are AI marketing analytics tools easy to use?
A: Yes, most AI marketing analytics tools are designed to be user-friendly and easy to use. They often have intuitive interfaces, drag-and-drop features, and pre-built templates to make data analysis and campaign optimization more accessible.
Q: Can AI marketing analytics tools help with content creation?
A: Yes, AI marketing analytics tools can help with content creation. They can analyze market trends, identify high-quality content ideas, provide content templates, and optimize content for search engines.
Q: How can AI marketing analytics tools improve digital marketing campaigns?
A: AI marketing analytics tools can improve digital marketing campaigns by providing data-driven insights and recommendations to optimize campaign performance, target the right audience, and personalize marketing content.
Q: Can AI marketing analytics tools help with market research?
A: Yes, AI marketing analytics tools can help with market research. They can analyze market data, consumer behavior, and competitor strategies to provide valuable insights for market analysis and strategic planning.
Q: What is the future of AI in marketing?
A: The future of AI in marketing looks promising. As technology continues to advance, AI will play a larger role in automating marketing tasks, providing real-time insights, and enabling personalized marketing experiences.