Last Updated on September 25, 2023
This review aims to provide an in-depth analysis of BlockApps Blockchain Solutions. We will help you decide whether BlockApps suits your business or development needs. By the end of this review, you will have a comprehensive understanding of BlockApps.
Overview
What Is Blockchain Technology?
Blockchain technology is the backbone of BlockApps blockchain solutions. It is a decentralized, distributed ledger system. Blockchain technology allows multiple parties to securely and transparently record transactions. Blockchain networks ensure data integrity, security, and trust among participants. That makes it an ideal solution for various industries and use cases.
What Is BlockApps?
BlockApps is a leading blockchain technology company. It provides enterprise-grade solutions to businesses and developers. BlockApps have been at the forefront of the blockchain revolution. It offers blockchain services to create, deploy, and manage blockchain-powered applications. BlockApps provides multiple ways for users to get started with the STRATO Mercata Beta network, a public blockchain network for businesses.
Components Of BlockApps Blockchain Solutions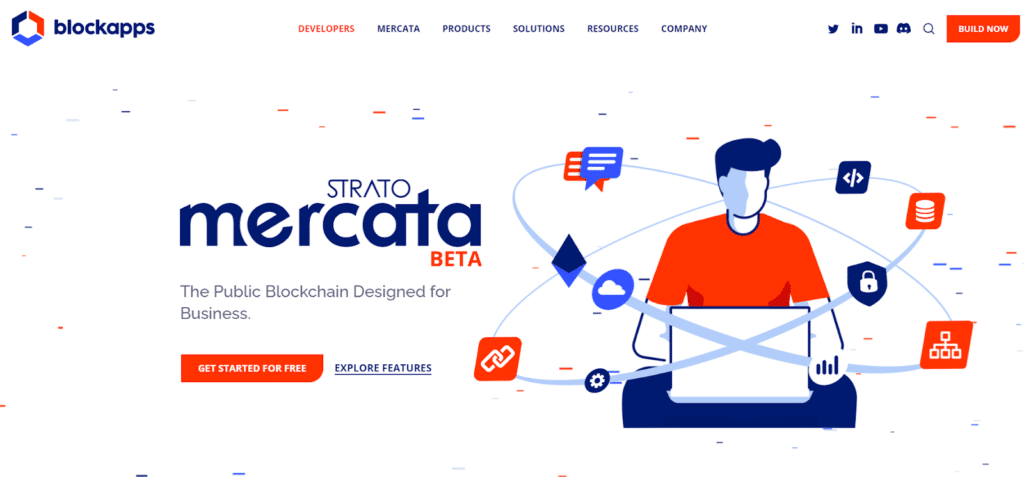 A. STRATO
STRATO is BlockApps' flagship blockchain platform. It creates and manages enterprise-grade applications. STRATO enables developers to develop a blockchain strategy and execute a smart contract. It facilitates the automation of business transformation and processes. It also facilitates the creation of decentralized applications (dApps).
B. STRATO Mercata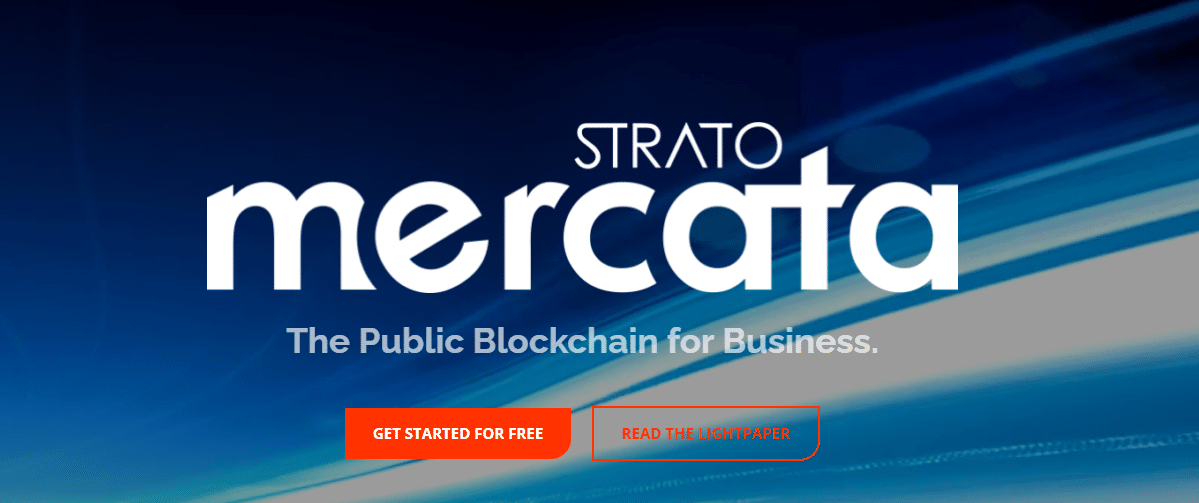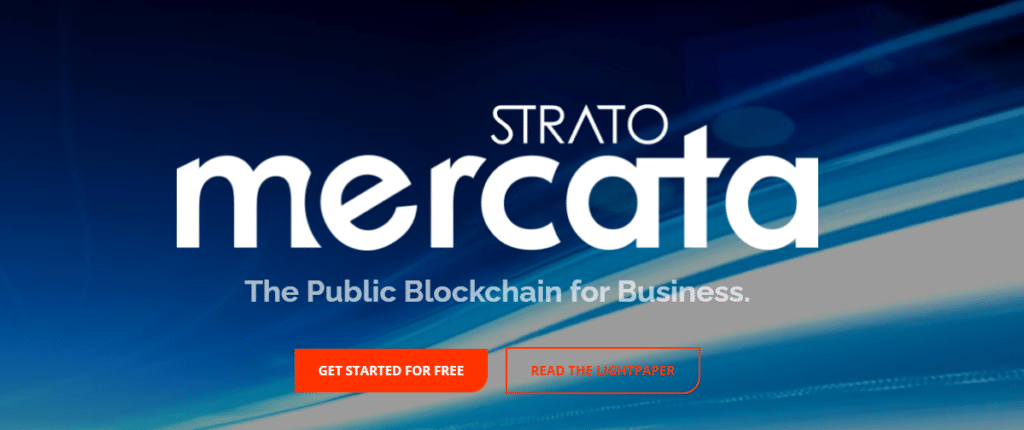 BlockApps STRATO Mercata joins the good parts of private and public blockchains. It gives businesses a reliable and helpful tool. BlockApps STRATO Mercata uses the best of public and private blockchains. It lets businesses enjoy the safety and privacy of private blockchains and the openness of public ones.
They get the benefits of blockchain, like being transparent, secure, and easy to change without losing control. With BlockApps STRATO Mercata, companies can make and manage blockchain tools that fit their needs. It helps them work better and create new things.
STRATO Mercata is suitable for businesses that want a blockchain tool that works for them and has the benefits of both private and public blockchain networks.
C. Developer Tools And Resources
BlockApps provides a comprehensive suite of developer tools and resources. It helps developers build, test, and deploy blockchain applications with ease. These resources include:
1. STRATO Developer Edition
STRATO Developer Edition is a local version of the STRATO platform designed for development and testing.
2. BlockApps SDK
This SDK is a software development kit that simplifies the creation of smart contracts and dApps, providing templates, sample code, and libraries.
3. API Documentation
Detailed documentation of the STRATO API, offering guidance on how to interact with the platform and its features programmatically.
4. Tutorials And Guides
A collection of step-by-step tutorials and guides that walk developers through various aspects of building and deploying blockchain applications using this Blockchain Solutions.
5. Community Support
Access to a community of developers and experts who can assist, share insights, and answer questions related to this blockchain ecosystem.
Pricing
A. STRATO For Business Networks – Single Node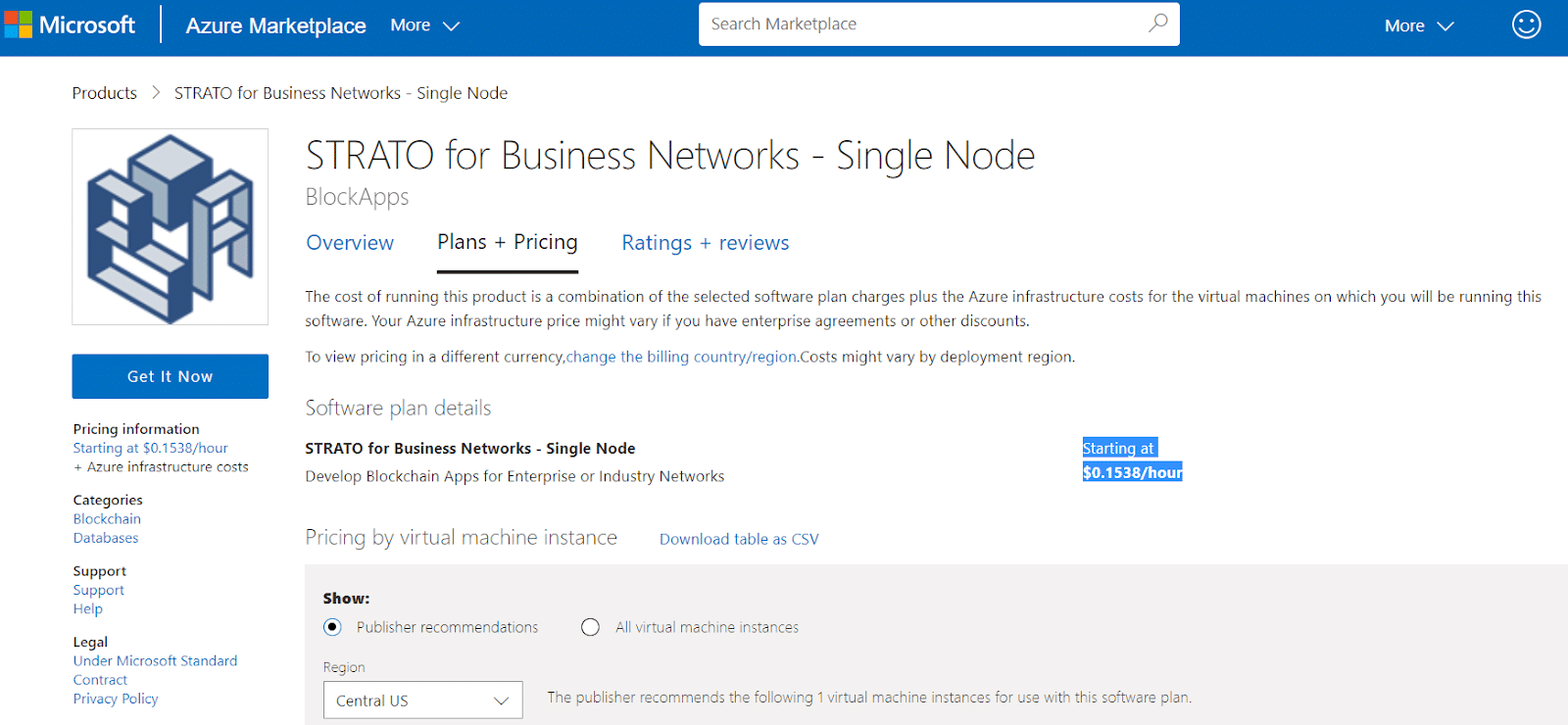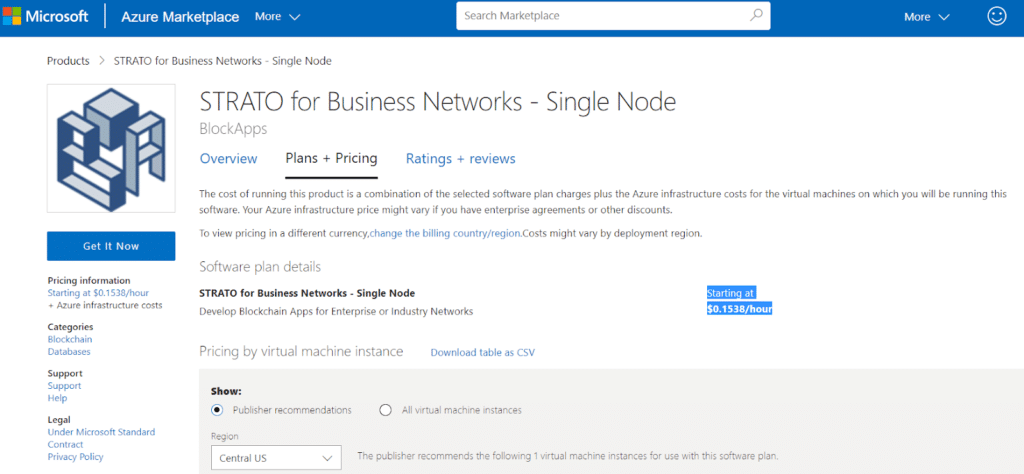 Price: Starts at 0.1538 USD per hour
B. BlockApps STRATO Mercata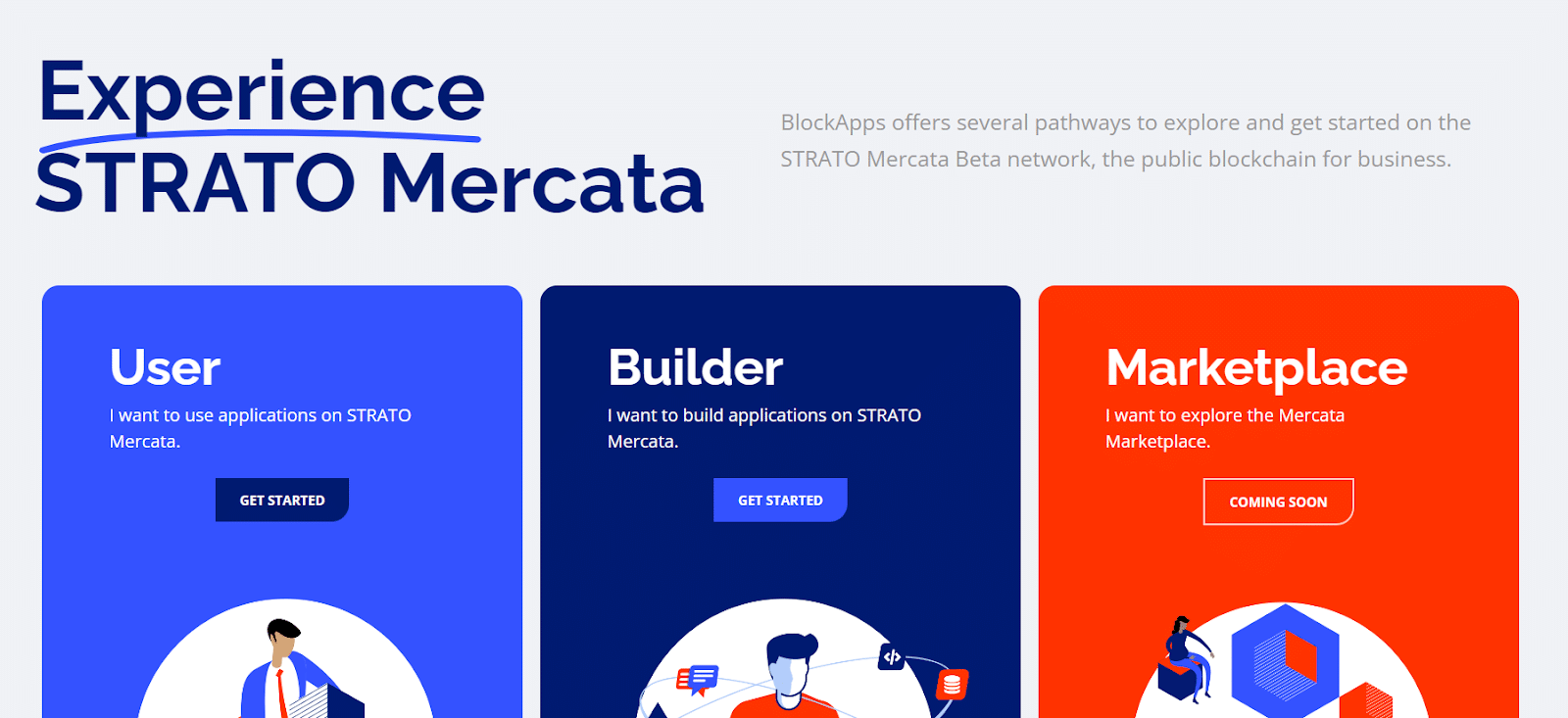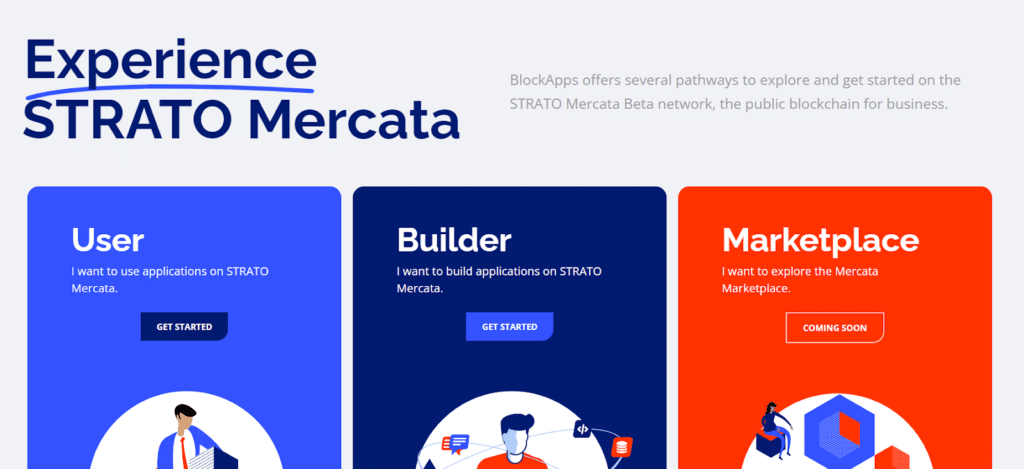 Price: You can start using this' STRATO Mercata Beta Network for free. To learn more about the pricing, please contact this directly. You can visit their website and use the "Contact Us" form to get in touch with their team. They will provide the necessary details and help you choose the best plan for your needs.
Features Of BlockApps Blockchain Solutions
1. Verified Identities
All users have validated on-chain X.509 Certificate Identities, ensuring secure and trusted interactions.
2. Data Privacy
STRATO provides granular data privacy settings and controls to protect sensitive information.
3. Scalability
They handle high network activity levels, ensuring consistent performance and reliability.
4. Developer Tools
Includes tools tailored to simplify the development process for enterprise developers.
5. Network Governance
Detailed network governance control allows customization to suit organizational needs.
6.APIs
Robust APIs for third-party access and integration with the network.
7. OAuth Identity Integration
Compatible with existing enterprise sign-on systems for seamless user authentication.
8. Portability
It can transfer other blockchain applications into STRATO for streamlined management.
9. Cloud Agnostic
Supports running nodes on most major cloud providers for flexible deployment.
10. Analytics
It is capable of advanced audit and search/reporting for improved insights and decision-making.
11. Consensus
It utilizes the PBFT voting mechanism for secure consensus, and it reduces the risk of network failures.
12. Data Modeling
It allows existing enterprise data models for seamless integration with current systems.
13. Industry-Specific Solutions
It offers various pre-built, industry-specific blockchain applications tailored to different sectors' unique needs.
14. Customizability
Enables businesses to customize the available applications to align with their processes and requirements.
15. Time And Cost Efficiency
Reduces development time and costs by providing ready-to-use applications.
16. Seamless Integration
Mercata's applications are designed for compatibility with the STRATO platform and other blockchain networks, ensuring a smooth implementation process.
17. Marketplace For Developers
Provides a platform for developers to showcase their blockchain applications, connecting them with potential clients and collaborators.
18. Ongoing Support
Offers continuous support and maintenance for the applications available on Mercata, ensuring they remain up-to-date and compliant with industry standards.
Use Cases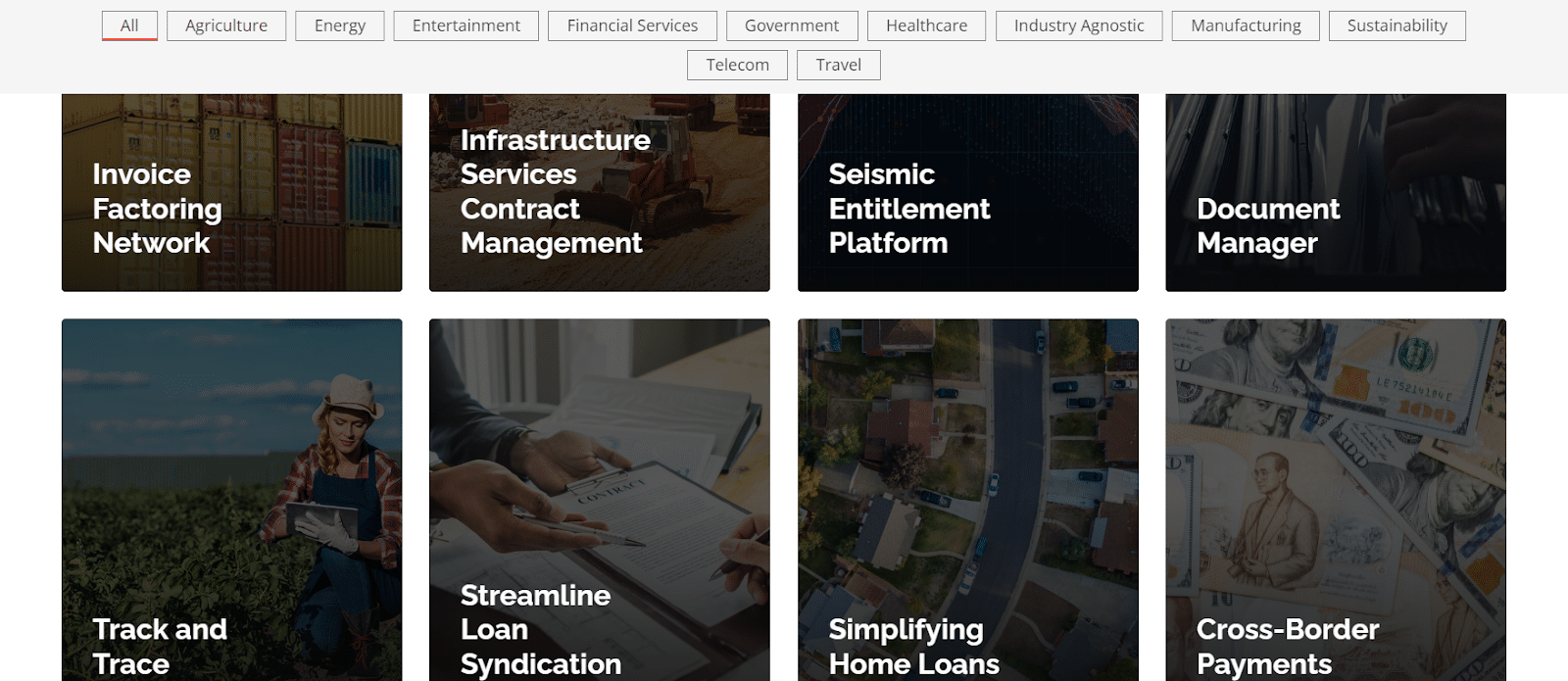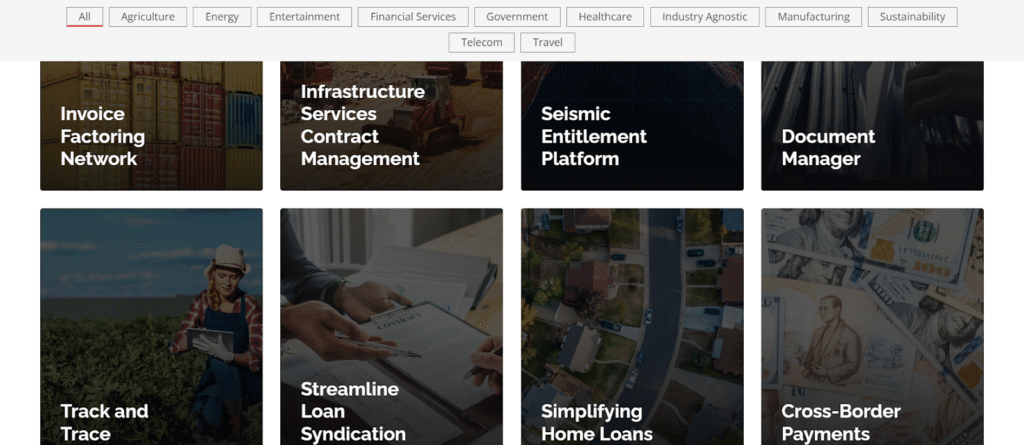 This Blockchain Solutions has diverse use cases across multiple industries, demonstrating the versatility and potential of the platform to drive innovation and improve efficiency. Here are some notable examples:
A. Agriculture
This enable better quality control, increased consumer trust, and easier compliance with food safety regulations. This can automate and streamline the process of claiming crop insurance. It ensures timely payouts and reduces fraud.
B. Energy, Oil & Gas
This can track the ownership, maintenance, and performance of energy assets. This enables the creation of decentralized energy trading platforms. It allows users to buy and sell energy directly with each other. It improves efficiency and reduces transaction costs.
C. Financial Transactions
This can facilitate faster, more cost-effective cross-border transactions. It provides an alternative to traditional banking systems. This allow tokenizing of real-world assets. It improved liquidity and fractional ownership opportunities.
D. Government
This develops secure, decentralized digital identity solutions. It streamlines the process of identity verification and protects user privacy. This can power transparent, tamper-proof voting systems, ensuring the integrity of election results.
E. Sustainability
BlockApps can track carbon credits' issuance, transfer, and retirement. It provides greater transparency and accountability in the carbon market.
F. Supply Chain Management
BlockApps can create a record of the movement of goods across the supply chain. It ensures the authenticity of products and helps to combat counterfeit goods. By implementing smart contracts, BlockApps can automate the execution of supplier agreements. It reduces the time and effort required to manage contracts.
FAQs
What is BlockApps?
BlockApps is a company that helps people create and use blockchain tools. It helps businesses make their work better and more secure using blockchain.
Is BlockApps a private blockchain?
BlockApps is not exclusively a private blockchain platform. It offers a versatile solution that supports both private and consortium blockchain networks. It is also compatible with public blockchain networks.
How does BlockApps help with blockchain adoption by offering an alternative to a central database through distributed ledger technologies?
BlockApps make it easy for businesses to use distributed ledger technologies. It helps them move away from central databases. With BlockApps, companies can create secure and shared records. This way, everyone can trust the information. It helps more people start using blockchain in their work.
How do BlockApps support wallet development on its blockchain-based platform?
BlockApps helps developers create wallets on its platform. It lets users manage their assets safely. The tools and resources provided by BlockApps make it easy for developers to build and test wallets for different needs.
Conclusion
BlockApps Blockchain Solutions is a powerful and versatile platform. It enables businesses and developers to create scalable and secure blockchain network tailored to their needs.
As the blockchain industry continues to evolve and gain mainstream acceptance, businesses need to stay ahead of the curve by using technologies like BlockApps. The platform's focus on scalability, user-friendliness, customizability, and industry-specific solutions make it an attractive option for organizations looking to harness the power of blockchain technology.
Therefore, we encourage businesses and developers interested in exploring blockchain solutions to consider BlockApps. Take advantage of the powerful benefits of BlockApps for your business. Take the first step towards embracing blockchain technology and revolutionizing your operations. Visit BlockApps' website to get started and learn more about their unique solutions.
For even more information on blockchain solutions and the latest trends in the industry, be sure to read out blogs. Make the best decisions for your business by exploring the wealth of resources and insights available at Softlist.io. Act now and unlock the full potential of blockchain for your organization!