Last Updated on September 6, 2023
Looking for a top AI text generator? Look no further! In this blog post, we will introduce you to some of the best AI text generators on the market. These tools allow you to create stunning text effects that will wow your audience.
What is an AI Text Generator?
AI text generators can help users with various stages of the writing process, such as grammar and spell checking, research, and even tailoring the tone to fit the audience.
Augmented writing tools can benefit anyone who struggles with writing, from content marketers looking to write more interesting and engaging content, to HR staff trying to optimize job ads.
These tools use natural language processing (NLP) algorithms to analyze text and generate recommendations or related content.
How does AI Text Generator work?
AI text generator is perfect for those who want to create amazing-looking documents without spending a lot of time or money. Plus, it's easy to use and has many features that make online writing easier than ever before.
For instance, AI Text Generator can automatically generate headings, lists, tables, and bars. You could also use an AI text generator to create titles and subtitles for your document.
And if you want, the text editor can even generate images specifically for your document.
AI text generator is extremely user-friendly, allowing you to create professional-grade documents with little effort.
In addition to its many other features, the AI text generator can also help improve the quality of your texts. For example, it includes a word processor, grammar analyzer, and content editor. Plus, its easy-to-use interface makes it simple to create compelling and beautiful text documents with ease.
Top 37 AI Text Generator
Copy.ai is a content writing tool that uses AI to generate better quality content, billing itself as an "automated creativity tool" for marketing copywriting.
Copywriting software like Copy.ai gives you new ideas so you can keep writing instead of thinking about what to write next.
It constantly looks for ways to improve its models and create excellent relevant content generated by incorporating the best of the best copy, so you can be sure that your customers will always resonate with your content. Additionally, it provides unique features and generates original content instantly to help create compelling blog openings.
Simplified is an app that makes marketing easy. With the design editor, you can create stunning graphics, write compelling copy and make videos.
You can also work with team members in the same workspace or sync a brand kit for multiple accounts – all without ever leaving the app.
With Shortly AI, you can get help writing text based on style specifications and keywords that you input ahead of time. You can also add your own words to the mix, which may inspire the program to come up with even more ideas.
INK's primary product is now AI-generated articles created from templates, but the company started out as nothing more than an SEO assistant.
With GPT-3 ICE integration, INK has taken a different route to add AI composition compared to other tools on the market that primarily serve SEO purposes.
Article Forge makes it easy to create great papers and essays- all you need is an internet connection!
With Article Forge, you can generate high-quality content for your website or blog without any prior experience or design knowledge.
All you need to do is enter some simple information about your topic, and this AI Text Generator will handle the rest! You'll be able to generate a high-quality paper quickly and easily with Article Forge's user-friendly interface.
Scalenut is a content research and text generation platform that uses AI to create high-ranking content.
Scalenut helps marketing professionals worldwide take advantage of technological advancements such as artificial intelligence (AI) and natural language processing (NLP) to create quality content.
If you're looking to create high-quality, automated text content, WordAI is the perfect tool for analyzing user intent data. With their easy-to-use platform, you can create both effective and engaging texts.
They offer a wide range of features to help you get started, including automatic grammar correction and word replacement.
Texta.ai quickly produces articles for your website, blog, SEO, and social media using Al Artificial Intelligence (AI).
This software quickly generates content from a short description in any language- even if it's not for your brand!
Looking for a way to boost your productivity and get better results from your marketing campaigns? Writecream is the answer. This new AI text generator uses advanced machine learning to write copy that is tailored to your specific needs. Whether you're looking for a personalized introduction or an email campaign that converts, Writecream will help you get the job done quickly and efficiently.
KafKai is a user-friendly software application that allows users to create and manage any type of text document, whether it is complex or not. KafKai makes it easy for users to generate high-quality texts by providing multiple templates, including articles, reports, speeches, case studies, etc.
Rytr is a text editor that can produce well-written content in under three minutes. With 15 languages supported, Rytr can deliver high-quality writing quickly and easily. To achieve a unique writing style, you can choose from various tones and emotions. Plus, the free version will save you money!
Then Copysmith is the answer you're looking for if you want to produce marketing copy for your brand quickly. A powerful AI text generator can manage any online advertisement, product description, blog ideas, and much more!
Content is Anyword's bread and butter. They can help you create material that will resonate with your target demographic, aiding you in achieving your marketing goals.
This AI text generator is designed to make it easy for you to create quality message content that will engage and convert potential customers. The powerful prediction system can provide a detailed forecast of how the content will perform, so you can be sure it'll have maximum impact.
Articoolo is the perfect tool for anyone who needs to get work done quickly and efficiently. You can use it to write articles, research topics, or even create entire books. With Articoolo's help, you'll be able to produce high-quality content that will make your business stand out from the rest.
If you're looking for a content generation tool that can help you create quality, engaging material, then Frase is the answer. It's perfect for businesses or individuals who need assistance with writing blog posts, articles, or even website copy. With Frase, you'll be able to get the help you need to produce exceptional content.
Frase offers two main products: Content and Answers. Frase Solutions (content) identifies the questions your target audience is asking, so you can generate content that answers those questions.
Not only does it automatically create detailed content briefs, but also provides recommendations on how to further optimize your post for a chance to appear on the first page of search results.
Jasper: create blog posts
Jasper AI is a tool that can help you create all kinds of content, from blog posts and social media posts to ads and eBooks. It uses natural language processing and artificial intelligence to generate text for you automatically. It is also good for writing plagiarism-free articles and creating content. It is assured to produce quality content generated efficiently.
Writesonic is a free, online text editor that makes it simple to create, share, and read digital texts–no programming skills or knowledge necessary. It displays an efficient content creation process to easily create quality papers.
All you need is an internet connection and a computer with an internet browser. With Writesonic, you can write articles, blog posts, essays, books, or other document types.
With Writesonic, it's easy to get started regardless of your writing abilities. With our simple editor interface, you can start writing immediately. Or, if you want to take some time first and learn more about how Writesonic works, feel free to explore our many tutorials and examples.
With Qopywriter.ai, you can easily create press releases or articles that are optimized for SEO with a few clicks of the mouse button.
This tool uses cutting-edge deep learning algorithms and techniques to assist in tackling your writer's block and generating plagiarism-free content.
StoryLab.ai
StoryLab.ai is a website that uses artificial intelligence to help you generate ideas, hooks, outlines, and ready-made copy for marketing purposes.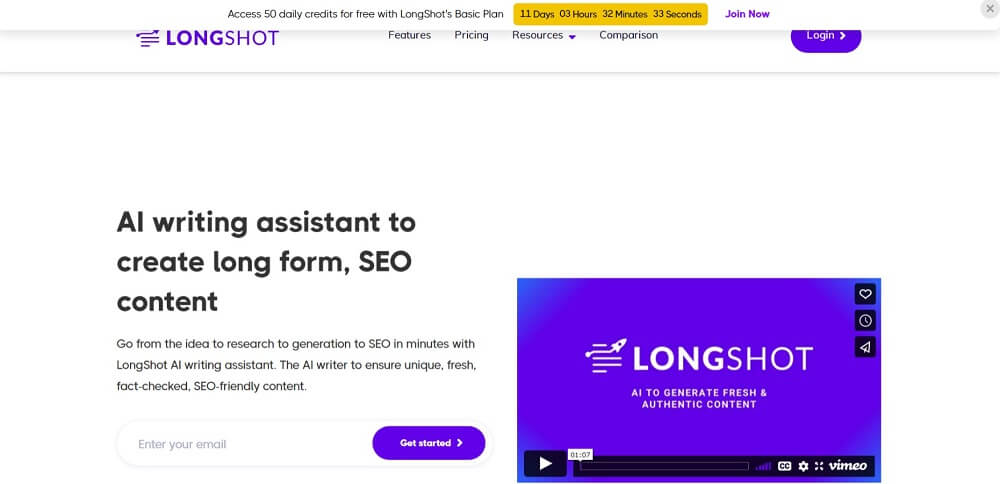 LongShot AI is a cutting-edge company that makes it easy for anyone to learn and utilize AI technology in their everyday lives.
By offering research topics and a user-friendly dashboard with features like blogs, long-form blog posts, FAQs, and text generators – LongShot makes adding SEO-friendly content simple.
Text Cortex AI can help you save up to 2/3 of your time spent writing by automatically creating optimized, unique text.
With Text Cortex, businesses can create landing pages and blog posts that lead to more organic traffic and conversions without sacrificing a significant amount of their time in the process.
Writerly creates quality, engaging, and plagiarism-free written content for customers in a matter of seconds from the prompts you provide.
With over 50+ templates suited explicitly to different marketing strategies, blogs, and newsletters, Writerly does the heavy lifting by generating organic SEO-optimized text.
At Thundercontent, you can receive unique articles at breakneck speeds. Powered by AI, you'll be able to save money and time while getting improved results.
They support the following languages: English, French, Spanish, Italian, Polish, Portuguese, Dutch, German, Russian, Chinese, and Japanese.
Given that all businesses operate online now, we see immense potential. And, since writing sells your service or product, inspiration is key – this is where Talk to Walle comes in as a great brainstorming partner.
With ClosersCopy, you can write great content without spending a lot of money on professional writers. This AI text generator provides templates for both novice and expert writers, so you can create compelling content regardless of your skill level.
By utilizing the tools and templates available on ClosersCopy, you will be able to write more efficiently while spending less time on the platform overall.
With AI-Writer, you don't need to be a professional writer to create high-quality text that looks and feels like actual writing.
AI-Write not only allows you to create great-looking documents, but it is also the perfect tool for getting your ideas out there!
Genei is an AI text generator that can create any document, including HTML, TXT, DOCX, and PDF documents.
Genei offers a variety of templates to choose from including business cards and resume samples. You're also able to tweak the document's font and color to fit your preferences. Best of all, it's free for both personal and professional use!
Atomic Reach is the perfect tool for anyone who wants to create amazing text generators. With its user-friendly interface, you can generate any type of text content, from articles and blog posts to eBooks.
Not only can Atomic Reach help you manage and improve your website's or blog's content, but it also keeps track of all the texts generated by your site. This makes it easy to view everything in one place and helps streamline the publishing process.
With Fluently, gone are the days of sloppily formatted website content and blogs. With a wide variety of Templates and options to choose from, you can easily create high-quality text for your next project.
Mieux is an AI-powered content generation platform that plagiarism- free and efficiently produces high volumes of quality long-form content including blogs, articles, or Ads. It's the perfect solution for B2B clients or marketers who need help with writing large amounts of original content.
With Craftly.AI, you can get high-quality, affordable virtual copywriting help powered by artificial intelligence. This software will give you all the benefits of having a full-time copywriter without costing an arm or a leg. You'll never again be stuck on what to write about! With Craftly, you can get endless content in seconds rather than weeks.
Ellipsis-AI simplifies copywriting by generating high-quality marketing content in seconds. Understanding how to craft engaging texts takes the guesswork out of writing for your business. Simply key in details about your product or brand, audience information, and desired outcomes, and let Ellipsis-AI do the rest.
Would you like a tool that can help you write high-quality content quickly and easily? Look no further than GrowthBar AI and SEO! This all-in-one tool can handle everything for you, from creating your article content to optimizing it for search engine visibility to managing your social media accounts.
Asking Franklin
This app is designed to help you come up with content ideas for your blog or website. Simply type in a keyword, and Asking Franklin will generate a list of related topics that you can write about.
In addition, the app also provides access to a library of over one million royalty-free images that you can use to enhance your posts.
Franklin does everything for the user! Discover what people are looking for on Google and get tons of great ideas.
The AI assistant is there for you every step of the way when it comes to publishing an article- from generating an introduction to writing body copy, finding titles, and SEO optimization!
ContentBot is an AI-based content-writing service that can generate new and unique content with the click of a button. All you need to do is enter some data keys to begin. There are many different templates available, including social media templates, article templates, listicle templates, and more!
Sassbook is a content curation tool that uses AI to help you find the best articles, videos, and blogs for your next project. With Sassbook, you can easily create a well-researched article or blog post in minutes.
Sassbook is a game-changer for writers. With its AI text generator and various writing styles and tools, you can write at breakneck speeds without sacrificing quality or authenticity. For those writers looking for one-line summaries or real-time work, we offer both traditional extractive mode and deep-AI modes. Depending on what you need, we have three different size targets for your convenience.
Smart Copy is an excellent content creation process because it provides various power tools, such as its Content Expander. With this tool, you can take one sentence and turn it into multiple paragraphs of compelling content. It's also great for coming up with ideas for blog posts, articles, or even social media posts.
Conclusion
There are many AI text generators available on the market, each with its own unique capabilities. When choosing the right one for your needs, consider what type of content you need to generate and how much time you're willing to spend editing it. With the help of these tools, you'll be able to create high-quality content quickly and easily! Thanks for reading! I hope this was helpful. 🙂
What is your favorite AI text generator? Let me know in the comments below! And if you found this post helpful, please share it with your friends! Thanks for reading! 🙂
Frequently Asked Questions