Last Updated on September 12, 2023
In this Vyond presentations tools review, we will explore the platform's features, benefits, and drawbacks to determine if it's the right solution for your video creation needs.
What Is Vyond?
In today's fast-paced digital landscape, capturing and retaining your audience's attention is paramount. One proven method for achieving this goal is using animated videos in presentations. One of the best presentation tools available today is Vyond.
Vyond, formerly known as GoAnimate, is a cloud-based platform enabling users to create high-quality animated videos easily. The platform is for businesses, educators, and individuals seeking a powerful yet user-friendly tool to craft engaging presentations. With a vast library of templates, characters, and props, this offers endless possibilities for creating custom animations that resonate with your target audience.
Features Of Vyond Presentation Tools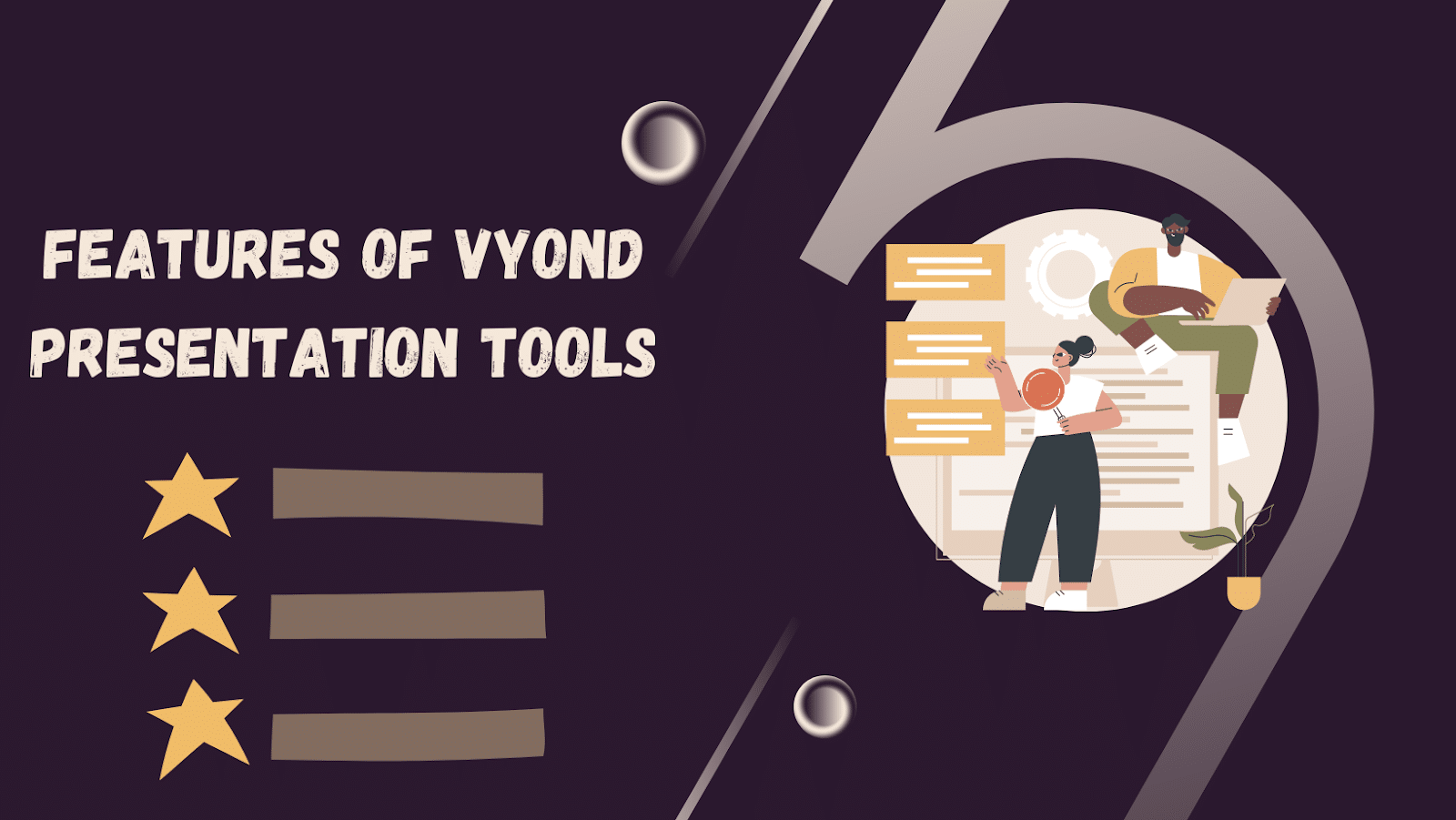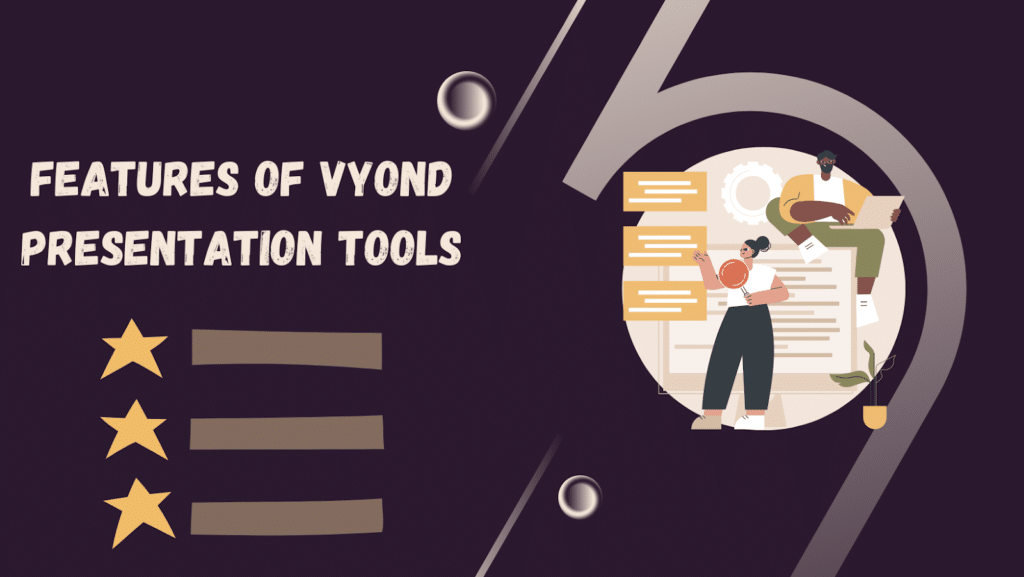 In this section, we'll dive into the essential features of Vyond presentation software. It will provide you with a comprehensive understanding of the platform's capabilities.
1. Extensive Template Library
Vyond boasts an impressive library of professionally designed presentation templates. It caters to various industries and presentation styles. These templates are an excellent starting point to create presentations. It offers pre-built scenes and characters. It streamlines the process of creating presentations.
2. Customizable Characters And Props
This allows users to personalize characters and props to suit their needs. It has a wide range of character types. The platform ensures that your animated videos represent your brand or message. Users can also import design custom props to enhance their future presentations.
3. Simple Interface
This simple interface ensures that those with limited design can create professional-quality videos. The drag-and-drop functionality makes adding, removing, and rearranging elements within a scene easy.
4. Animation Styles
This offers a variety of animation styles to suit diverse presentation requirements. The platform's animation styles include whiteboard, 2D, and contemporary. Users can choose the style that best aligns with their project's tone and purpose. It ensures a cohesive and engaging final product.
5. Audio Options
This audio options are as robust as its visual offerings. Users can import voiceover recordings. You can select from a vast library of royalty-free music and sound effects. The audio features enable creators to develop a rich soundscape.
6. Integration And Collaboration
This supports integration with popular platforms like PowerPoint, Google Slides, and Adobe Creative Suite, allowing users to embed their videos seamlessly within existing presentations or projects. The platform also offers team collaboration features, making it easy for multiple users to collaborate on a single video. This collaborative functionality enables teams to develop cohesive, high-quality animations that align with their collective goals and objectives.
Cost And Price Plans
A. Essential Plan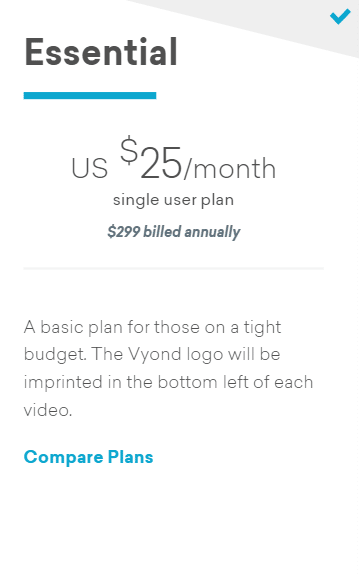 Price (Single User Plan):
25 USD per month
299 USD billed annually
Inclusions:
Ideal for individuals with a limited budget
Vyond logo in the bottom left corner of each video
B. Premium Plan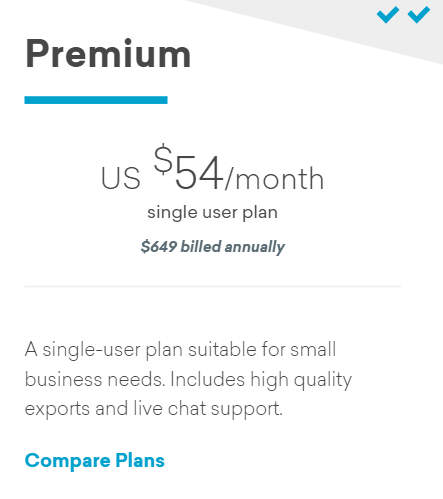 Price (Single User Plan):
54 USD per month
649 USD billed annually
Inclusions:
Perfect for small businesses
High-quality exports
Live chat support
C. Professional Plan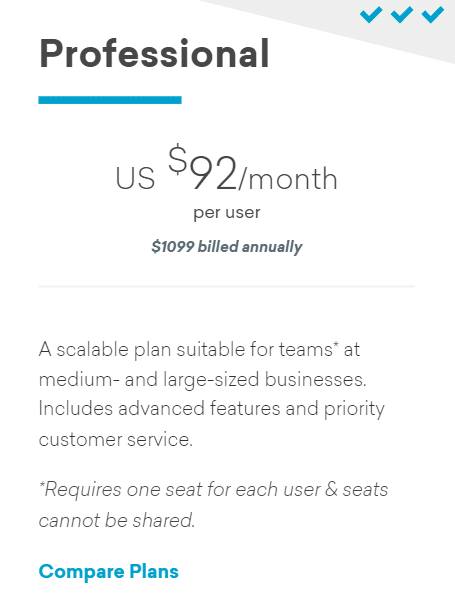 Price (Per User):
92 USD per month
1099 USD billed annually
Inclusions:
For medium to large-sized businesses
Advanced features
Priority customer service
One seat required per user; seats cannot be shared
D. Enterprise Plan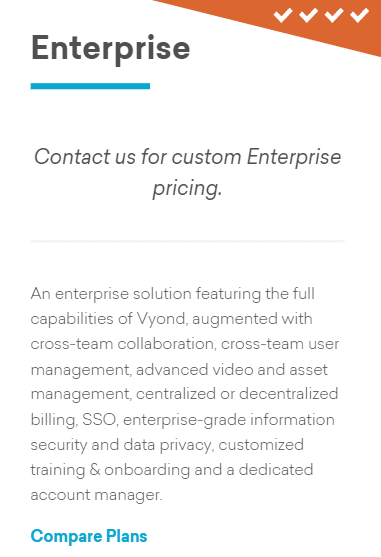 Price:
Custom pricing available upon request
Tailored for large organizations
Provides full Vyond capabilities
Enhanced collaboration and user management
Advanced video and asset management
Flexible billing options
SSO, robust security and privacy features
Personalized training
Onboarding
Dedicated account manager
Why Choose Vyond?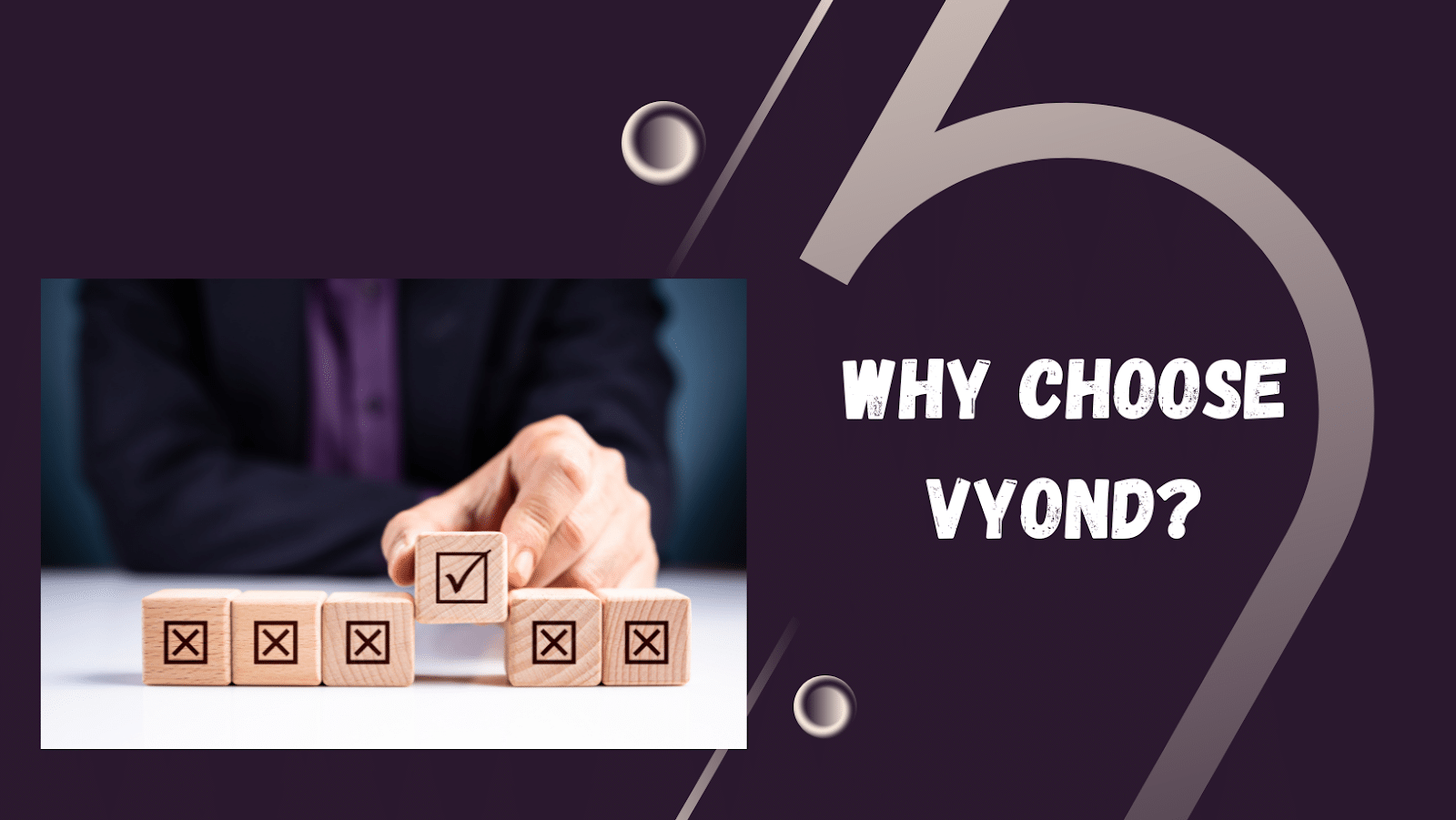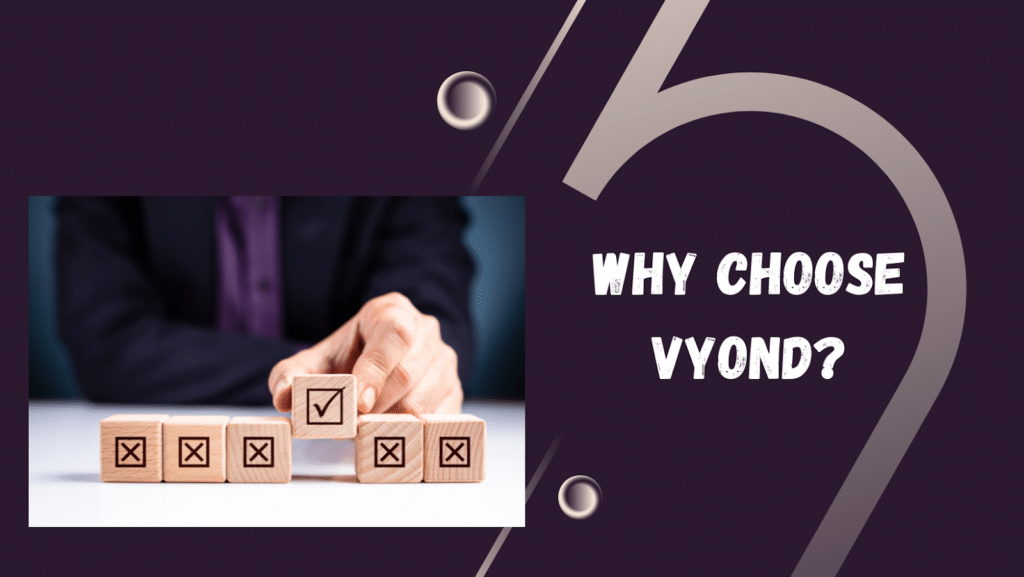 1. Addressing Distributed Workers And Diversity
This understands that diverse workforces require personalized content that speaks to their unique contexts. The platform allows users to create characters representing various job roles, workplaces, and cultural backgrounds. With modern casual settings and whiteboard animations, this offers hundreds of combinations to create relatable content that resonates with employees worldwide.
2. Seamless Integration With Other Platforms
This output formats, such as MP4 and animated GIFs, can be easily integrated with social media platforms or imported into eLearning tools like Storyline or Captivate. This flexibility ensures that your videos can be shared and accessed wherever needed, making communication more efficient and effective.
3. Flexibility And Cost-Effectiveness
This pricing structure and flexible plans give organizations greater control and transparency over their communication costs. The platform's cost-effectiveness ensures businesses can create professional-quality videos without breaking the bank, ultimately delivering better ROI on media and communication investments.
4. Ease Of Use And Resources For Success
With its wide range of templates, this is easy to use, even for those with limited video production experience. The platform also offers various resources, training options, and an active customer community to support users throughout their video creation journey. These features ensure that tight timelines and small budgets are sufficient for creating impactful content.
5. Professional Media Without The Pro Budget
This allows businesses to create professional-quality animated videos, even without the need for a substantial budget typically associated with traditional video production. This cost-effective solution enables organizations to develop customized content while saving time and money.
Pros And Cons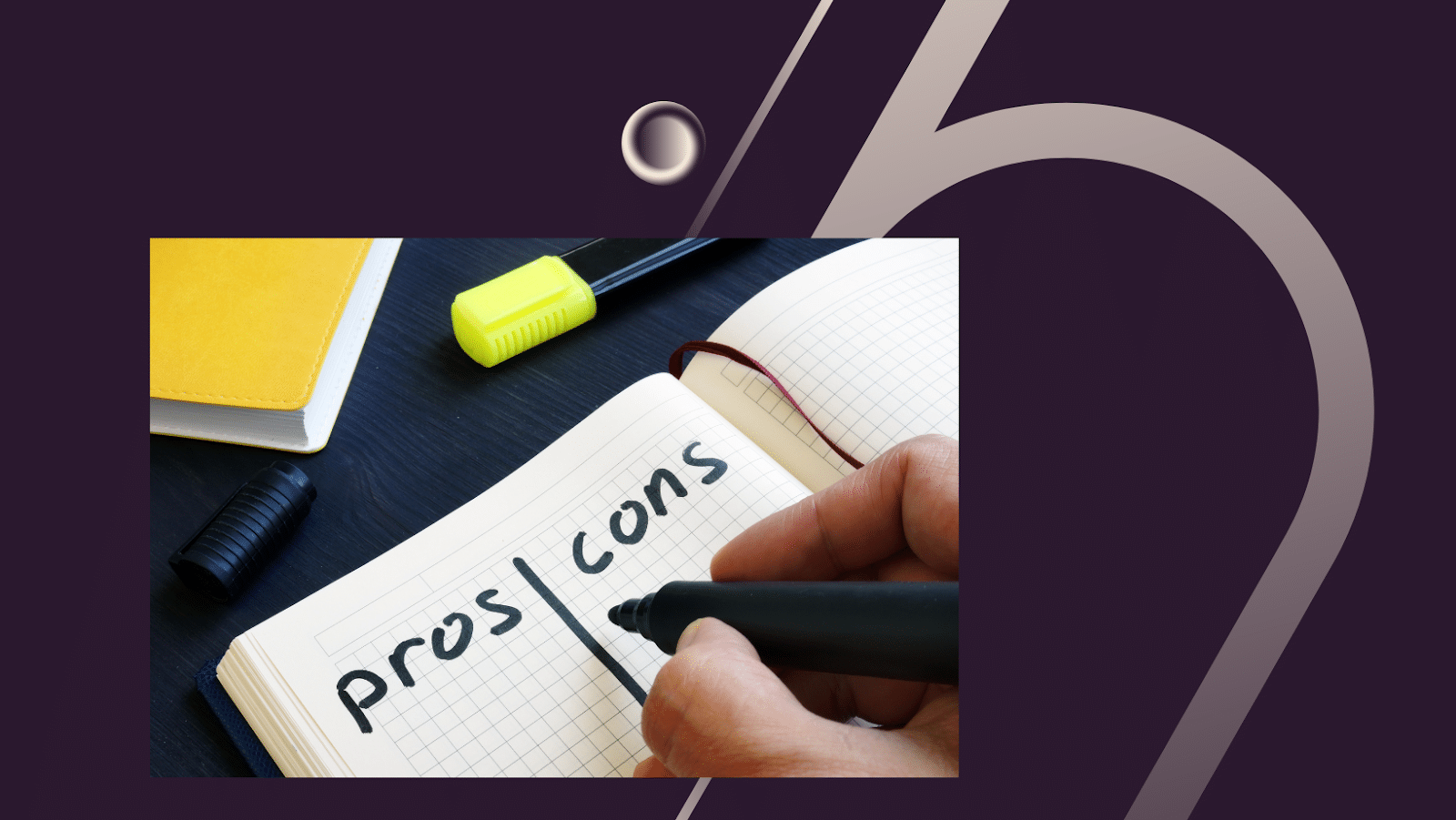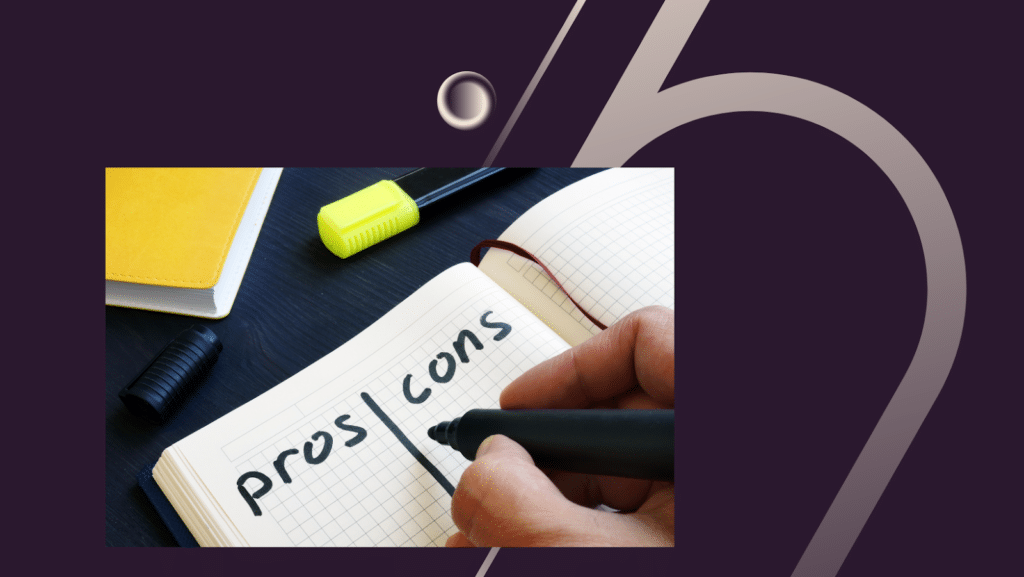 This section will explore the advantages and disadvantages of using this as a presentation software solutions.
A. Pros Of Vyond
1. A comprehensive library of templates, characters, and props
2. A high degree of customization options
3. Intuitive, user-friendly interface
4. Variety of animation styles and audio options
5. Seamless integration with popular platforms
6. Collaborative features for team projects
B. Cons Of Vyond
1. Limited offline capabilities due to its cloud-based nature
2. It may require a learning curve for users new to animation
3. Subscription-based pricing model might not suit all budgets
Comparing Vyond To Other Cloud-Based Presentation Tool
This is a cloud-based animation and video-making software that creates engaging and interactive presentations. When compared to other cloud-based presentation tools, here are some key differences:
1. Focus On Animated Videos
Unlike other cloud-based presentation tools, Vyond primarily focuses on creating animated videos that can help deliver a message more dynamically and memorably.
2. Wide Range Of Features And Tools
Vyond offers more features and tools than many other cloud-based presentation tools. It provides a library of templates, characters, backgrounds, and sound effects that users can use to create their videos quickly and efficiently.
3. User-Friendly Interface
Vyond's intuitive drag-and-drop interface makes it easy for users to create professional-looking videos without needing advanced design, animation and presentation skills.
4. Pricing
Vyond is priced higher than other cloud-based presentation tools, but its pricing plans offer more advanced features and functionality.
5. Branding And Customization
Vyond allows users to add their branding and customize their videos to fit their specific needs and preferences.
Tips For Using Vyond To Create Engaging Presentations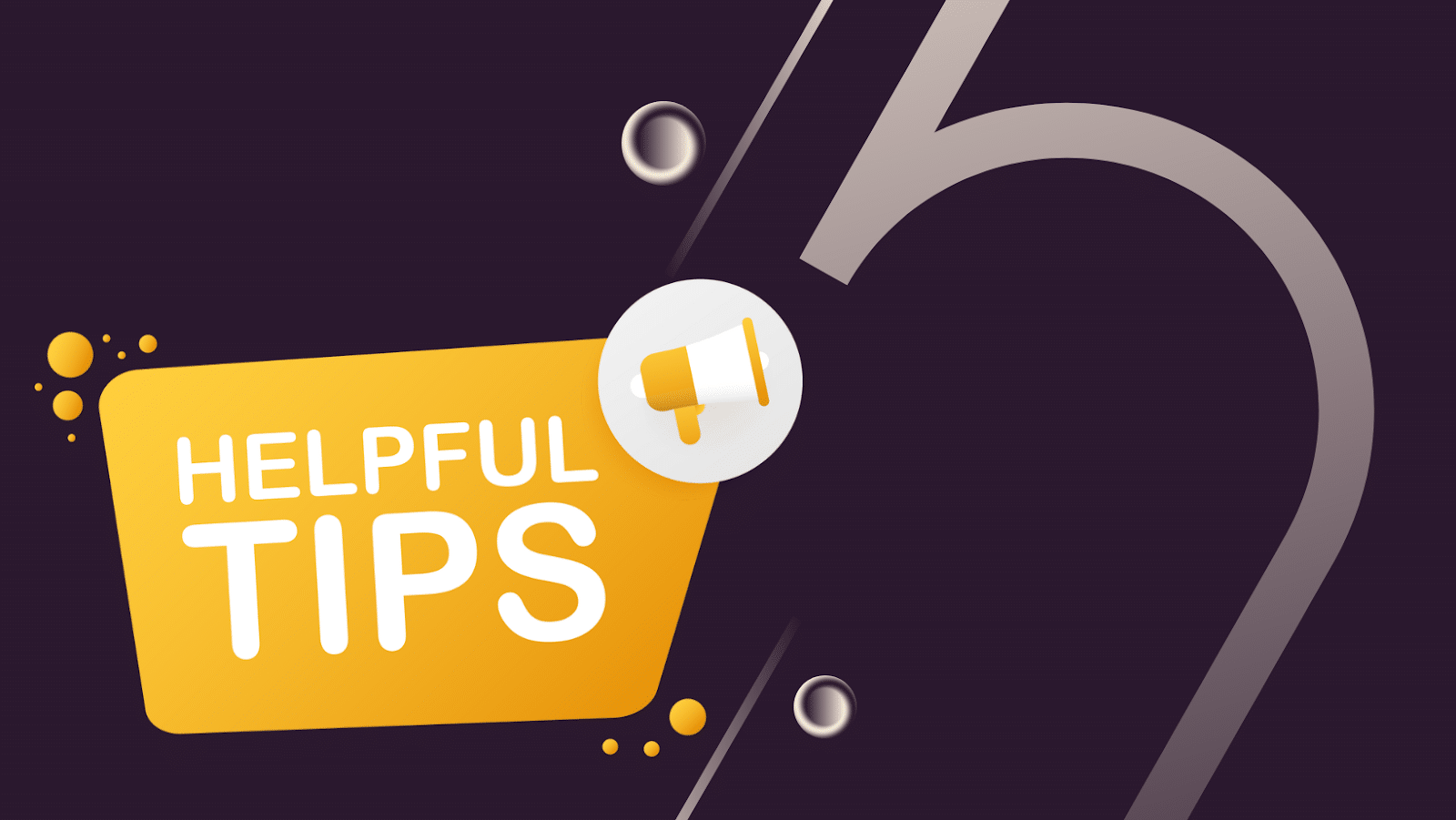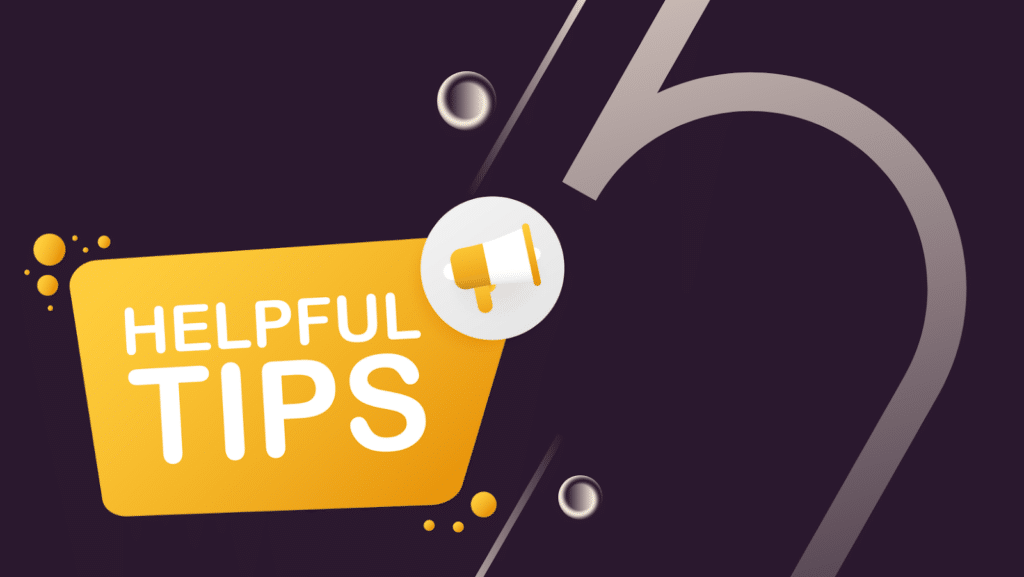 To ensure your Vyond presentations are as engaging and effective as possible, consider implementing the following tips:
1. Storyboard your ideas
Before diving into Vyond's interactive features, outline the story and message you want to convey. This preparation will help streamline the creation process and ensure your final product is cohesive and engaging.
2. Optimize visuals for your target audience
Consider the preferences and expectations of your intended viewers when selecting an animation style, characters, and props. Tailoring your visuals to your audience will help create a more relatable and appealing presentation.
3. Use motion and transitions wisely
Utilize Vyond's animation features to create smooth transitions and dynamic visuals. However, avoid overusing these effects, as excessive movement can be distracting and detract from your message.
4. Incorporate audio elements
Leverage Vyond's audio options to create a rich, immersive soundscape that complements your visuals and enhances the overall presentation experience.
5. Review and revise
Before finalizing your presentation, watch it multiple times to identify any improvement or refinement areas. This attention to detail will ensure your video is polished and professional.
FAQs
What is Vyond? 
Vyond is a cloud-based animation and video-making software that allows users to create animated videos for various purposes, such as training, marketing, and education.
What types of presentations can I create with Vyond?
Vyond can be used to create a wide range of presentations, including training videos, explainer videos, marketing videos, and educational videos.
Does Vyond offer customer support?
Vyond offers customer support through various channels, including email, phone, and live chat. They also provide an extensive knowledge base and community forum where users can find answers to common questions and connect with other users.
What are the differences between Microsoft PowerPoint presentations and interactive presentations created with Vyond?
A PowerPoint presentation is typically slide-based and use static images, text, and bullet points to convey information linearly. Interactive presentations created with Vyond are often animated videos that use a combination of visuals, audio, and interactivity to engage the audience and deliver a message more dynamically and memorably. While PowerPoint and Vyond can create presentations, Vyond offers a broader range of features and tools that allow for more creative and engaging presentations.
Is Vyond a free presentation software?
Vyond is not a free presentation software. It offers different pricing plans based on the features and functionality you need, ranging from essential plans to enterprise plans with more advanced features. The pricing for Vyond can vary depending on factors such as the number of users, the duration of the subscription, and the type of features and assets you need. 
Is Vyond considered one of the best online presentation tools?
Vyond is one of the best presentation tools available today. It offers features and tools that allow users to create engaging and interactive animated videos for various purposes, including presentations. With its easy-to-use interface and drag-and-drop functionality, Vyond makes it simple for users to create professional-looking videos without needing advanced design or animation skills.
How does Presentation Screen Master compare to Vyond?
Presentation Screen Master is a good option for users who need to create simple slide-based presentations quickly. Vyond is better suited for users who must create more complex and engaging presentations incorporating animation and interactivity. The choice between these two tools will depend on the user's preferences.
Conclusion
If you want a powerful presentation tool, I highly recommend trying out Vyond. With its wide range of features and tools, intuitive interface, and ability to create engaging and interactive animated videos, Vyond is an excellent choice for businesses, educators, and anyone looking to create visually compelling presentations.
Are you looking to up your presentation game and impress your audience? Then you'll want to check out our website for the latest and most excellent presentation tools. We will provide in-depth reviews and comparisons of the best presentation software available.