Last Updated on June 9, 2023
Forget about traditional project management tools. Zoho Project lets you have the power to manage your team with ease. Learn about how you can leverage this project management software.
Overview Of Project Management Tools
Imagine this. The project manager knows the timeline, requirements, budget, all the tools, and project tasks. But, your project team is remote. And the team members' locations are across various regions and cities.
How can you manage tasks given these circumstances? What more if you have multiple projects at the same time? The answer is project management software.
First, what is project management?
It refers to organizing and controlling resources, procedures, and protocols to achieve specific goals and objectives. It involves defining and planning projects, setting goals, assigning tasks, estimating costs and timeframes, and coordinating the efforts of team members to deliver a successful outcome. Effective project management helps organizations achieve their objectives while minimizing risks and improving efficiency and productivity.
Project management software helps project managers and teams work on simple and complex projects through team collaboration features. Project tracking, project planning, project progress tracking, time tracking, task management, and document management are the capabilities and features of project management tools.
There is a high demand for a project management solution. That's why more online project management tools are available.
Some are free project management software tools, while others only offer a free trial.
Remember that these project management platform tools may have similar project management features. Yet, they're not equal.
We will review one of the best project management tools–Zoho Projects or Zoho.
We will talk about what makes it a great project management software. How does it promote team collaboration? How can it help assign tasks, track progress, manage projects, and plan projects?
What Is Zoho Projects Project Management Tool?
This is a project management software developed by this Corporation. It provides task and time tracking, team collaboration, and project-tracking features. Teams can plan, track, and deliver projects on time and within budget.
Your entire team can use task lists, Gantt charts, calendars, and document management. For that, this is the online project management tool for you.
Convenience and efficiency are at the top of Zoho's priorities. Project managers can manage projects in one place with a centralized platform. They can assign tasks and track progress, ensuring that the team members complete projects on time. The entire team can collaborate in real time regardless of their physical location. The platform's time-tracking feature makes it easy for team members to log the time they spent on each task. It helps project managers track project progress and estimate future workloads.
This also provides robust reporting and analytics features. This allows project managers to gather valuable insights into project performance. With reports and dashboards, project managers can track project health and check team performance.
This integrates with other apps and third-party tools. It makes it easy to integrate with existing workflows and systems.
Zoho is a comprehensive and user-friendly project management tool suitable for small, medium, and large businesses, freelancers, and individual users. Its features and flexibility make it a popular choice for organizations looking to streamline their project management processes and improve team collaboration.
Zoho
A unique and powerful suite of software to run your entire business, brought to you by a company with the long-term vision to transform the way you work.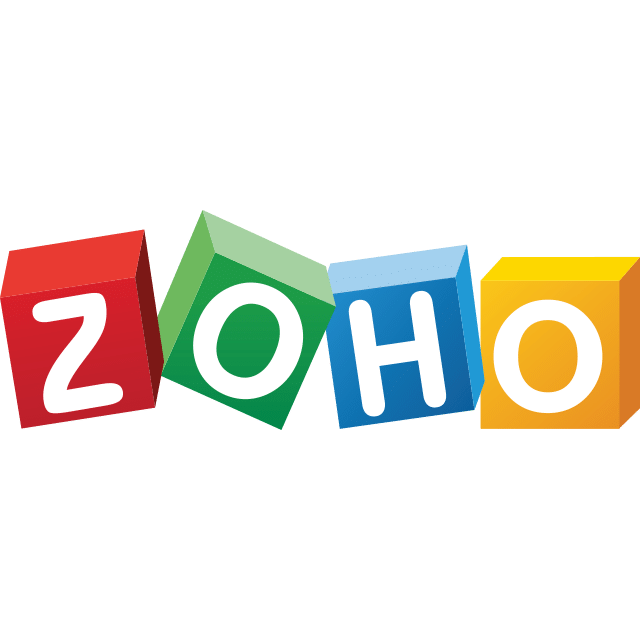 Features And Benefits Of Zoho Projects As A Project Management Tool
Now, let's look at the features and benefits of using Zoho as a project and resource management tool.
Task Management
Too many tasks to juggle? Let this do the job for you. It has task management tools to make project planning easier by letting you divide tasks into milestones, tasks, subtasks, and task lists. Gantt charts and kanban boards allow you to track progress and visualize project plans while setting up dependencies between related tasks.
These provide a visual representation of project progress, enabling you to see what tasks are currently underway, what's due next, and what's complete.
Project management solutions have never been this easy and efficient.
Task Automation
Numerous tasks and multiple projects? This is a versatile project management tool that has got you covered! This project management app is flexible, allowing you to do your work effortlessly.
Blueprint Editor
Make routine tasks easier to do with the blueprint editor. After you assign tasks, loop in the right people, set up tasks and project status, and automate your tasks field. You can also set up email alerts to ensure that you're able to manage unlimited projects.
Time Tracking
When on multiple projects, it's easy to fall short on one project and do more for another. Zoho's project management software features include time tracking so you can bill for every hour of your professional services. Each team member can indicate how much time they have spent on software development, document management, resource allocation, and project templates. Timesheets and task timers help with project planning and managing projects.
Charts And Reports
As a top project management software, Zoho wants to ensure you're always on track. Choose from the different charts to help you plan projects, manage the entire team, track project progress using detailed reports, and receive insights into how projects are moving. Good project management software reviews highly recommend Zoho's reporting tools.
Team Collaboration
Zoho isn't all just project manager software; it's also a business process management software that helps team members collaborate in real-time. It makes tracking the entire project easy with its collaboration tool that follows from the features of social media platforms. @mention a team member you want to direct a message at, post comments, or hold discussions around various elements. A customizable project management software based on efficiency, Zoho makes project management groups and creative teams succeed in their projects.
Mobile Access
Need to travel or go somewhere? Take your projects with you by using Zoho. Download its mobile online project management app, and you'll never miss a single alert. It makes Zoho one of the best project management software. When you land at Home, you can see the tasks assigned to you, issues that need addressing, and other matters.
Cost And Pricing Plan Of Project Management Software Zoho Projects
Now, let's look at how much Zoho costs for you and your entire team. This project portfolio management software offers three pricing plans–Free, Premium, and Enterprise.
The free plan costs nothing but can be used by up to three members for two projects at most. Though it has limited storage space, it has custom status, task management, Gantt charts, project feeds, calendars and forums, basic task and issue reports, and mobile apps.
For $5 per user per month billed annually or monthly, you can have unlimited projects, 20 project templates, and 100G of storage. Plus, there's project resource management, custom views, Gantt charts, project budget, a project planned vs. actual, custom views, subtasks, reminders, timers, task automation, advanced task and issue reports, business hours, holidays, weekends, and business rules for issues. These features are in addition to all the features of the free plan.
This plan has a 10-day free trial.
The Enterprise Plan costs $10 per month billed annually or monthly and offers unlimited projects, 30 project templates, and 120G of storage space. Aside from all the features of the Premium Plan, this plan includes a portfolio dashboard, global Gantt charts, critical path & baseline, global resource utilization, global planned vs actual, and numerous other features. It offers convenience by giving you a 10-day free trial if you're still unsure about buying this popular project management software.
Zoho
A unique and powerful suite of software to run your entire business, brought to you by a company with the long-term vision to transform the way you work.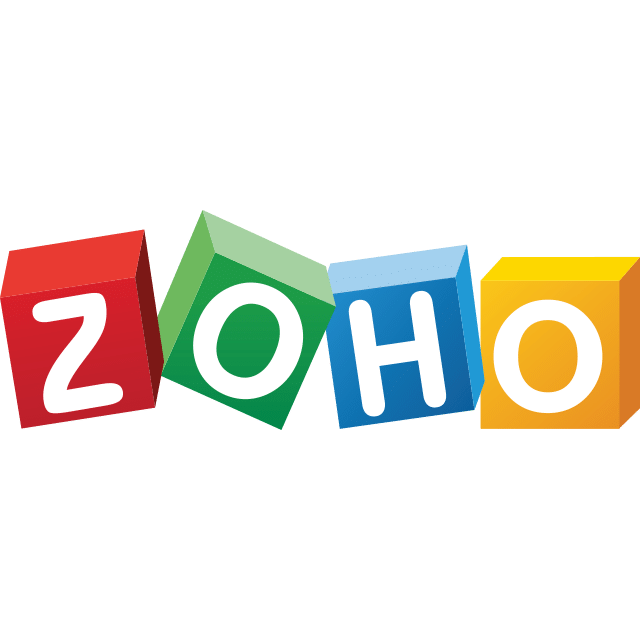 Pros And Cons Of Using Zoho Projects For Project Management
It's good to remember that no project management software is perfect. Even the right project management software can have flaws, which developers keep looking into.
Check out what users say are the pros and cons of Zoho.
Pros
User-Friendly Interface
Surely, you want project management apps to be user-friendly. Zoho doesn't disappoint because it has a straightforward interface, which you can easily navigate. Everything you need to control is visible and easy to find. This project management tool helps even those who are not techies, thanks to its user-friendliness.
team collaboration tool
This project management system lets team members communicate with ease. With its collaboration features, you can easily assign tasks, track time, and share files. Even if your entire team is located in different cities, you can connect with them and make sure project progress continues.
integrations
If you're using other Zoho apps, you can save time by not closing one app and opening a new one that you want to use. Zoho Mail, Zoho Books, and Zoho CRM.
Cons
Dashboard functionality needs improvement
Some users report that, unlike other top project management software, Zoho doesn't let users arrange client names alphabetically. This becomes an issue because the names are only arranged according to how and when they were entered into the system.
high learning curve
Zoho can be a bit hard to learn and set up. However, you can always refer to online tutorials and forums where users help explain how to use this project management software.
Frequently Asked Questions
Let these FAQs help you learn more about Zoho.
Is Zoho Secure?
Zoho doesn't play especially when it comes to security. It implements data backup, encryption, and secure access, so you can be sure that your files and information are safe and secure!
Is Zoho good for small businesses?
Yes, Zoho offers affordable plans for small businesses, with a range of tools to help manage customer relationships, finances, and operations.
How does Zoho compare to Google Workspace?
Zoho and Google Workspace both offer a similar suite of online tools, but Google Workspace is more focused on email and collaboration while Zoho offers a wider range of business applications and integrations.
Final Thoughts: Why Should You Use The Best Project Management Tool Zoho Projects?
Zoho Projects is a top-notch project management software that offers a comprehensive set of features to help manage your projects effectively. From task management to resource allocation, and time tracking to team collaboration, Zoho provides all the tools you need to plan, track, and complete projects successfully. With its user-friendly interface and customizable features, it's no wonder that Zoho is considered one of the best project management tools on the market.
Whether you're a project manager working on multiple projects or a team member collaborating on a complex project, Zoho has everything you need to achieve project success. So, if you're looking for a versatile and powerful project management solution, look no further than Zoho Projects.
Zoho
A unique and powerful suite of software to run your entire business, brought to you by a company with the long-term vision to transform the way you work.