Last Updated on September 8, 2023
It's not easy to rank on Google's SERPs. You need to conduct keyword research in order to ensure your site appears on the first page. Read on and learn how Screaming Frog SEO spider can help you.
Overview Of SEO Tools


Not all websites make it to Google's search engine results pages (SERPs). It takes more than just interesting content for Google analytics to rank your pages. Keyword research, keyword ideas, link building, and other strategies matter. In a nutshell, search engine optimization is a crucial part of running a website that ranks in both paid and organic search.
Thanks to technology and innovation, there are free SEO tools and paid SEO tools that help optimize your website. SEO tools are software programs or online platforms that assist website owners, SEO professionals, and marketers optimize their pages. These tools help identify technical issues, track website traffic, and optimize content for target keywords.
The main goal of SEO tools is to provide insights and recommendations that enable website owners and marketers to improve website performance. They do this through SEO data, SEO metrics, and noting search volume. However, between paid and free SEO tools, the former does more because they offer more specialized services.
One of these tools is Screaming Frog SEO Spider. Read on and learn why it has our seal of recommendation.
What Is Screaming Frog SEO Spider And How Can It Help Your Site Rank In Search Engines?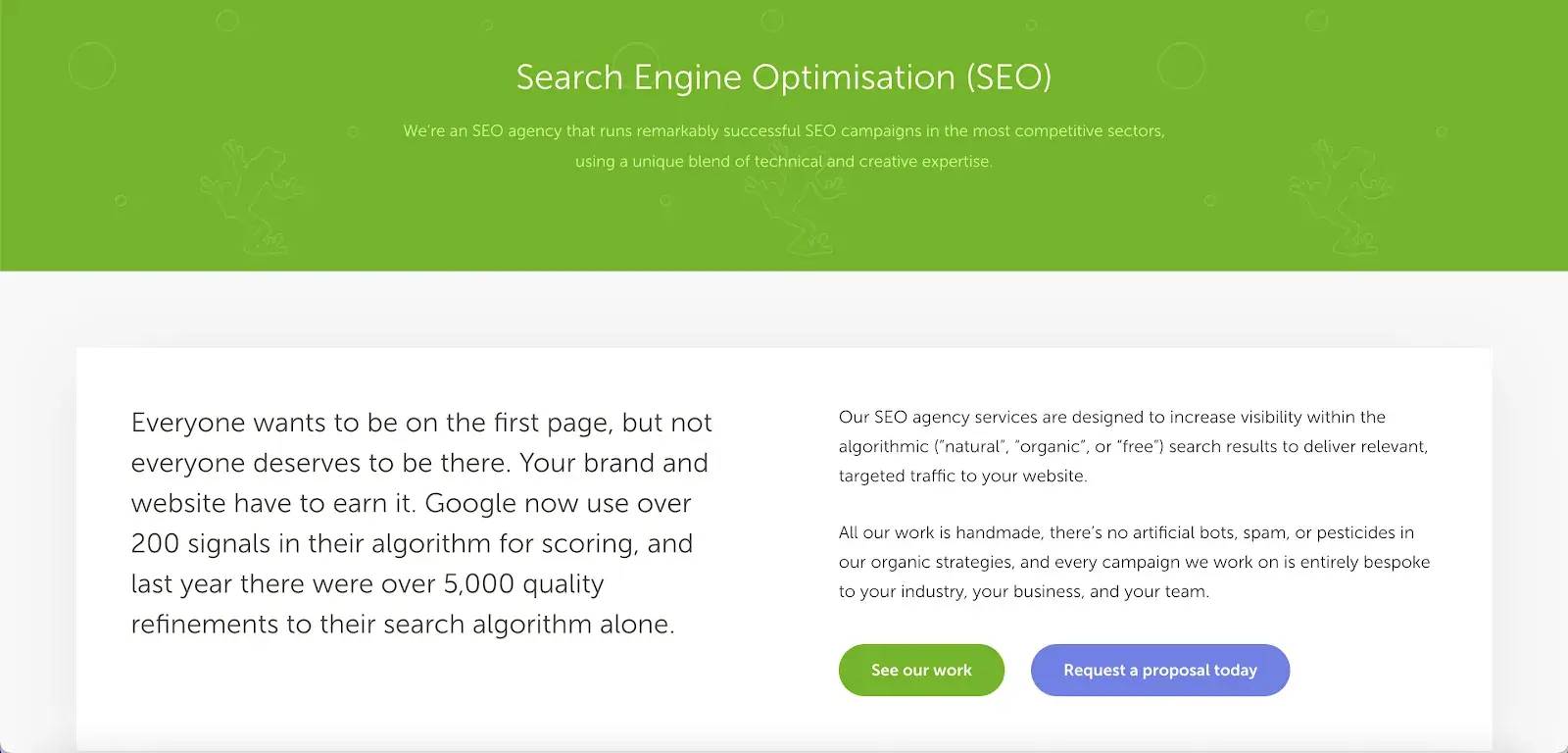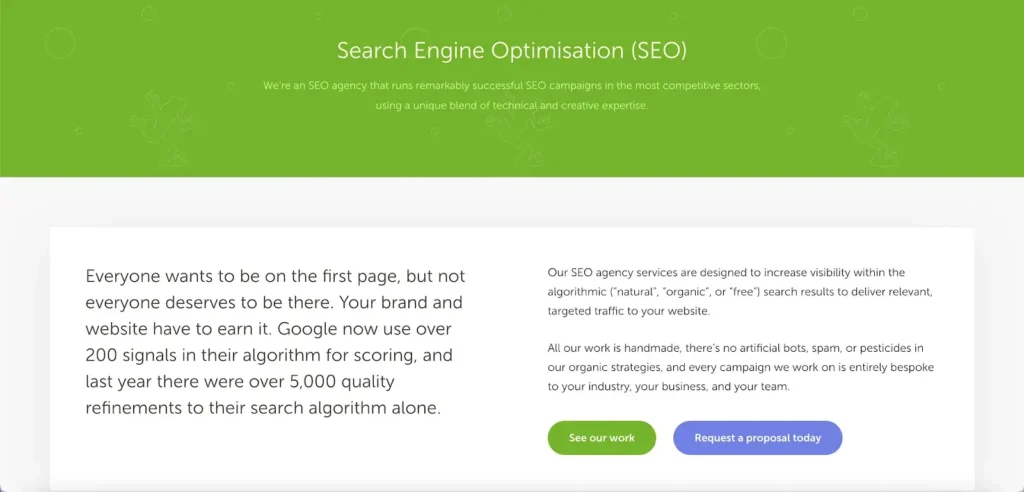 Screaming Frog is a desktop-based crawling tool for analyzing and auditing websites. It crawls websites and extracts data, such as meta descriptions, URLs, page titles, and more. Use it to find broken links, identify duplicate content, get relevant keywords, and enhance local SEO to promote your website and Google business profile.
This tool suits Windows, Mac, and Linux operating systems and is trusted by SEO professionals, website owners, and digital marketers for SEO audits.
Ready to learn about this amazing SEO tool? Read on.
Features And Benefits Of Using Screaming Frog For Google Analytics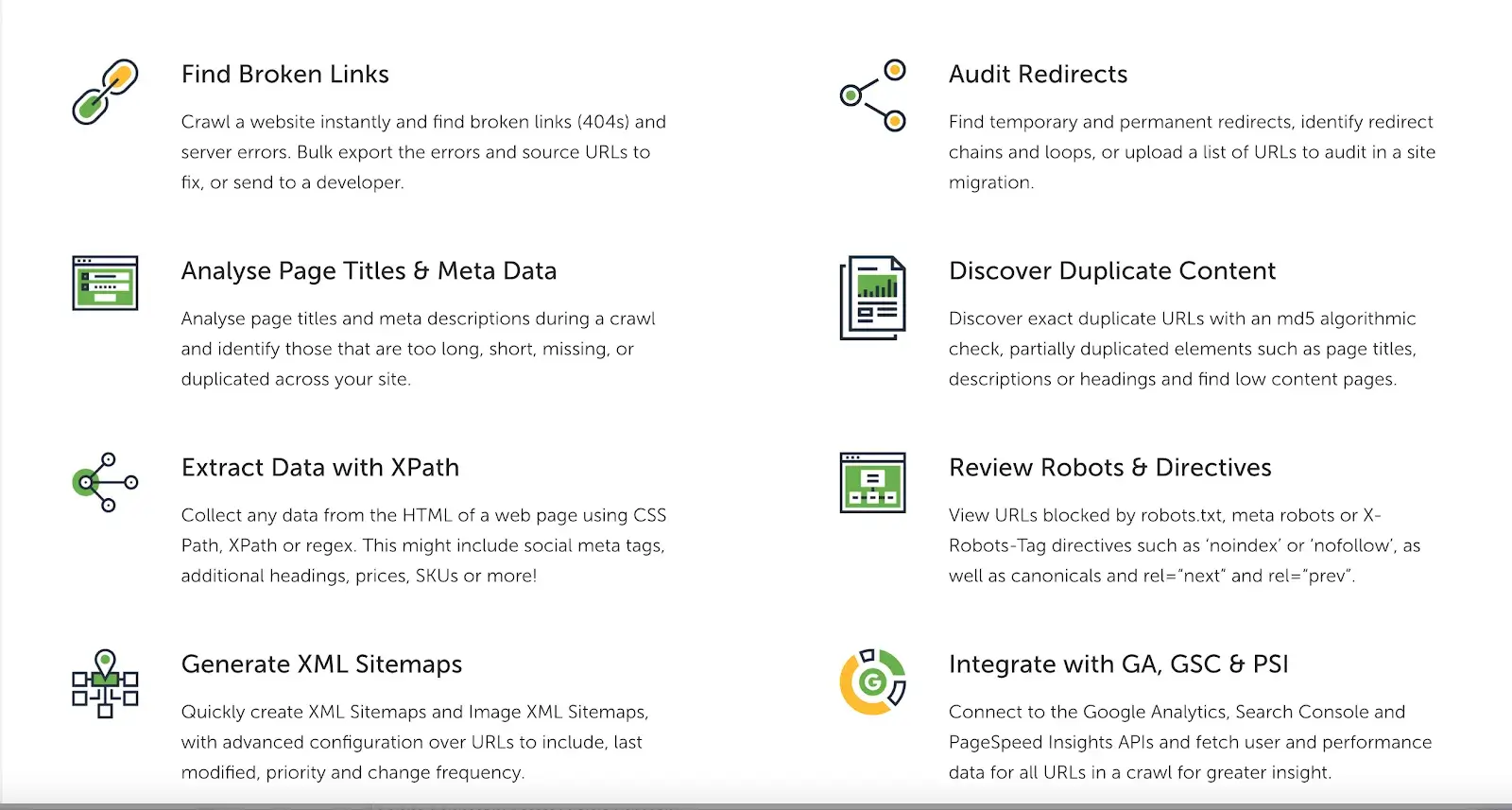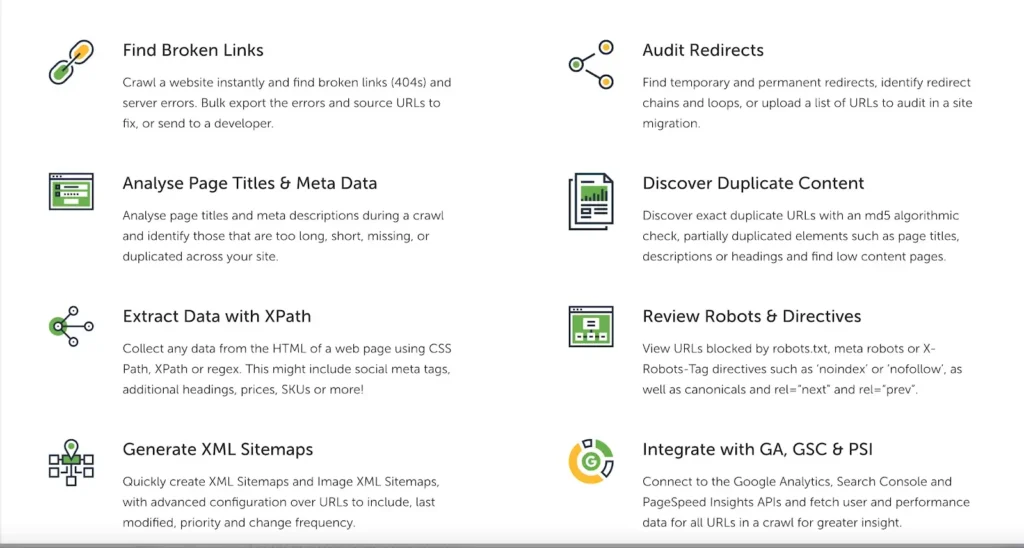 Here's a list of what Screaming Frog can do for your website. With these features and benefits, it eliminates the hassle of SEO audit, on page SEO, and planning SEO strategy.
List Mode
Screaming Frog is both a paid and free SEO tool. When you use the free version, you can crawl up to 500 URLs. Think of how much more you can do with the paid version.
Find Broken Links
It's not just about related keywords and keyword suggestions and meta tags – it's also about finding broken links before any site visitor lands on them and opts out of your website. With Screaming Frog, you can easily find these 404s and server errors and send a report containing all of them to a developer for fixing. And yes, you can use it together with Bing webmaster tools.
Audit Redirects
After finding the broken links, you can put temporary and permanent redirects for your site visitors. The tool can also identify redirect loops and chains while uploading a list of URLs for site migration.
Duplicate Content Discovery
Screaming Frog can crawl a website and identify pages that can harm a website's search engine rankings, such as those with identical titles, content, and meta descriptions. Once these duplicates are ready, the site owners can take steps to resolve them.
Visual Site Architecture
This feature provides a visual representation of a site's architecture, including the hierarchy of pages and their relationships. It helps users understand the organization of a website, identify potential issues, and optimize the structure for SEO, and optimize the site for search engines like Google.
Schedule Audits
Got no time to make regular SEO audits on your site? Screaming Frog's audit schedule feature lets site owners automate running regular website SEO audits. With this feature, you can schedule recurring crawls of your website to check for various issues, such as broken links, duplicate content, missing meta tags, and more. You don't have to wait for when you'll have the time next. Just schedule it, and let Screaming Frog do its job.
Cost And Pricing Plans of Screaming Frog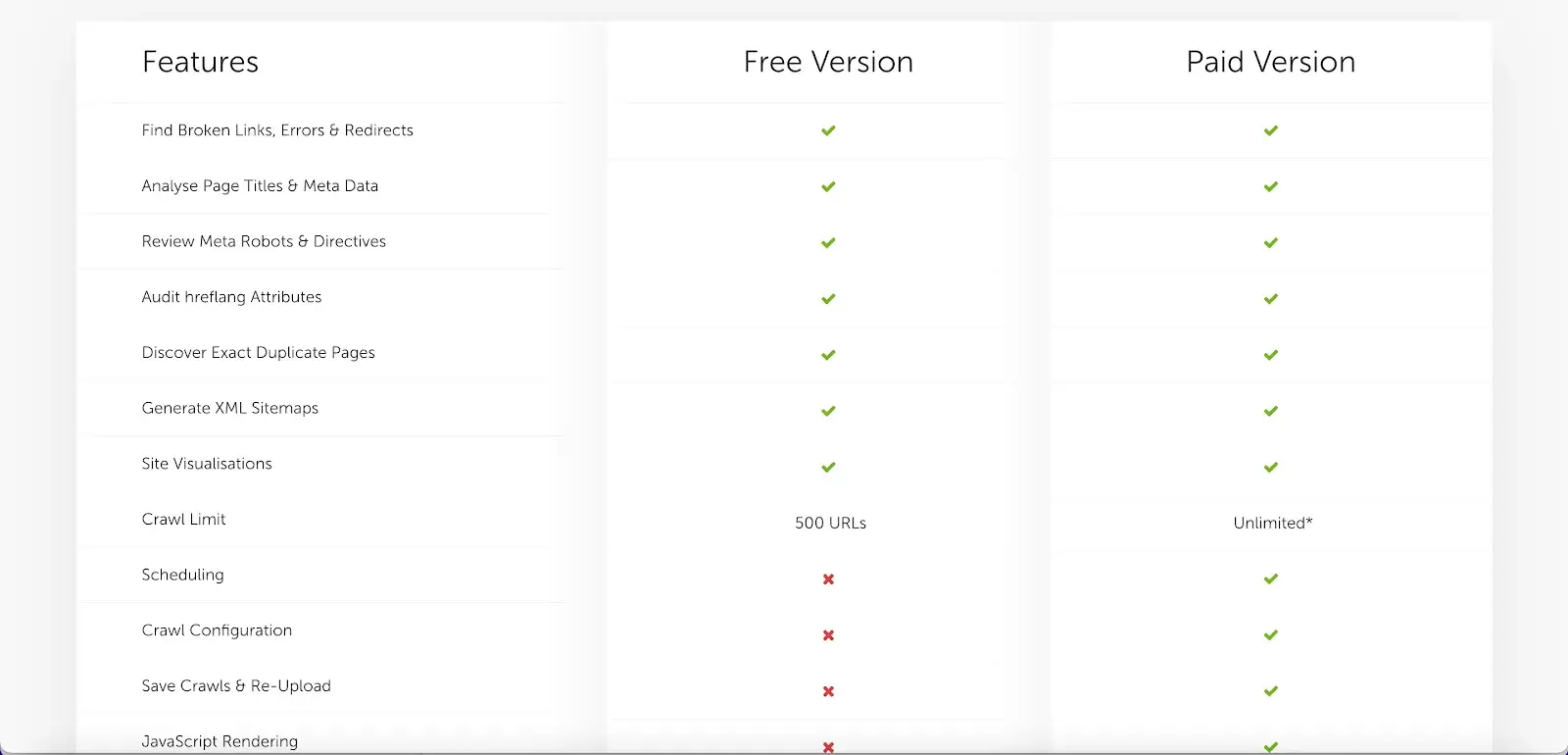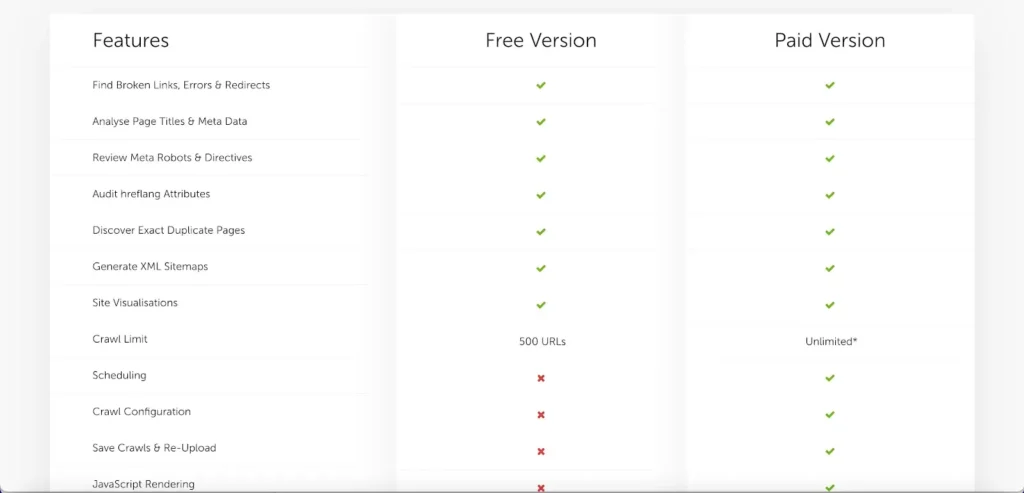 How much does it cost to use Screaming Frog? As we mentioned above, it is both a free tool and a paid tool with the following price.
Free Version
For obvious reasons, the free version does not have as many features as the paid one. But still, you are getting great benefits from using it.
For absolutely $0, you can use Screaming Frog for the following purposes:
Find Broken Links, Errors & Redirects
Analyse Page Titles & Meta Data
Review Meta Robots & Directives
Audit hreflang Attributes
Discover Exact Duplicate Pages
Generate XML Sitemaps
Site Visualisations
It also lets you crawl up to 500 URLs.
Paid Version
For $259 per year, you can avail all the features of the free version, plus the following:
Scheduling
Crawl Configuration
Save Crawls & Re-Upload
JavaScript Rendering
Crawl Comparison
Near Duplicate Content
Custom robots.txt
AMP Crawling & Validation
Structured Data & Validation
Spelling & Grammar Checks
Custom Source Code Search
Custom Extraction
Google Analytics Integration
Search Console Integration
PageSpeed Insights Integration
Link Metrics Integration
Forms Based Authentication
Store & View Raw & Rendered HTML
Data Studio Crawl Report
Free Technical Support
In terms of the number of URLs to crawl, you can crawl an unlimited number of URLs in the paid version.
However, remember that each user requires one license. Therefore, if you have five people in your team, you need five individual licenses to use Screaming Frog.
Pros And Cons of Using Screaming Frog In Your Google Search Console
Do you know what's great about Screaming Frog? Read on if you want to know them and the cons of this tool.
Pros
It Works Even When You Use Google Keyword Planner And Google Trends
Experience no issues using Screaming Frog's keyword research tool alongside other free keywords research tools, such as the Google Keyword Planner and Google Trends. Extract various types of data from websites, including keywords, for research and analysis, keyword usage, and search engine optimization.
It Can Crawl Even Your Competitor's Website
Interested in how your competitor's website ranks and their strategies? Screaming Frog can help you extract data from any website, including those of your competitors. By crawling your competitor's website, you can gain valuable insights into their SEO strategy, including their keyword usage, site structure, and content strategy.
You can extract a list of your competitor's keywords and analyze their frequency and location on the page. You can also use Screaming Frog to identify any technical issues on your competitor's website that may affect their SEO, such as broken links or missing metadata.
Great Customer Support
They have outstanding customer support – accommodating, helpful, and brilliant.
Cons
High Learning Curve
Some users comment about having a hard time setting up the tool at first. However, there are various tutorials and community boards waiting to help you.
Data Exports Can Be Clunky
According to some reviews, exporting bulk data can be clunky at times, and Screaming Frog sometimes chokes when crawling massive websites.
Frequently Asked Questions
Find the answers to some of the frequently asked questions about Screaming Frog here.
Who Are The Typical Users OF Screaming Frog?
Screaming Frog is for everyone, but it's most popular among small and medium-sized businesses, freelancers, and digital marketers.
What Is the Crawling Limit Of Screaming Frog?
The free version didn't have any crawling limit back in 2015. However, it's been updated to 500 URLs, max.
Best Alternative Software for Screaming Frog
Final Thoughts: Why Screaming Frog Should Be Your SEO Tool
Ranking on Google and Bing SERPs takes a lot of effort, but Screaming Frog makes the journey easier with its superb features. Among these is the duplicate checker and keyword planner. So, if you're looking to improve your site's rankings, Screaming Frog has got you covered.
Now, that you understand what Screaming Frog can do for you, why not read more about SEO tools on our website.