Last Updated on November 20, 2023
Using an image to get a point or message across might seem like the most effective way to grab the attention of your reader. But you don't always have the perfect images for your articles, and asking a designer to create one fresh for you might not be something that you can afford. So, how about creating your own professional-looking designs?
This article gives you the top 88+ text-to-image Generators for free. All these generators are available online.
What is Text to Image Generator?
Text-to-image generator is a new website that allows users to input text and obtain pictures of the words. This is an invaluable tool for graphic designers, the as it can be used to generate images for use in projects. The simple process requires users to type or paste their text into the box, and then select a layout from several examples or create their own.
How does Text-to-Image Generator work?
Text-to-image generator works in a very simple way. The user inputs their text, and then the website generates an image based on what is typed. These images are saved locally so that you can download them or share them with others. The process takes just a few minutes, and once you have your image, it's easy to manipulate or edit as needed.
88+ Text-to-Image Generators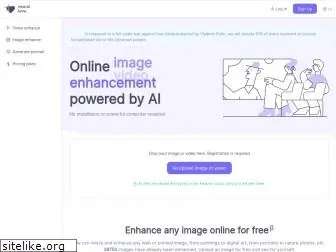 Using neural networks, the Neural Love onlinetext-to-image generator converts text into an adjustable PNG or JPEG file. The text is converted by a set of rules into an image that adapts to fit a gridded layout. After being transformed, the text can be manipulated in various ways to produce image-quality effects.
neural.love
Imagine: you create a stunning masterpiece by throwing 2-3 words to AI. It's not SciFi anymore.
Dream Studio
The Dream Studio is a text-to-image generator tool that allows users to generate an art version of any text. Once you've uploaded your desired file, the website will convert your text into an ai generated images using the font specified in that document.
Users can change the font of their text before uploading it to Dream Studio, which is useful for sharing poems or lyrics on posters and canvases.
The Night Cafe is a piece of AI-based software that, when given an image and told to create something in its style of it, can generate new images similar to those from famous painters.
The text-to-image generator uses three different algorithms—Artistic, Coherent, and Stable—to turn text into images.
Canva
Canva is a free online graphic design text-to-image tool that allows users to create professional-looking designs. It offers templates in many different categories, including business cards and flyers.
Canva also allows users to upload their own images and customize them using Canva's drag-and-drop interface to produce generated images.
Neurogen
Neurogen's text-to-image Generator takes plain text and converts it into an image format that is easier for users to interact with.
By using Neurogen, the user can add their own personal touch by customizing images however they want.
PhotoSonic charges you credits to download and use its photo editing tool. The program is free for a trial run—you'll have five downloads available before the app closes itself down. But if you decide that it's worth using after your test drive, sign up so they can extend your subscription later on!
Pixray text-to-imageGenerator is a website that allows users to generate images of text with a given background, using real-world fonts. Users can save the image as PNG or SVG files or send them directly to their clipboard. Pixray is a free tool that can be used to create colorful and visually interesting images.
DALL-E
DALL-E 2 is one of the best text-to-image generators on the market. The program includes options for both beginners and experts to find their niche when using this text-to-image generator.
It includes tools that allow artists to work with images of different sizes, ensuring high-quality output.
Wonder AI is a text-to-image creator that creates high-quality images from text.
Wonder AI can help you create multiple images, generate funny pictures from quotes, or even build posters and other artwork for your blog or social media. You'll learn how to use this tool effectively in this article's quick tour as well as through tips toward the end.
Starry Ai is a text-to-image program that uses artificial intelligence to convert text into drawings—the type where the lines create an image of what they describe.
Many of the results have a fantasy style, but StarryAI is particularly adept at creating images that look like nightscapes and planetscapes—this inspired its name.
Craiyon
Craiyon is a text-to-image that generates images from text descriptions. The quality of the generated images can be quite high, although there are limits to what it can create: no 3D renderings or complex animations yet!
But Craiyon is a very popular site, so the servers are often overloaded and it takes forever to create images—and sometimes you can't make what you want because of copyright issues.
Dream is a quirky artificial intelligence (AI) text-to-image generator that offers various stylistic options such as Steampunk, Psychedelic, and Etching to give text prompts more flair. You can preview your creations before making them public.
However, you will ultimately have to create an account in order to save and publish your creations.
Jasper AI is a text-to-image generator that produces high-quality images from a single prompt. You can use these copyright-free images however you like! The company's primary product is an artificial intelligence writer and text editor. However, it also offers a tool for generating images.
ArtBreeder is a revolutionary text-to-image generator that produces abstract art. Although this tool does not focus on realism, it offers interesting "gene editing features" such as age, gender, and color adjustment for every user.
All of Artbreeder's works are available for use, modification, and redistribution under the Creative Commons CC0 license.
This text-to-image generator was created for Pokémon fans. It allows users to create their own unique Pocket Monsters by entering a name into the program's text prompt. To make a Yoda Pikachu, all you have to do is enter "Pikachu Yoda in Red" and watch as this creation takes shape!
AI Picasso, a text-to-image generator based on the Stable Diffusion model, offers users some control over their artistic styles while also providing a relatively generic user experience.
Like most ad-supported applications, AI Picasso will only create artwork when you watch an advertisement. Ads can be annoying at times—but it's free and works almost instantly!
Stable Diffusion is a text-to-image generator, known for its photo-realistic images though the text prompts can take some work to yield solid results.
The Open RAIL-M license allows you to share your images freely, but not modify them or redistribute the source code of Stable Diffusion Ai.
However, the client does not hold the copyright to a work created for them.
Cool Text is a text-to-image software that allows you to create text banners, logos, and other designs. You can upload images and customize your work by altering the font type and size; furthermore, this program offers many different banner templates as well.
Deep Dream Generator is a web-based text-to-image tool that allows you to create your own dream images by applying patterns from other photos to your input image. It works by taking an input image and creating a neural network based on the original photo, then applying filters to that network until it produces something interesting.
Fotor
Fotor's AI text-to-image generator is unlike other generators—it's free and super easy to use. Fotor's AI can turn any text into realistic anime characters, paintings, and 3D images. Just enter the prompt in the box and hit "Generate."
Google Imagen is a new search engine that offers an alternative to Google Images by combining elements of both traditional web searches and image-specific tools in one platform.
Imagen is different from Google Images in that it uses only the title of an image as its keyword, so if you are looking for a specific picture related to a certain article or website, finding it on Imagen will be much easier than searching with text that may not even exist within the photo.
Pablo by Buffer is a free app that makes it simple to create beautiful images on schedule. You'll never have an easier way to make stunning visual content than Pablo!
The interface for Relay is extremely straightforward: enter a text prompt, select a font and color, then click "Generate Image." The image appears in your inbox as an attachment, along with a link to the full-sized version if you want one that's bigger.
With Easil text-to-image Generator, bloggers can add beautiful images to their blog posts without having to worry about copyright infringement or image editing software. This simple-to-use tool turns text into high-definition print-quality images—just enter the words you want on your graphic, pick a size and format (with options including PNG and PDF), then hit "Create!".
The BeFunky text-to-image generator allows users to easily create images from their chosen words, and its navigable interface makes adding words or pictures simple.
There are six choices for text orientation: left-justified, right-justified, centered, top-aligned (sentences will begin with a capital letter), bottom-aligned sentences will end on the same line as they began), and justified. The URL generated by this tool is unique to each user; others cannot edit or delete your creations.
Adobe Express text-to-image generator is a new tool that creates rich and engaging visual content from plain text, helping users create everything from blog headers and social media posts to infographics and product images.
PixTeller is a free app that will generate an image based on any text you enter, creating anything from custom memes to pictures inspired by songs or poems.
The site offers options for customizing images created by users. Users can choose font size and color, the position of text on the image, or add special effects such as shadows.
Kapwing is an online tool that allows you to create your own text-to-image generator in minutes. Create memes with any text, or make graphics around quotes!
Kapwing offers many different layouts and color schemes, making it easy to design a project that fits your needs.
Crello is a free web app that makes it easy to add text to images. It's great for people who have ideas for art they want but can't draw well or don't have the tools, or just need a quick way of getting their design onto an image.
PlaceIt is a free web application that allows you to create your own mockups in seconds—just drag and drop an image onto the placeholder, and PlaceIt adjusts it automatically.
Design Cap
Design Cap is a web-based program that takes any text and outputs an image of it in a variety of different styles. This tool can be used by designers, bloggers, and anyone who needs to insert text into an image—it offers tons of options for customizing the look!
Snappa is one of the highest-rated and most popular online text-to-imagegenerators for websites. With Snappa, you can create high-quality graphics for your blog posts, website, or social media—in just three easy steps!
Snappa offers users the ability to create design elements using text or upload their designs. Users can choose from several font styles and customize background colors in order to generate images.
A stencil text-to-image generator is a tool that takes the words you type and converts them into an image.
Some of the best stencil text-to-image generators give users the ability to change fonts, customize their size and style, including multiple layers of text…and even control background colors!
It's a mobile application that allows you to type in any text and have it converted into an image that contains the text. After creating your conversion, you can then share it on social networks or publish it online.
The easiest way to understand how it works is to consider that you're making a "font" out of your text—then using that font in the image.
Quozio is a tool that turns your words into images. It's simple, yet clever—using a combination of interactive design and programming to create the perfect image out of the text.
Mid Journey
Mid Journey is random, but relevant, text-to-image generator. I designed it for people who work with the written content on a daily basis—such as bloggers and presenters—for when they need quick images that don't just clip art from Microsoft Word.
This tool will help you create multiple images in seconds so that you're free to move on with your life and do better things than spend time making images from scratch.
RunwayML
RunwayML uses machine learning models to generate high-quality images based on text input. The style of the image can be chosen by you and there are many different looks available.
The focus of the product is on using AI to create animations and edit videos. In particular, it allows users to remove the background from any clips without green screen technology.
The Big Sleep art model is a Python script text-to-image that generates realistic AI art from scratch. Even though this tool requires coding skills to use, it only takes minutes to set up.
Hotpot AI is an online tool that uses artificial intelligence to help you create art and design projects from scratch. It can be used by both experts and non-designers alike, making it useful for everyone!
Art Maker can turn any text into an image. Just describe what you want, and get a picture for your project!
AISEO is a website design tool that allows you to create stunning websites without having any coding skills. All you have to do is choose a template and customize it according to your preferences. The AISEO platform offers a variety of web templates, including business, portfolio, magazine and blog.
Servant AI is a website builder that allows you to create your own website—from scratch or using one of its ready-made templates—in just three minutes.
You can customize your website's colors, fonts and other design elements using the drag-and-drop editor.
Deep AI
This is an AI text-to-image Generator. It creates an image from scratch based on a description written by you. Yes, this is the one that you've been waiting for—Text-to-Image uses AI to understand your words and create unique images each time! Like magic!
AmongLive is an excellent tool for creating photos of real people that will look great in your projects. The interface is easy to use and you can create custom faces immediately after installation,
You can create lifelike images using the Chimera Painter text-to-image tool and then add effects to them in order to make them look even more like photographs.
It is your skill in manipulating light, texture, and other features of the environment that produces a vivid photograph.
Toongineer Cartoonizer uses an artificial intelligence tool that can produce visuals. This program turns images into cartoons using a neural network—but it's simple to use, and the results are stunning.
Whether you're an experienced artist or a total novice doesn't matter: with Toongineer Cartoonizer, everyone can make images that look like they have been created by professional cartoonists.
Simplified's text-to-image generator makes it easy for you to create professional visuals without the hassle of complicated design tools. With this tool, words become pictures. Do you have a hard time finding the right image for your project? Start with an idea, not an image.
AI isn't the end goal of creativity, but it can be a useful tool. Picsart's AI-assisted all-in-one editor helps you turn your imaginative concepts into breathtaking designs—quickly and easily.
This powerful text-to-image generator can enhance your design process by incorporating unique artificial intelligence elements.
The Conversion AI is a new feature that allows you to create high-quality, eye-catching images using just one click. The system will help you generate a range of different types of images based on your input—without requiring any design expertise.
Website Planet
Website Planet is an AI picture generator that may produce incredible visuals. Users can design anything—from product images to intricate landscapes—using many tools and settings.
This web tool offers a wide variety of hairstyles, outfits, and other characteristics. The images it creates appear life-like almost instantly.
To make images that appear "glitched," you can use the free online application known as the Glitch Image Generator. This tool creates realistic photographs for your portfolio, advertisements and illustrations—all with a few clicks of your mouse. The images are generated by hand, and the output can be saved as either a PNG or JPG file.
The program creates graphics, but these images are not original art. Instead, they're based on a few input images.
Hypotenuse AI
Hypotenuse AI is a web-based software that uses machine learning to create realistic 3D models of buildings. To make your own model, you can either upload existing photos or use the included camera to take new ones—it's up to you.
Once you've completed these steps, the program will generate a 3D model based on your input. This can be used by architects and builders to show off their latest projects.
Anonymizer
This AI-based picture generator also makes use of imaging technologies in a somewhat novel manner: it will analyze your photograph, process, it and create one that looks marginally similar. The primary objective is to help protect identity by making forged passports or other documents harder to make. You can upload a picture of your face to change it into something else.
Typli AI
Typli AI is a photo editing application that uses machine learning to create new images based on the ones you provide. Its "style transfer" algorithm allows users to transform their pictures into something completely different. The program will use the colors, shapes, and patterns from a source image to create a similar target one.
Visiting the website displays a template image with editable settings in an area where you can make changes. The program's dynamic nature and ease of use are what make it so effective.
You can make changes to the parameters and see how they affect your image immediately, without having to click a refresh button numerous times. You get a wide range of color options along with control over output format (GIF, PNG, or JPG).
VanceAI provides AI-powered tools that make photo processing easy, allowing users to enjoy beautiful photos without having their hands tied up in complicated tasks. All these powerful tools are available across multiple platforms: Windows & macOS, Android, and iOS.
Nvidia eDiffi uses a bunch of pre-trained text encoders to give inputs to its text-to-image model. The CLIP—which aligns the embedded words with their matching images, and T5—which performs language modeling, are two instances of this. While older models like DALL.E 2 only use CLIP, Imagen uses the T5 in its eDiffi model.
Deelvin
Deelvin's advanced text-to-image AI generator allows you to create unique images from simple prompts. Enter any description and choose a style for stunning realizations of your ideas. The model uses a combination of image-to-image models and text encoders to generate the final picture as well as its description.
TikTok
TikTok has launched a new feature called "Al Greenscreen," which allows users to create custom greenscreens for their videos by typing in text prompts.
DreamUp
DreamUp is an AI-powered online tool that uses machine learning to help creators create videos, animations, and comics. DreamUp allows users to create their own characters using an avatar builder, add props into scenes with the click of a button and animate these avatars—all without needing any video editing experience.
Picso is a new iPhone app that turns your photos into animated gifs. Users can capture, add stickers and filters, add text to their images then export the result as an animated GIF file.
AdCreative AI
AdCreative AI is an artificial intelligence-powered platform that uses data analysis and machine learning to help brands create better ads. AdCreative analyzes clients' creative campaigns, then applies a variety of insights in order to make recommendations on how they can improve their work.
MonkeyLearn WordCloud Generator
Build your own word art with MonkeyLearn's free WordCloud Generator. With its AI-powered interface, it's easy to make beautiful and unique pieces of text art.
Creating your own word art is easy. Paste text or upload a document and click "Generate cloud," then change the layout, fonts, themes, and colors to make a truly striking word cloud that you can download or print.
WordArt.com
WordArt.com allows you to create word art in the shape of numbers, animals and other funky figures by pasting text or uploading a file (or entering a URL) with words that are then transformed into visual form.
The interface takes some getting used to, but WordArt.com provides more options than the average word cloud tool and lets you print your work directly from their website (for an additional fee).
Wordclouds.com
It lets you upload or paste text, and—one of its biggest advantages—you can even put a PDF in there. Their "Wizard" button is helpful for making cloud art; it walks you through the process from start to finish.
This design software allows you to create colorful word art on your computer, tablet or smartphone. And they offer basic clipart-style shapes that you can alter the gap size between words.
Tagxedo
Tagxedo can search for text in a variety of places, including Twitter handles, RSS feeds or news articles.
It does require Silverlight to run, so it isn't compatible with Google Chrome. It can also be sluggish and rickety in other browsers.
DALL·E FLOW
This AI text-to-image solution generates interesting results, but it's a bit more difficult to use because you have to initialize the process through a Colab notebook yourself.
It means typing commands and running them, which may look intimidating but are actually quite simple to do.
Additionally, Google is working on its own advanced solution for text-to-image using machine learning and diffusion models. This application—produces images.
AI Image Synthesis and Text-To-Art v3
This AI-generated art is amazing. Using text instructions, it can produce paintings in diverse styles ranging from those that look like oil or watercolors to ones with a modern or abstract feel. The technology used to create art from the text can also be used to simulate the styles of famous painters.
Snowpixel
Turn your prompt into an artwork. Generate 15+ images for each prompt, upload existing images to create even more on-brand illustrations, and animate them.
Text2Art
Text2Art is an AI text-to-image generator that uses VQGAN + CLIP and CLIPDrawer models. You can easily generate all kinds of art—from drawing, painting, sketching or even a specific artist's style—just by feeding in text. The process can take 3-20 mins and the results will be emailed to you.
Latent Diffusion
To generate an image, enter a prompt and press submit. The Latent Diffusion model created by CompVis is trained on the LAION-400M dataset and produces images based on text prompts.
Dezgo
Dezgo is a web-based tool that allows users to create art based on their own input, resulting in shareable images or high-resolution downloads.
Lightricks
This company offers two apps, Photoleap and Motionleap. Photoleap is available only for iOS devices and Motionleap is available both for iOS and Android.
Photoleap has incorporated AI-powered text-to-image features into both of its apps. With the app, you can edit or add filters to an image and then share it immediately with your friends and family.
Motionleap can create a still image, apply animation effects to it, and save the result as a video file.
The process is the same as for other Stable Diffusion-powered text-to-image generators: you type in a prompt and then get an image based on it. These images are square, so all you need to do is click the "Text to Image" button located on our home screen.
Pixelz AI
Pixelz AI gives you ten free credits a day — enough for five lowest-quality images or two normal-quality ones. Additional images cost extra, starting at $3 for 50 credits, which can be used to purchase 25 low-quality photos or 10 normal-quality pictures.
There's also a promotional offer for unlimited images, which costs $35 per month. In addition, each time you share an image on social media—your first one is free!
Enstil
The interface is simple and straightforward, allowing you to create three square images at a time—each 512 by 512 pixels. The pro version costs $15 per month and includes faster processing, and the ability to edit each image with AI tools like filters or stickers; it also allows users to build on top of other photos in their projects. Click on the "find" button to see a few sample images made with the app.
Another bare-bones site, with an unlimited free tier and the option to use square, vertical or horizontal images.
The premium tier offers more choices of art styles, higher image quality, and multiple images per generation than the free version. Prices start at $5 for 100 credits (which you apply to individual artwork pieces). The artwork starts at 5 credits each.
Neural Blender uses older AI models, so the pictures don't look as good as those made with Stable Diffusion. The software might have been improved in this area since I wrote it, so check back and see if they've done any work on that. It's also one of the slower apps I've tried.
ArtFlow
This tool generates high-quality character portraits, which you can use for your own writing inspiration or share on your blog or Instagram feed.
The site offers an option to share the image via Twitter, but not to download it. Right-clicking on it saves a WEBP file, which you may be able to save open with your editing software—however, I use Save Image As PNG extension for Chrome in order to do this.
CogView
This is a Chinese-language site, but there's an English button for its interface. It's free and not too horribly slow—at least compared to some other platforms on this list—and has nine different art styles available. You can make eight images at once using it.
The website crashed repeatedly, so I had to keep reloading the page and looking at its history until I found images that were 480 pixels square.
Pollinations
The AI generates images, animations, audio files, or text using Stable Diffusion. You can create artwork with different kinds of intelligence models—but the website is very slow and unstable at times.
X-LXMERT
X-LXMERT is a text-to-image generator tool that can convert your text into an image. The output image can be used as an avatar on social media profiles. X LXMERT is a free online tool that converts words or sentences into realistic images—it's easy to use and creates high-quality results. It uses AI and neural networks to produce realistic images from text.
Ai2img
Ai2img is the best tool for converting text into images. It's easy to use and works well with any type of content. Ai2img provides you with a wide range of tools that will help convert your text into an image—it just takes one click. It is equipped with features that make it more usable and enjoyable.
AI Canvas
AI Canvas is an AI-powered text-to-image tool that can generate images from text. This tool works well for generating images for your blog posts, social media posts, and more—you can also use this to create memes with funny sayings on them.
The results are high-quality, and the interface is easy to use. There are no watermarks in generated images, either! AI Canvas benefits from artificial intelligence—more people using it means better quality output over time. This means that you can expect the quality of your spellchecker's results to increase over time, along with new features being added.
WordSwag
WordSwag is an image generator that allows you to convert text into images using different styles and fonts. This makes it easy for anyone—no design skills are required!
WordSwag allows you to add filters and effects like shadows, glows, gradients—and more—to your images with just a few clicks of the mouse. It has more advanced features than most other design programs so that you can create exactly what you want.
EasyMarker
EasyMarker is a free tool that allows you to turn text into images in just seconds. Use the generated images for your blog posts, social media posts or any other purpose!
The program uses artificial intelligence (AI) technology to analyze text, generating an image from it. The generated image contains all of the words in the original text but is missing additional information about each word.
DeepArtify
DeepArtify has been featured in many publications, including Hacker News and Product Hunt. The service is generating over 1,000 images per day for its more than one million users. You can use the service for personal or commercial purposes, without restrictions or copyright issues.
Fotoable
Fotoable is a free online tool that can take your text and turn it into an image or picture. The website uses artificial intelligence and machine learning to generate a picture generator from the text, making it easier for you to share with friends. It can be used for many purposes, including creating memes and placeholder images.
Conclusion
For the designer that doesn't want to spend hours trawling through stock photo sites for those perfect images for their next project, this is a great lifesaver. With the number of new images being created every day and the number of different styles and types, it would be almost impossible to sift through everything yourself. Thankfully, this site has done so for you and narrowed them down to the 88 best out there. They're separated into groups to make your search job easier, from abstract to technology, from photos to illustrations, and even humor.
FAQs
What is text to image generator?
A text-to-image generator is a tool that allows you to create images using your own words. You can use this tool for a variety of reasons including when you need graphics for social media posts and other marketing material. When you use a text-to-image generator, there are no limits on how many words or what type of font style you can use.
What are the 5 best text-to-image generators?
Photosonic
NightCafe
Canva
Starry AI
DALL-E
How can I turn text into an image?
There are several ways to turn text into an image. You can use a text-to-image generator, or you can create your own using the software on your computer or mobile device. If you choose to use a text-to-image generator, there are many different types available online that allow you to customize your output.